Asking God for Courage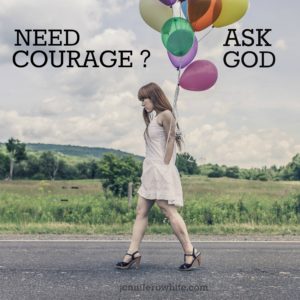 As I studied for last week's post, I learned that Elijah was a pretty obscure guy. There's no backstory on him. We don't know if he came from a line of brave men or a band of gypsies. He was a man with a nature like ours and he faced a very evil king with a word from the Lord.
How did he get so brave?
In this video, well known authors and pastors, Francis Chan and David Platt discuss the gift of courage given to us by God.
Chan and Platt are two of today's heroes of the faith. And they humbly admit that God gives them the courage and they need to pray for it more.
They explain that Paul asked people to pray for him to be bold in his presentation of the Good News! He wrote:
And pray for me, too. Ask God to give me the right words so I can boldly explain God's mysterious plan that the Good News is for Jews and Gentiles alike. I am in chains now, still preaching this message as God's ambassador. So pray that I will keep on speaking boldly for him, as I should. Ephesians 6:19-20
Wow. I suppose I am guilty of admiring his brave ministry without considering that we share the same source of courage. I don't think to ask God for courage and I don't think to ask you to pray for me to have courage either.
In Acts 4, Paul and his friends prayed for boldness. God answered their prayer in a BIG way:
And when they had prayed, the place in which they were assembled was shaken; and they were all filled with the Holy Spirit, and they continued to speak the Word of God with freedom and boldness and courage. Acts 4:31 AMP
Oh friends — why wouldn't God answer our request to be courageous in telling others about His greatness and love for them? He is ready for us to ask and He is able to deliver.
Will fear of the assignment keep us from asking? Maybe … Maybe that is exactly why I am not asking Him to make me more courageous. What would I need to give up? Would other people think I'm a freak? I'm already wondering what people think about the unending Jesus stuff I put on Facebook. Are they rolling their eyes and saying "Enough already, Jennifer!"
But what about the bold and courageous lives that Francis Chan and David Platt are leading? I really get fired up when I hear of their encounters of reaching out to people and helping them know Jesus.
Author and pastor, Mark Batterson nails it for us in this quote:
"Your greatest regret at the end of your life will be the lions you didn't chase. You will look back longingly on risks not taken, opportunities not seized, and dreams not pursued. Stop running away from what scares you most and start chasing the God-ordained opportunities that cross your path." — In a Pit with a Lion on a Snowy Day
Those dreams, opportunities and risks could be desires the Lord has given us. He supplies the idea, the courage to get it done, and the tenacity to follow through with it. He's a faithful God who supplies all our needs – and we are the ones He plans to use to supply another person's need.
We need courage because the world needs Jesus.
We need courage because God's plans to prosper us (Jer. 29:11) still include trips to the lion's den, the fiery furnace, the other side of town, another country, the people sitting next to us who have erected a wall in their hearts and more.
Prayer Prompt
Lord fill our hearts with courage. Infuse us with your strong and courageous Spirit.
Nothing is impossible with You. You can make the meekest one of us to be bold and brave like David as he fought Goliath. We are so small, but You are a infinitely bigger than all the powers that could ever come against us. 
These are the days of Elijah. Evil rulers are slaying Christians. Evil forces are covering our land with darkness. Raise us up Lord. Use us as Your mighty army to take back Your land.
In Jesus, I pray.
Amen
Are you praying for courage? and praying courageous prayers?  is fear holding you back?
Please share your experience with us in the comment section below.
About Jennifer O. White
I'm a simple wife who has discovered God's amazing gift of prayer. Here at Prayerfully Speaking I share my journey of unwrapping this gift. God invites us to ask Him, but His enemy works diligently to keep that from happening. I hope to offer you encouragement to believe God is ready to pour more into your life than you've ever imaged.