Living an "Away in a Manger" Life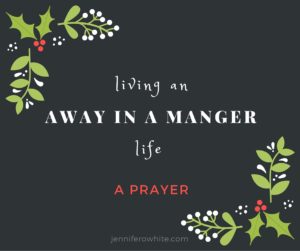 The next few posts will be prayers inspired by the Christmas story and the Christmas hymns. It's my way of insuring that I press in to the true meaning of our celebration of Jesus. I'm thankful you are with me on this journey.
______
Father, I am ready to direct my attention to Jesus' humble entrance into the world. Instead of the finest linen and a crib made of pure gold, You declared the beauty of humility by giving Him a barn for shelter and a trough for a bed.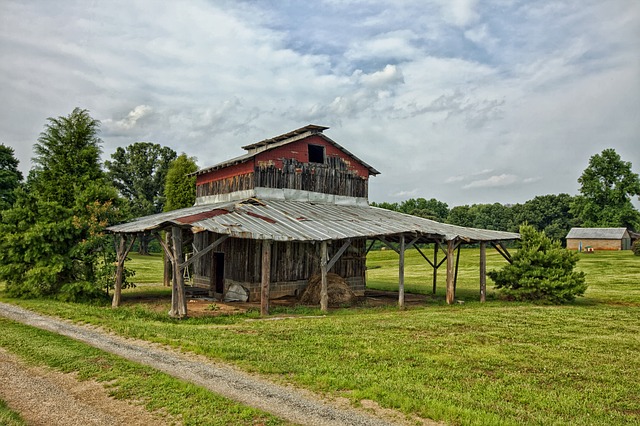 All of creation must have felt His arrival. Surely the atmosphere changed when Jesus, the Creator arrived. Angels delivered the birth announcement to simple shepherds. In the quietness of the night, these isolated watchmen received the world's very best news.
Make me a ready recipient of Your revelation of Jesus. Reign in my thoughts. Help me to celebrate what is true about Jesus.
I choose to release my grip on the traditions of Christmas and my expectations of Pinterest-worthy parties and presents. Awaken my heart to the sounds of heaven celebrating Jesus. I require every fiber of my being to stand at attention and welcome my Savior.
Penetrate my perspective with the complete and unending joy of Immanuel, God with me. I want to join the angels in a life of praising You for the gift of Jesus.
Jesus didn't leave the manger to pursue a Ritz Carlton lifestyle. His dust and mud-covered feet pursued my desperate, wandering heart instead.
I embrace the humble holiness of Your Son, Jesus. I accept the beauty of Christ's kingship and His simple life of service. Empowered by His life within me, I choose this away in a manger life as my own. I am relying on You to guide me in living humbly with and for others.
In Jesus I pray,
Amen
Scripture References:
How does the manger affect your experience of Christmas?
About Jennifer O. White
I'm a simple wife who has discovered God's amazing gift of prayer. Here at Prayerfully Speaking I share my journey of unwrapping this gift. God invites us to ask Him, but His enemy works diligently to keep that from happening. I hope to offer you encouragement to believe God is ready to pour more into your life than you've ever imaged.