Five Ways God Makes Marriage Beautiful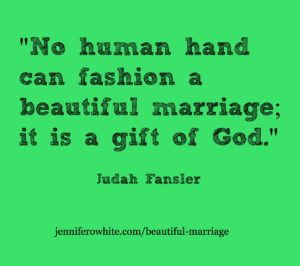 Years ago my friend and co-worker shared with me some of the most profound words I had ever read on marriage. Her former boss, Judah Fansler, had written them to Katie and her husband as a wedding gift. I shared the letter a few years ago on the blog. In this post, you'll find excerpts of that letter. They describe the hope every marriage has to be beautiful.
One.
Everything God does beautifies marriage. Everything man does corrupts the bond God has made. If a union bends the knee to God, the Father will grant the beautiful marriage. If a union does nothing, man's nature will destroy the beautiful gift.
Two.
Everything beautiful has a cost. Our forgiveness was wrought on a tree of suffering; our birth from hours of labor pains. The beautiful marriage has a cost, yet it cannot be earned. Years of self-sacrifice will not earn love, yet years of self-sacrifice are required for love. Love comes from God. Love makes a marriage beautiful. Love has a cost.
Three
The answer to the fault in a spouse is not justice (directly), but forgiveness. Forgiveness is the exclusive key that satisfies justice and reunites a wounded marriage. Forgiveness, however, can only be given by one who is first forgiven; yet justice will not grant forgiveness to the sinner without full compensation.
Four
Forgiveness is available to anyone seeking a beautiful marriage.
With forgiveness a marriage can be beautiful and endure the hardships of life. Yet a beautiful marriage that celebrates joy, honesty, truth, and love will not naturally appear to anyone. It is a gift of God granted to those on bended knee who first seek forgiveness. Yet even on bended knee beauty cannot be earned. It is the Sovereign who grants every good gift and a beautiful marriage is a good gift.
Five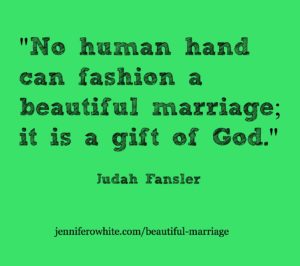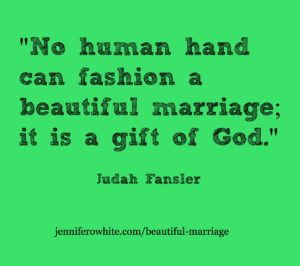 When the time comes that you have studied the beautiful marriage and found its narrow way, let not your heart say, "See this thing I have created." After years of sacrifice and enduring love a proud heart can instantly topple a beautiful marriage. No human hand can fashion a beautiful marriage; it is a gift of God.
What stands out to you in this list? Do you have a number seven to share?
My Prayer for Us
Jesus, You are so faithful to teach us the Truth about marriage. Thank You for demonstrating the beautiful love of marriage. You make marriages beautiful. Every evidence of love in us comes from You. We need Your help to be love and give love specifically in this (_______) area. Take over, Lord Jesus. Teach us to be great forgivers. We surrender this marriage into Your beautiful, perfecting hands. By the power of your name, we pray. Amen
About Jennifer O. White
I'm a simple wife who has discovered God's amazing gift of prayer. Here at Prayerfully Speaking I share my journey of unwrapping this gift. God invites us to ask Him, but His enemy works diligently to keep that from happening. I hope to offer you encouragement to believe God is ready to pour more into your life than you've ever imaged.