5 Big Benefits to Being Humble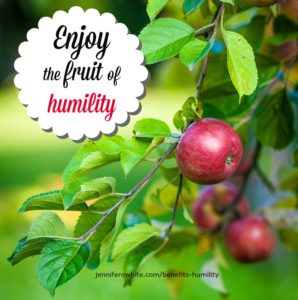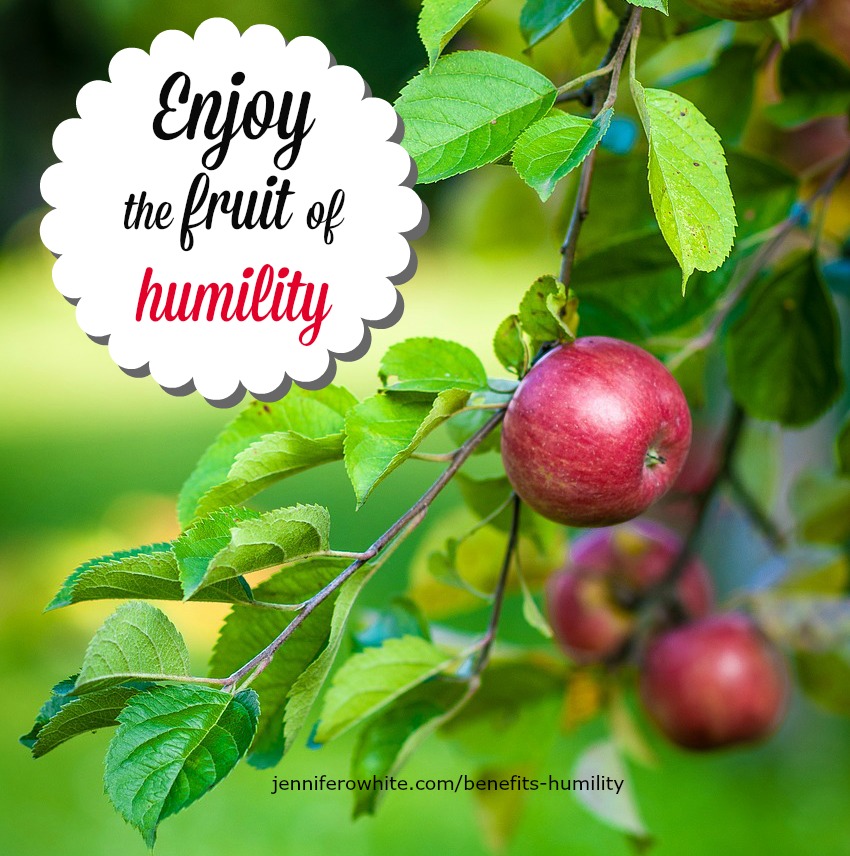 The Bible gives us at least five great reasons to live humbly. Check these out:
1. He gives favor to humble. Proverbs 3:34
2. The reward of humility and the reverent and worshipful fear of the Lord is riches and honor and life. Proverbs 22:4
3. When pride comes, then comes disgrace, but with the humble is wisdom. Proverbs 11:2
Imagine how different your life could be with God's favor.
How would your marriage or other relationships be different if God applied His unlimited goodness to specific issues that stir up discontentment and division?
What keeps me and you from being humble and receiving these amazing gifts of his favor, blessings, honor, life and wisdom?
For me, it's a lack of faith in Him which comes from focusing more on what I can see than who He is and what He has done and will do if I ask Him. I mentally check the box "too big for God" on many things that I need help with. It's a self-protective mechanism. I don't want to be disappointed if I pray and He doesn't answer. So in a millisecond I fearfully choose to avoid talking to God about it.
In reality, I am comparing God's power to my own feelings of powerlessness. My self-focus, even though I am concentrating on weakness, is prideful. The choice to look inward is a choice to deny God's power, His authority over the darkness I'm dealing with, and His desire to help me enjoy more of my life.
Pride goes before destruction (Proverbs 16:18). Humility goes to the One who overcomes the destruction and the destroyer (John 1:5)
Prayerlessness is a result of pride.
Answered prayers are the result humility.  
Take some time to answer these questions …
1. How many of my spoken and unspoken needs could be met by God's favor and unlimited resources (riches)?
2. How different would my interactions with others be if I depended on God alone for honor?
3. How much more satisfying would my life be if I let God orchestrate a rich and satisfying life instead of trying to create one by myself?
4. How much more fruitful would my decisions be if I waited for and acted on God's wisdom?
Waiting on God
Pride never waits on God. Pride presses ahead because something must be done now. Pride reacts to the fear that waiting will hurt and lead to embarrassment. My lack of faith is also revealed in my lack of waiting for God's answer.
Humility abides, dwells, lives in … the presence and kingship of the exalted Jesus. Humility produces God's fruit.
"Dwell in Me, and I will dwell in you. [Live in Me, and I will live in you.] Just as no branch can bear fruit of itself without abiding in (being vitally united to) the vine, neither can you bear fruit unless you abide in Me." John 15:4 AMP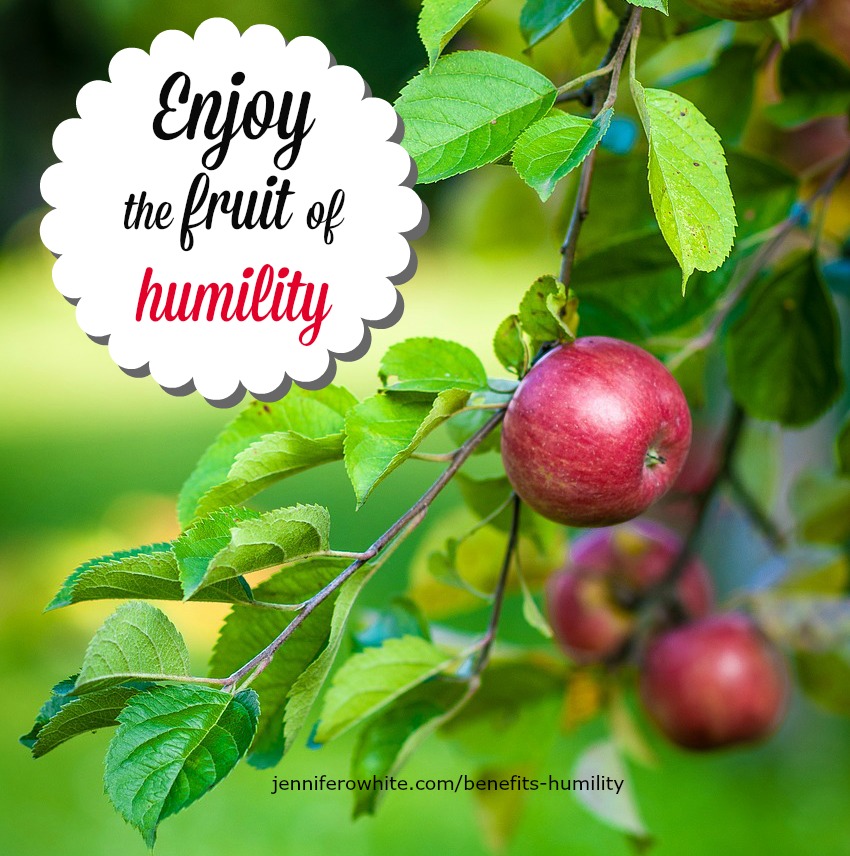 Humility trusts God will lead. Humility trusts that God's Word lights the way to victory. Humility asks God to sustain her while she waits. Humility surrenders to God's answer when it isn't what she wants or expects.
I really want to become a woman who waits well and bears His fruit (instead of a Jennifer-Modified-Version). I want to work in a few more seconds of faith into the process of considering what is lacking and reacting to it. Help me Lord!
Who in the Bible is your model for humbly waiting on God for direction?
Jehoshaphat is one of my favorites. He directed his nation to fast and pray when three armies were waiting to take them out. He followed God's very unusual battle plan:
"You will not have to fight this battle. Take up your positions; stand firm and see the deliverance the Lord will give you, Judah and Jerusalem. Do not be afraid; do not be discouraged. Go out to face them tomorrow, and the Lord will be with you." 2 Chronicles 20:17 (emphasis mine)
The mother in 2 Kings 4 also inspires me to approach God boldly expecting His answer. She courageously proclaimed "all is well" when her son died. She went to Elijah, the man of God, and demanded he take action and give life back to her son. Her confidence was in God instead of her current circumstances.
Humility prays, waits, and obeys God.
Obeying God is a natural result of humbling ourselves before Him. Fearing God (fearing life without Him) means we recognize His instructions as the way to live victoriously under His protection.
"For You, Lord, will bless the [uncompromisingly] righteous [him who is upright and in right standing with You]; as with a shield You will surround him with goodwill (pleasure and favor)." Psalm 5:12 AMP
Uncompromisingly righteous, that is, living in right standing with God. It is there we find ourselves protected by Him and surrounded by His pleasure and favor.
"Tell the godly that all will be well for them. They will enjoy the rich reward they have earned!" Isaiah 3:10 NLT
Do you see the "all will be well for them" in that verse? It is the same "all is well" attitude spoken by the mother whose child was dead.
Let's pray together for an outpouring of Christ's humility to be manifest in us:
Father, help us believe in You more than we believe in ourselves and any other person. Help us to lay down our habits of self-reliance, so that we are free to receive Your favor, Your blessings, Your honor, Your life, and Your wisdom.
Forgive us for our prideful choices. Help us to overcome this natural inclination to focus everywhere but on You.
Forgive us for resisting all the blessings You have planned for our lives. Forgive us for worshipping our wants and needs, the approval of others, and our strengths. Help us to live with whole-hearted surrender to Your authority. Help us to join Jesus as He intercedes for our needs.
Shepherd us to live in step with Your instructions. Bring models of righteousness into our lives. Help us to live as the righteousness of Christ.
Fill us with confidence that You reward right living. Pour Your patience into us so that we wait for You to deliver the very best for us.
Give us eyes to see our trials as Your way of teaching us to trust You.
Overcome the dark corners of our self-focused minds with Your beautiful light.
In Jesus we pray and believe.
Amen
About Jennifer O. White
I'm a simple wife who has discovered God's amazing gift of prayer. Here at Prayerfully Speaking I share my journey of unwrapping this gift. God invites us to ask Him, but His enemy works diligently to keep that from happening. I hope to offer you encouragement to believe God is ready to pour more into your life than you've ever imaged.