Prayer: Bold, Vulnerable and Generous
I'm inspired when someone is bold and vulnerable. It's a beautiful combination I noticed this week in a prayer request.
For a way too many decades, my brain, my heart, my mouth resisted asking for prayer. My ugly pride danced in front of my fear of being imperfect and being judged. I would happily pray for others. But I was pathetic at asking others to pray for me. Jennifer White was neither bold nor vulnerable.
But things are a changin'!
I have chosen to divorce fear. And thanks to a really tough 2013, I've had some practice asking for prayer. And this week, I was inspired by this bold and vulnerable prayer request Mary DeMuth (an incredible author) posted in her newsletter: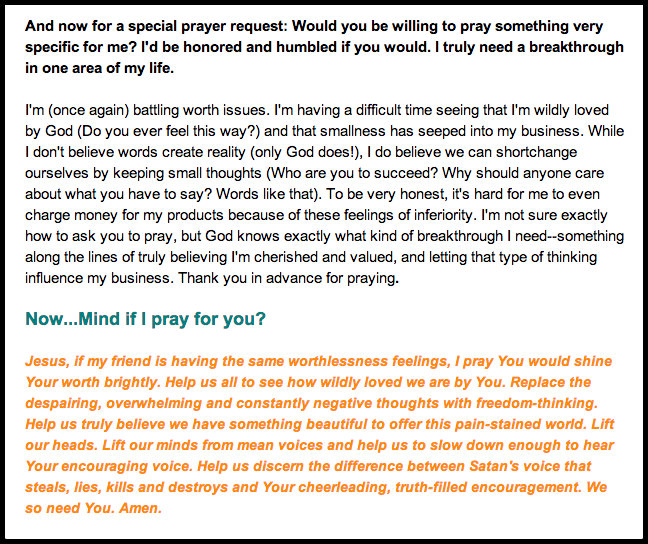 A sense of worthlessness is a gift from the enemy. Wearing worthlessness is a slap in the face to the One who created us and determined that we were worth dying for. Worthlessness separates us from God. It's a sin.
But Mary is living out James 5:16:
Confess your sins to one another and pray for one another, that you may be healed. The prayer of a righteous person has great power as it is working.
Mary confessed her struggle to a very large online audience. Asked for prayer. And prayed for others! What a bold act of obedience! Thank you, Mary for leading us.
More Proof:
But he said to me, "My grace is sufficient for you, for my power is made perfect in weakness." Therefore I will boast all the more gladly of my weaknesses, so that the power of Christ may rest upon me. 2 Corinthians 12:9
Job prayed for his friends, and the Lord made Job successful again. The Lord gave him twice as much as he had before. Job 42:10
Prayer
Jesus, You know exactly which beliefs and actions separate me from You. Please paint me a vivid picture of what stands between us so that I can confess it to You and others. I want to be brave and obedient like Mary has been. Help me, gentle Shepherd to trust you and move forward facing this issue (________) head on. Let your generous, interceding nature be mine. Help me to pray for others and get my mind off myself. I want to be this bold and vulnerable boaster of my weaknesses. I lift up my hand to You. Lead me into the healing You have generously offered.  Amen
About Jennifer O. White
I'm a simple wife who has discovered God's amazing gift of prayer. Here at Prayerfully Speaking I share my journey of unwrapping this gift. God invites us to ask Him, but His enemy works diligently to keep that from happening. I hope to offer you encouragement to believe God is ready to pour more into your life than you've ever imaged.