Bring on the Breakthrough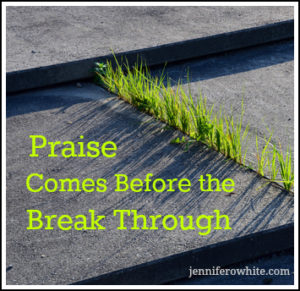 In the fall of this year, I experienced a dream come true. I attended a Brooklyn Tabernacle Tuesday night prayer service.
I've read Pastor Jim Cymbala's books for years:
And before I knew about his books, I was listening to the Brooklyn Tabernacle Choir led by his wife, Carol.
The experience was so powerful. The music, the people, the testimonies of answered prayer, and the message. Pastor Cymbala taught from Psalms 67:
Let the peoples praise You, O God;
Let all the peoples praise You.
Then the earth shall yield her increase;
God, our own God, shall bless us.
God shall bless us,
And all the ends of the earth shall fear Him.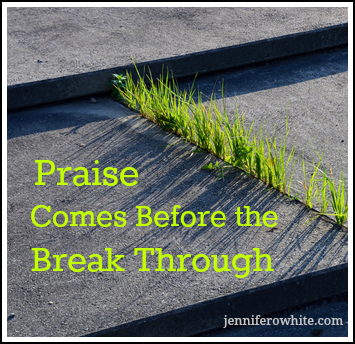 I was thrilled to learn from God's Word the order of events that leads to breakthrough. WOW. Praise comes first. God gets acknowledged first. We set our hearts on Him, Who He is, What He can do – and THEN – the earth yields it's increase. The italics in the verse is straight from the NKJV.
So as I checked the cross references, I found:
Ezekiel 34:27 – The trees of the field will yield their fruit and the ground will yield its crops; the people will be secure in their land. They will know that I am the Lord, when I break the bars of their yoke and rescue them from the hands of those who enslaved them.
You can also check Zechariah 8:12, and Psalm 85:12.
Praise before Breakthrough
I googled the phrase "praise before the breakthrough" to see what others had to say about this topic and found a fabulous teaching by Phil Morgan at Sermon Central. Phil explains the concept of praise very well here:
So, when the Bible tells us to "PRAISE" Him, it's calling us to give vent to our adoring heart. Worship can be silent, but praise NEVER is.
In his sermon, Phil makes the following points.
Praise Secures God's Presence
2 Chronicles 5:13-14 – "when the trumpeters and singers were as one, to make one sound to be heard in praising and thanking  the Lord ….. the glory of the Lord filled the house of God."
Psalm 22:3 – "But You are holy,Enthroned in the praises of Israel"
Praise Secures Victory
2 Chronicles 20:15-22: "as they went out before the army, saying, Give thanks to the Lord, for His mercy and loving-kindness endure forever!"
Psalm 149:6-9 "Let the high praises of God be in their mouth, And a two-edged sword in their hand,…"
Praise Secures an Unburdening
Isaiah 61:3 – "…The garment of praise for the spirit of heaviness…."
Praise Secures Release
Acts 16:25-26  "at midnight Paul and Silas were praying and singing hymns to God, and the prisoners were listening to them. 26 Suddenly there was a great earthquake, so that the foundations of the prison were shaken; and immediately all the doors were opened and everyone's chains were loosed. "
All Eyes on Him
I'm prone to be frustrated with myself over all that I do not accomplish. I become burdened with my lack of follow-through and how disappointed God must be in me. I hear the self-defeating words "I can't." I hear his promptings, and I struggle to obey. All these things are ME focused. And when I am focused on myself, I am not praising God.
Cymbala and Morgan's sermons remind me that I am called to keep my mind on God and all He is and can do. I am to release those thoughts into the world through my words.  I have experienced breakthrough before because I was fixed on Him and not me. He is worthy to be praised. I will praise Him!
What about you? Has praising God come before your breakthrough? Are you learning this for the first time? Please share with us your experiences in the comment section below.
About Jennifer O. White
I'm a simple wife who has discovered God's amazing gift of prayer. Here at Prayerfully Speaking I share my journey of unwrapping this gift. God invites us to ask Him, but His enemy works diligently to keep that from happening. I hope to offer you encouragement to believe God is ready to pour more into your life than you've ever imaged.