Celebrating Life With Lou!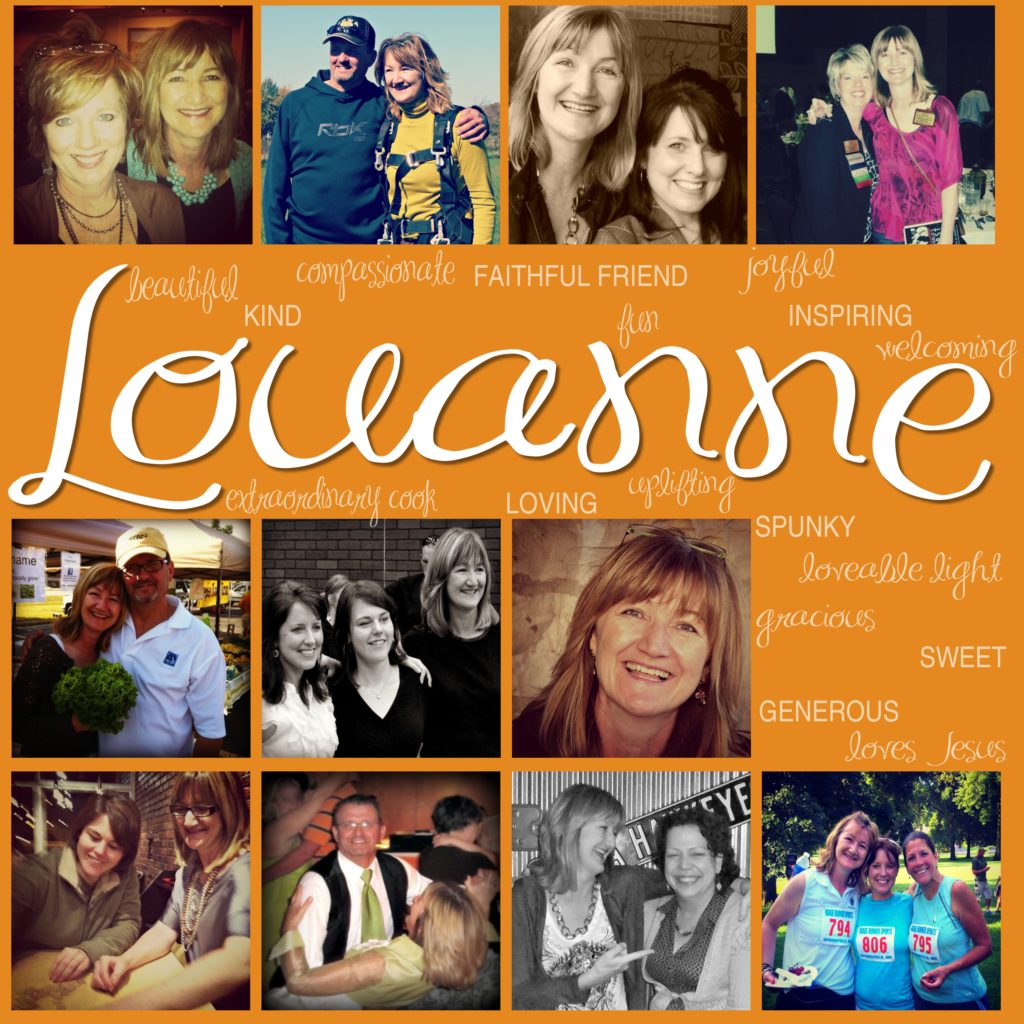 My dear friend, Louanne, has a birthday today.
It's a big one. The graphic you see is just a tiny glimpse into her fun and friendly personality. God has placed within her many incredible gifts and talents. One in particular is that she is an incredible networker or people connector. She is the human lego! 🙂 Since meeting her in 2006, she has shared more wonderful friends with me than I can count.
It takes more than pictures and words to describe Louanne. But hey, you have to start somewhere, right!?! When asked,
Lou's family and friends had this to say about her:
Great at finding ways to get out of doing dishes!
Sissy's faith makes her genuine, sincere, and loveable.
Full of light and extremely lovable!
Illuminating fire that brings hope no matter what!
Charming and kind, what a combo!
I was always in a better mood after I talked to her!
Shares Jesus with open arms & loving heart.
Radiant with love for Christ and others.
One of the most welcoming ladies I know!
How could you not love her?
She makes us feel like family and is proud of us!
Her light shines through her beautiful smile.
With Louanne, I know I am loved…unconditionally.
She has the sweetest ways of reminding me of God's love and she's full of grace.
Used Bubba Bear" to teach me one of life's most important lessons
Kind, sweet person& one special lady
Brings joy with her smile and peace with your hug.
Louanne is not just a 'hello' friend…she really, really cares about us.
Hotter than the day we met! (yes, that is from her husband, Al!)
Friend Extraordinaire
Beautiful Gift from God!
Always has a warm friendly glow about her that makes everyone comfy with her.
Her smile is infectious!!
She radiates love and you know she cares.
Welcomes you in like no one I have ever seen
She is passionate about life – it's contagious!
Can pick up where we left off after being separated.
Winsomely shares the love of our Lord Jesus Christ
Extraordinary cook and generous giver
Well, that's my Lou! …. Ok, Ok! – yours too!
In case this is the first time you've met her, I hope you will connect with her. Your life will be richer because you did.
Happy Birthday Lou! God brightened the world when He delivered you!
In God's great love for me, He created Louanne Petersen Dietrich. He wooed her to Himself and filled her with His Spirit of love, encouragement, compassion, and light. Since 2006, He has been using her to show me love and kindness. He speaks encouragement over me through her. He motivates me as He shows me more about Himself through her. God so loved the world, that He gave His Son Jesus to Louanne Dietrich, and sent her to be my friend. Praise Him for His great love!
About Jennifer O. White
I'm a simple wife who has discovered God's amazing gift of prayer. Here at Prayerfully Speaking I share my journey of unwrapping this gift. God invites us to ask Him, but His enemy works diligently to keep that from happening. I hope to offer you encouragement to believe God is ready to pour more into your life than you've ever imaged.