Christmas Here. Christmas in Heaven.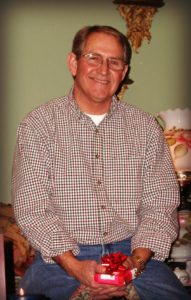 This Christmas will be very different. There won't be a celebration with our dad in the room. He savored homemade eggnog and waiting to see his grandkids tear open their gifts. He absolutely loved the chaos of a room littered with wrapping paper and toys. He would ask us not to clean up too quickly because he just wanted it to last.
And pictures … he wanted pictures of the amazing mess we made together.
Richard Odom was an incredibly generous person. He always looked for ways to help other people. His gracious giving made a big difference for more people than I can imagine. Christmastime was a fun time for him to give. Just last week, two of his friends reminded me of the hams he sent at Christmas.
So what will Christmas in heaven be like for dad? For the one you can't hug this Christmas?
I am confident that it will be more incredible for him than I can imagine? How cool for Dad that he will be enjoying the reality of another day in the perfection of Heaven.
The words of this song give me great comfort and joy that my father, my friends Lucien Branch, Sandy Steward and Randy Kuenzle left this earth in 2013 to sing endless hallelujahs to the our King.
They are all immersed in a culture of praise to the King we long to know completely. They have arrived. They live in perfect peace. With voices steeped in unbending confidence, they sing to the One who saves us from ourselves.
Join me in praying:
Lord Jesus, tune our hearts to sing Your praise. Let Your Spirit lead us in rejoicing (celebrating, delighting, reveling) in the beautiful gift of Your life, death, and resurrection. Let us see in Christmas the genesis of eternity for us. Let this day and every day forward be a rehearsal for a life of endless hallelujahs. Use our lives to honor You. And in Your mysterious ways, use the effects our loved one's physical death to do the same. You are Emmanuel – God with us. Hallelujah to our King!
I would love to hear your thoughts about Christmas and eternity in Heaven.
About Jennifer O. White
I'm a simple wife who has discovered God's amazing gift of prayer. Here at Prayerfully Speaking I share my journey of unwrapping this gift. God invites us to ask Him, but His enemy works diligently to keep that from happening. I hope to offer you encouragement to believe God is ready to pour more into your life than you've ever imaged.