Our Christmas Card to You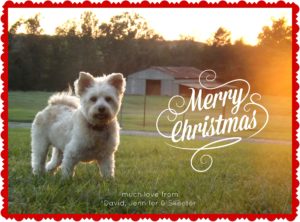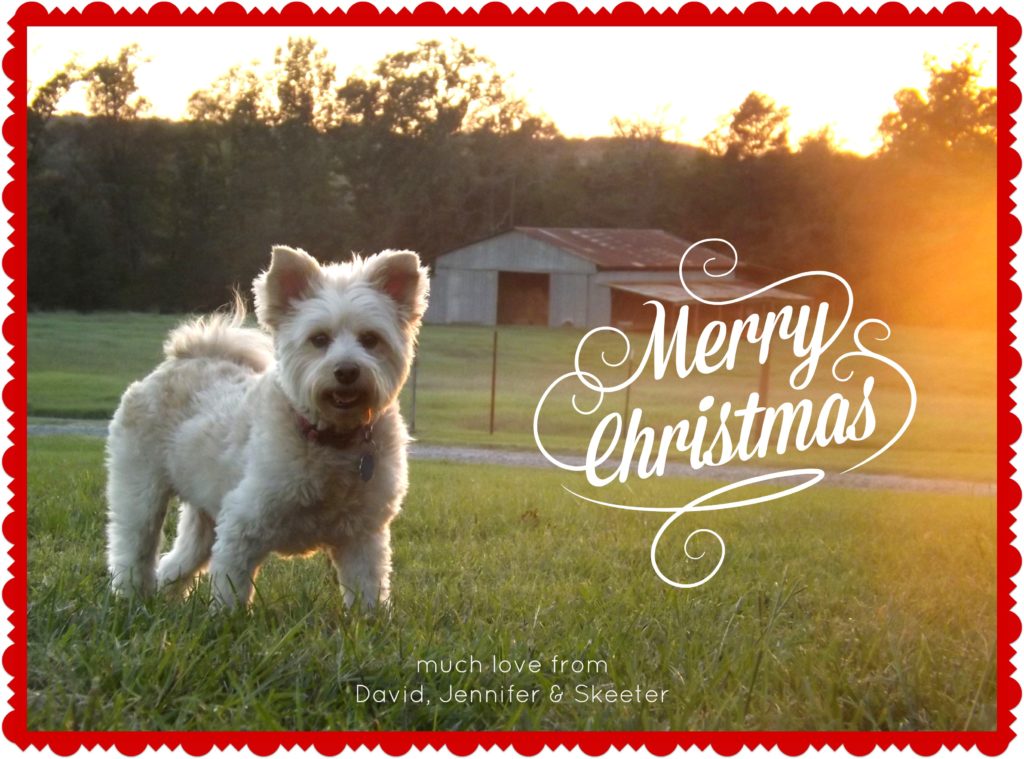 We are so happy to be celebrating Christmas with each other this year.
Our 2013 has been a year we will never forget. We lost my dad in May and almost lost David's dad in April. God used the challenges of this year as a catalyst to bring about some really great things.
David and I finally live together full time. We spent 5 years with me working and living in the Ozarks. We were seeing each other one or two weeks a month.  The day before Dad died, I found myself texting these words to David: "I'm coming home – for good!" God sustained our relationship during that five years and truly caused us to grow closer. But enough …. was enough. 🙂
We enjoy living together in rural north Louisiana on David's brother's ranch, which we affectionately call "the farm." Skeeter believes she is in charge of the farm animals. David has happily added ranching duties to his resume. His dental practice remains in West Monroe, Louisiana. He has faithfully served this community for over 30 years now. In his spare time, he co-pilots a jet for a local business man. We are blessed!
When my dad's health became critical, I took a leave of absence from my marketing job at New Leaf Publishing Group. Long before I left my job, I found myself drawn to pastures with herds of cattle. In the few quiet moments of  my days at work, my heart would whisper to God, "I just want to sit at that little farm house, study Your Word and write for You." Fast forward to today  — this is exactly what I do. God answered my prayers beyond my wildest dreams. In July 0f 2012, I reminded God that living apart from David was really hard. I heard Him speak these words into my heart, "just one more year." You guessed it. By July 2013, David and I were living together full time. Incredible, faithful God!
I am writing to offer the hope of more peace and confidence. With every word, I want to bravely lead people in a life and world-changing relationship with Jesus. Along with my blog, I am writing books. Prayers Spoken, Lives Changed is an 60+ page ebook (PDF) I released this week. In it I share God's extraordinary love in 18 ordinary lives including my own. I would love to give you a copy to inspire your heart this Christmas and upcoming New Year. Click here for downloading details. I am also writing a book for brides tentatively titled: Putting on the Armor After the Wedding Dress. Please pray with me for God to use this resource to instill hundreds of thousands of wives with the hope of an enduring and joy-filled marriage.
We have fun plans to celebrate with both of our families. As always, the highlight of our festivities will be time spent with Deanna, Lance and Chelse (our daughter in love). We are grateful for the countless ways God has blessed them with great careers and hearts that belong to Him.
Like ours, your 2013 has probably seen several ups and downs of varying intensities. We know that our God has also been faithful to you through them all. He is the thrill of hope giving a weary world a reason to rejoice. Thank you for sharing this season with us. We treasure your friendship.
May His grace and peace be multiplied to you
in the knowledge of God and of Jesus our Lord.
2 Peter 1:2
About Jennifer O. White
I'm a simple wife who has discovered God's amazing gift of prayer. Here at Prayerfully Speaking I share my journey of unwrapping this gift. God invites us to ask Him, but His enemy works diligently to keep that from happening. I hope to offer you encouragement to believe God is ready to pour more into your life than you've ever imaged.