Your Confidence in God Regardless of the Obstacles
I'm in the midst of an exciting whirlwind of opportunities. I'm choosing to confidently step out and tell people that I am an author and share the news about my upcoming book. But, it is not happening without an inner battle with insecurity, the desire to be successful, the desire to be humble, and several other fears. I'm surely in need of a stronger and steadier confidence in God and less focus on myself.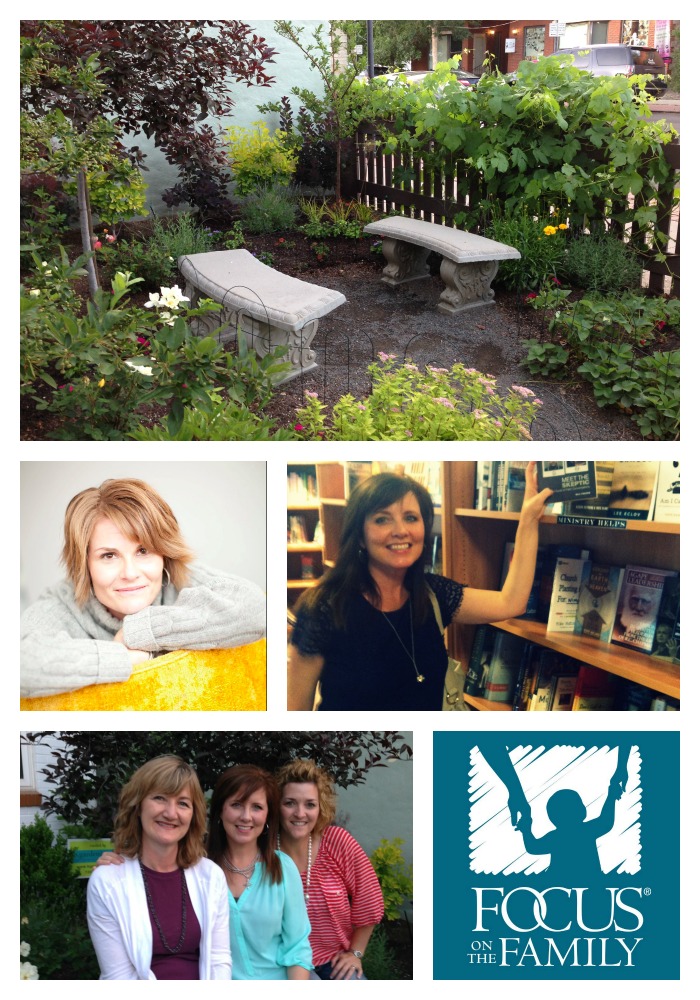 I just returned from a really fun/networking trip to Denver and Colorado Springs. The Lord opened the door for me ride along with my sweet friend Louanne as she called on Focus on the Family and a few other Christian bookstores.
I had the opportunity to see books I helped to promote on their shelves. That was a really WOW moment for me. I also got to share the story of my upcoming book.
South Pearl Street fast became my favorite spot in town. Quaint homes, interesting restaurants, and neat shops. We found it when Jill and I met with John, an urban missionary, and one of my Tribe Writer accountability partners. John and I meet with two other writers on a regular basis to discuss progress on our goals, give feedback on each other's work and prayer together.
John introduced me to Brandon who has a ministry called My Quiet Cave for people who have the challenge of living with Bipolar disorder. I am AMAZED at the beautiful thing God is doing in that ministry. The church struggles to meet the needs of this community and God is changing that through this ministry. WOW! One of the books I plan to write happens to be a prayer book for families who live with the ups and downs of bipolar disorder. So I feel that our meeting had God's fingerprints on it.
The HIGHLIGHT of my trip was seeing my friend Joanne Heim. Three years ago she had a major stroke and I've been praying for her since. She is doing well. Life is certainly FAR from EASY! But God has assured me that when it comes to Joanne and her future, It Is Well!
Joanne's life has changed radically. Her today and her future does not look like she expected it to. And I wonder…
What would your confidence (my confidence) in God look like after a life-altering stroke in the prime of your life?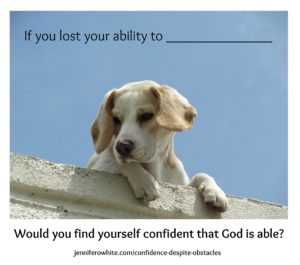 If you lost your ability to (______________) would you find yourself confident that God is able, through His mighty power at work in you and through you, to do infinitely more than you can ask or imagine? (Eph. 3:20)
It's a personal, emotional, dying to yourself fight to look past the obstacles in front of us and look at God.
I'd like to encourage you to pray for Joanne and then pray for yourself.
Here's my prayer for you and me:
Abba Father!
You see this world of brokenness around us. Help us to see it in light of Who You are – the Healer, the Redeemer, the One who makes all things new.
While body parts, brain chemicals, and relationships go awry, You are steady, sturdy, unchanging.
Change our mindsets so that regardless of our earthly influence, we are focused on You – Your strength.
Let our biggest weakness be the platform for the world around us to experience Your love and power.
Recreate our confidence in You so that our moment by moment heart cry is this: "My health may fail, and my spirit may grow weak, but God remains the strength of my heart; he is mine forever." Psalm 73:26 NLT
In Jesus' strong name I pray. Amen
About Jennifer O. White
I'm a simple wife who has discovered God's amazing gift of prayer. Here at Prayerfully Speaking I share my journey of unwrapping this gift. God invites us to ask Him, but His enemy works diligently to keep that from happening. I hope to offer you encouragement to believe God is ready to pour more into your life than you've ever imaged.