Confidence in God's Name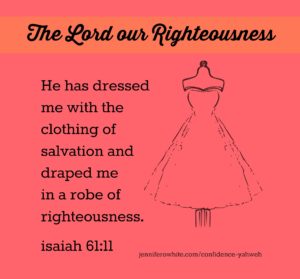 I've been studying the names of God. Knowing His names (His character) helps me to know Him and trust Him.
This week, I'm focusing on Yahweh Tsidkenu which means  – the Lord our Righteousness. It's found in Jeremiah 23:6 – "and this will be his name: The LORD is our righteousness. In that day Judah will be saved and Israel will live in safety."
How does knowing God as your righteousness affect your confidence in God?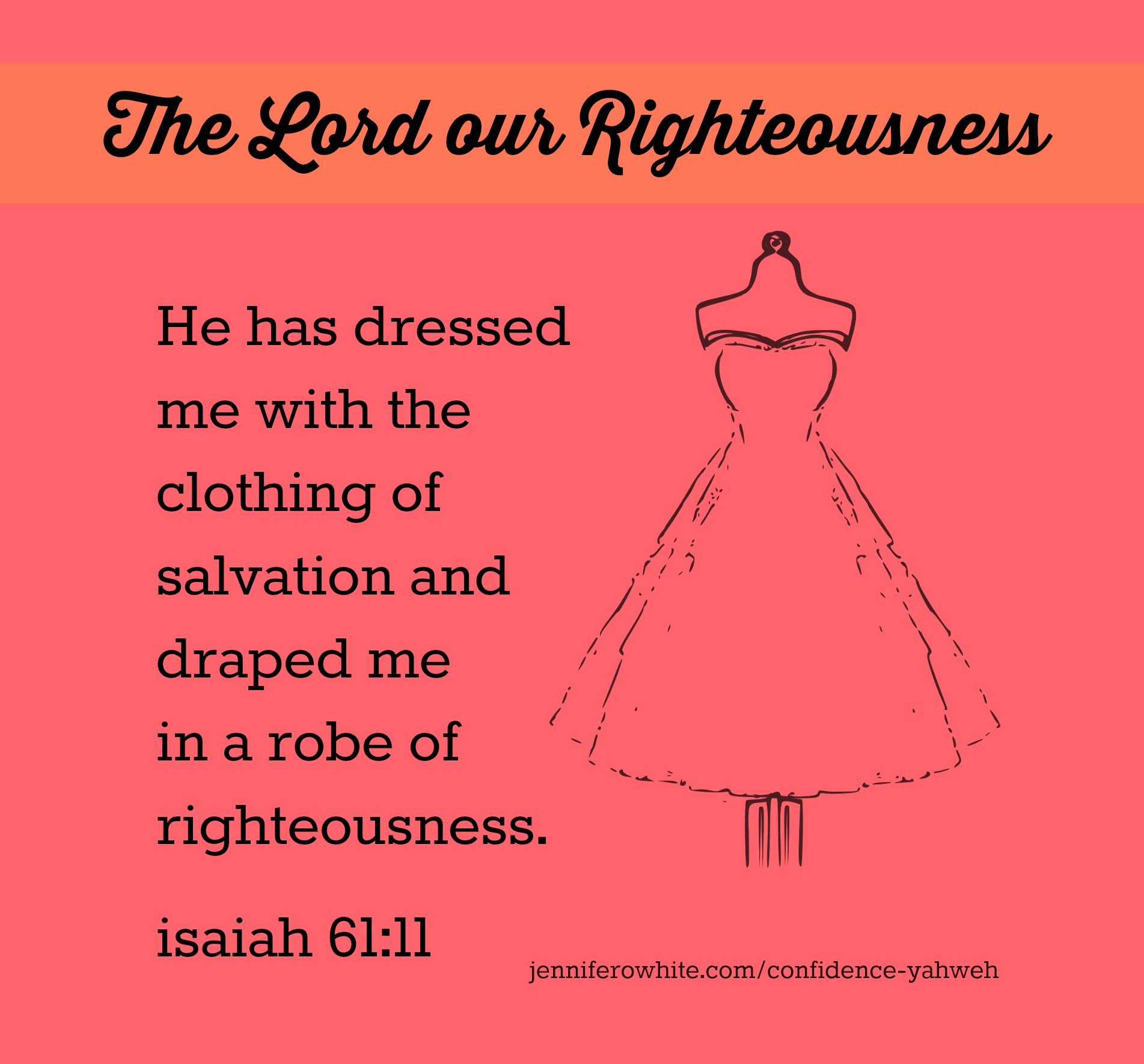 Isaiah expressed confidence this way:
I am overwhelmed with joy in the LORD my God! For he has dressed me with the clothing of salvation and draped me in a robe of righteousness. I am like a bridegroom in his wedding suit or a bride with her jewels. Isaiah 61:10 NLT
One way to express confidence in God as, Yahweh Tsidkenu, the Lord our Righteousness is to see yourself wearing the robe of righteousness. To live out this reality is an act of worshipping God, honoring the Giver and displaying the gift He bestowed on you.
This undeserved gift of righteousness has been lavished on you and me.
As you abide with the Lord our Righteousness, invite Him to saturate your soul with this truth of His righteousness covering you.
Then take a step of faith in wearing this robe of righteousness to your weekend activities. See yourself with it on. Admire it in the mirror of your heart. Let it bolster your confidence as you interact with others.
A Prayer to Yahweh Tsidkenu, the Lord our Righteousness,
Praise Your Name, Yahweh Tsidkenu! You are my righteousness.
In faith, I wear the garments of salvation, this robe of righteousness You gave to me. Thank You for giving me what I could never have earned or deserved.
Convict me of the lies I believe and act upon that do not reflect the truth – that I possess Your righteousness. Change me so I that I live out my true identity in You.
Bless me with people who will model this life You've given me. Teach me from Your Word. Let Your Holy Spirit remind me of who I am because of You, and Your gift of Jesus Christ.
In Jesus, I pray. Amen
For further study on God's names, join me and Lyn Smith in the Come Away Events Facebook Community
About Jennifer O. White
I'm a simple wife who has discovered God's amazing gift of prayer. Here at Prayerfully Speaking I share my journey of unwrapping this gift. God invites us to ask Him, but His enemy works diligently to keep that from happening. I hope to offer you encouragement to believe God is ready to pour more into your life than you've ever imaged.