Secure Your Marriage with Confidence in God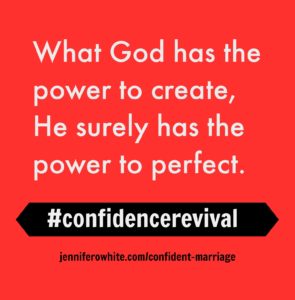 Think of three divorced families that you know well.
Now ask yourself this question: "Could a strong confidence in God have changed the outcome?"
I know from experience that a lack of confidence in God can certainly lead to divorce. And I also know that a mustard seed of faith in the simple prayer "Help me Jesus" can lead to a beautiful marriage.
There is so much I do not know about marriage and divorce. I can't imagine the horrors some families face because of the very real evil in this world. There must be thousands of dangerous financial, emotional, and physical reasons to leave a sacred marriage. Can a marriage even be called sacred with so much evil involved?
What I do know is this: GOD is ABLE.
The Shunnamite woman knew God was able. That's why she declared, "All is well" when her son died. She confidently pursued Elisha, the man of God, because she knew that nothing was impossible with God.
But when she came to the man of God at the mountain, she fell to the ground before him and caught hold of his feet. 2 Kings 4:27 NLT
Her posture was very humble and she was very determined. She acknowledged she needed help and she stood her ground to get it.
But the boy's mother said, "As surely as the Lord lives and you yourself live, I won't go home unless you go with me." So Elisha returned with her. 2 Kings 4:30
I see her faith in God and her courage colliding. And then I see heaven move on her behalf. What do you see?
In really hard times, fear can cause prayer to feel too passive. We can't physically see God hearing our prayers and acknowledging that He will indeed help us. But we can hear His enemy whispering doubts like:
why would God answer my prayer?
prayer is an unreliable solution
immediate action is required and God can be slow to answer
How can we ensure we do not fall for the lies?
The Lord will be your confidence and will keep your foot from being caught. Proverbs 3:26
The Shunnamite woman knew God gave her the son (see 2 Kings 4:14-17, 28). We know marriage is God's design. What God has the power to create, He surely has the power to perfect. We know that a covenant marriage is meant to model God's faithful, enduring love for us. And thankfully, we know that God's mercy is new every morning towards those who fail to fully rely on Him.
2 Timothy 1:7 assures us that God's power, love, and sound mind are infixed in us. That is a reason to be confident!
When the marriage relationship storms come, regardless of who or what caused it, we can call on God to activate His love in us to be loving. We can invite His power to strengthen us to obey Him. We can invite God to make our minds as sound and well-balanced as His. We can ask Him to give us His truth, His perspective, and the power to make choices that will honor Him.
Marriages do not have to die. If love dies, it does not have to remain entombed. The God who raised Jesus and the Shunnamite woman's son from the dead is still able to raise dead things to life.
Jesus, our Bridegroom, did not fail at His mission to bring beauty from ashes. He can resolve the thousands of dangerous financial, emotional, and physical reasons to leave a sacred marriage. We have to invite Him to do so. Our faith and courage must collide to seek Him for the resolution.
A healthy confidence in God is ours for the taking.
We can exercise our confidence in God for our own marriage and for every marriage.
Speak this declaration over your marriage and/or the marriage of someone you love:
the LORD is my confidence and my strength. He makes me surefooted and keeps me from the enemy's snare (Prov. 3:26, Hab 3:19).
Next in the Series: Scripture Prayers for Relying on God in Marriage
About Jennifer O. White
I'm a simple wife who has discovered God's amazing gift of prayer. Here at Prayerfully Speaking I share my journey of unwrapping this gift. God invites us to ask Him, but His enemy works diligently to keep that from happening. I hope to offer you encouragement to believe God is ready to pour more into your life than you've ever imaged.