Prayers of Contentment: Declaring War on Dissatisfaction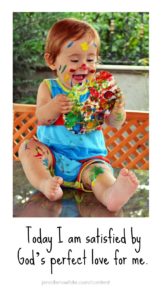 In the last post, we celebrated that God is our Satisfier!
He is the source of every person and thing that brings great joy into my life and yours.
But maybe you don't feel so satisfied today? Maybe there is a very real lack, something your heart longs to experience. Why would God allow you to feel that? I'm grieving the first anniversary of my dad's death and I am fighting some discouraging thoughts. BUT…
I believe every obstacle is an opportunity to discover more about God than you have known so far. If God wants to reveal Himself to you and me as the source of satisfaction, then a lack of something or someone is a powerful way to redirect our attention. Sometimes an unmet need shakes us out of our small thinking so we can see God more clearly. Without my biological father, I have a greater need to know God as my father, my dad. What feeling of lack or obstacle are you facing?
Declaring that God is our very real satisfier is an excellent way to worship Him. Words of faith in God are life-giving (Rom. 10:17, Rev 12:11, Prov 18:21). Speaking God's Word is our only offensive weapon in the spiritual battle against discontentment – the same battle Adam and Eve faced in the Garden of Eden.
The following Scriptures tell us Who satisfies us. Below them, I've written declarations you can speak over your own life and the lives of others from these verses. Make yourself say them aloud. As you do, see the supernatural sword of the Spirit slicing away the lie that the evil one wants you to believe. The lie designed to blind you to the goodness, the satisfaction the Lord is presenting to you.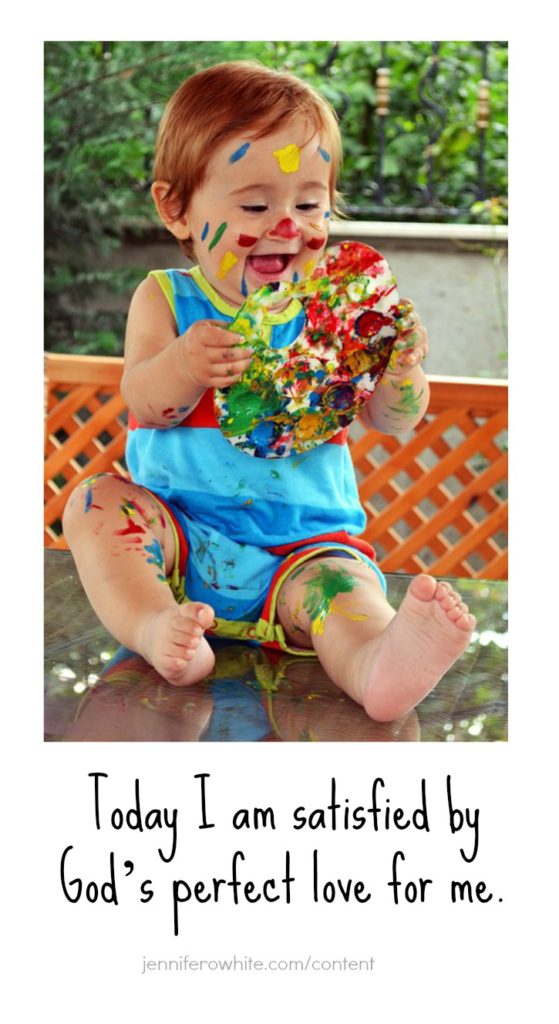 Satisfy us each morning with your unfailing love, so we may sing for joy to the end of our lives. Psalm 90:14
You satisfy me each morning with Your perfect love, a love that will never fail me.
Today I am satisfied by God's perfect love for me.
You feed them from the abundance of your own house, letting them drink from your river of delights. Psalm 36:8
Today my needs are met at God's table of plenty. My thirst for more is satisfied by the hand of God.
There is plenty for me at God's table. The ________ I long for is satisfied by God. I am content because God is actively meeting my needs.
He fills my life with good things. Psalm 103:5
The good things I enjoy are from God. God is actively securing good things for my life and my family.
When I am in need of good things, God is delighted to supply them.
Use these daily in times when you are tempted to be dissatisfied. You will find no better weapon than God's own Words spoken back to Him in faith.
Please share these with someone who is struggling.
About Jennifer O. White
I'm a simple wife who has discovered God's amazing gift of prayer. Here at Prayerfully Speaking I share my journey of unwrapping this gift. God invites us to ask Him, but His enemy works diligently to keep that from happening. I hope to offer you encouragement to believe God is ready to pour more into your life than you've ever imaged.