Prayer: a Personal Conversation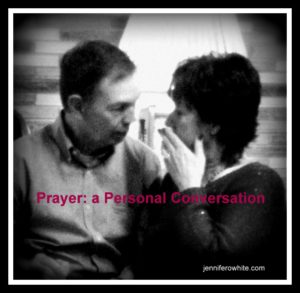 Introducing my online friend, Meredith, the Marine's Wife. She's guest posting today about the dynamics of prayer and a personal relationship with God. This is an excellent reminder for me. Enjoy!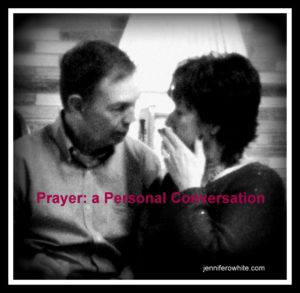 When Jennifer first asked me to write a post on prayer, I thought, "Oh no. I'm a poor choice. I don't journal regularly. I don't keep a running tab of answered or outstanding prayer requests. There's nothing systematic about my prayer life. At all.In fact, it's really rather sporadic at best."
Needless to say, I've been thinking about prayer a lot lately.  Praying, obviously, but thinking about the act and idea of prayer itself.
And today, I finally figured something out. Sadly, it's taken nearly 20 years of being a Christian to see it this way, but better late than never.
If having a relationship with Christ is in fact just that, a relationship, then prayer ought to be similar in nature to the conversation you have with my spouse or closest friend.
It is dynamic. It is different everyday. It necessitates being engaged and reactive.
Conversations with my husband take effort and creativity. Sure, I ask him how his day was when he gets home, but he rarely if ever gives me the same answer.
I'm the best and most sincere conversationalist when I am paying close attention to the words being spoken and the underlying message that they carry.
The best conversations, for me at least, are really when I do the least amount of talking. As extroverted as I am, I love to listen.
For someone to speak to you, and not just at you, takes a great deal of trust and transparency.  What they choose to share with you matters and they believe you care.
Why do I not speak with God then, through that same lens?
Why do I not trust Him with the darkest and scariest parts of my heart? Why do I not share those things that I can't really carry on my own? Why do I avoid letting Him in, when I know that there is nothing I can hide from Him?
Most importantly, why do I do all the talking when I pray?
When I pray, am I am being vulnerable or obligatory? 
To be vulnerable, while scary and potentially painful, ultimately brings the healing and freedom that I desperately need. For me to acknowledge my fault and sin before a Holy God opens the door for Him to come in and heal what's broken. It's a humble invitation for restoration.
If I am obligatory, putting on a pretty façade, then I am just making useless and unproductive noise. I don't acknowledge I need help or that I am floundering and thus, I do not invite Him in. What an unintentionally arrogant display of self-sufficiency.
It's time to get back to the basics. If my relationship with God is the most important in my life, then it's time to repair the line of communication.
Is your prayer life a personal conversation or is it a religious display?
———-
Meredith Lewis still considers herself a newlywed. Married to a pilot in the Marine Corps, she's on a self-professed "steep learning curve" when it comes to marriage and the military. She works for Compassion International and is a graduate of Liberty University, where she majored in Business Marketing. Writing a book is somewhere on her life's bucket list, but for now, she's happily testing Pinterest recipes.  You can read more about her adventures as a Marine's Wife at  www.themarineswife.com.
About Jennifer O. White
I'm a simple wife who has discovered God's amazing gift of prayer. Here at Prayerfully Speaking I share my journey of unwrapping this gift. God invites us to ask Him, but His enemy works diligently to keep that from happening. I hope to offer you encouragement to believe God is ready to pour more into your life than you've ever imaged.