Counting Blessings, Finding Healing
This one little book turned out to be the most fruitful Christmas gift I received in 2012. It's a best-seller by Ann Voskamp. Have you heard of it?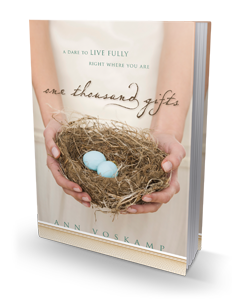 When I received it, I wasn't sure I was going to read it. I was overwhelmed by the "things to do of Christmas." But I found myself drawn to it. I opened the book and started reading at Chapter 8. – Yeah Chapter 8, don't judge me – consider me very flexible in my routine. ha
The next thing I knew, I was highlighting, underlining, recording my notes, and re-reading them. WOW. I soon realized that the gift of this book was evidence of God's great love for me and an answer to many prayers. – thanks Nelma
The theme of the book is gratitude.
Voskamp launches a journey of recording her gifts and discovers it brings relief of anxiety and depression. You may not know this about me, but I've had some experience with both. Since college, I've had many counseling visits, been on anti-depression meds off and on, and developed a a fair share of stress related physical problems. Ann's book has helped me realize that I've had a focus problem. I've been focusing on myself, my problems, my insufficiencies, and what others think of me.
Really, it's more of a worship problem. I've worshiped problems far too long and ignored the one who is worthy of true worship – Almighty, All-sufficient, God.
In Chapter 9, Ann asks the rhetorical question, "How much larger your life would be if your self could become much smaller in it!"
Does that strike a chord in you too? Stop for a minute and ask God to reveal to you the truth of this statement in your own life. Be BRAVE. Want the answer. It's the difference between waiting at the pool of Bethesda unhealed for a lifetime and pursuing Jesus in the crowd so sure that touching his hem will bring your healing.
Reach for it.
We are in deepest happiness in the posture of grateful worship. Ann Voskamp —

tweet that
Humility
"Humility comes from the latin root – humus – the kind of earth that grows good crops. Humility is that good humus that grows gratitude that yields abundant joy.  Humility isn't burden, humiliation, or oppressive weight but humility is the only posture that can receive the wondrous grace gifts of God." Ann Voskamp
Prayer
Almighty God, there is so much about You to adore – to enjoy. There is more to You than I've allowed myself to see.
Please forgive me for the sin of worshiping myself and my weaknesses. I've wasted so many days, hours, minutes thinking about problems that need to be fixed. Instead, I could have been filled with AWE of You – the One who is perfect, complete, needing nothing.
You've been faithfully and lovingly teaching me to focus my mind on things above. You've taught me the Ephesians 4:8 principle so that I could experience JOY. I'm so grateful that YOU love me and have been pursuing me with Your Truth.
Thank You, Lord Jesus, for teaching me through Ann Voskamp to spend my days in gratefulness to You. May Your light continue to shine on this book and all who read it. Help us all to KNOW YOU as the Ultimate Source of all good things.
Thank You for giving.
Thank You for mercy that allows me to start over again today – looking at You and counting Your gifts to me – to everyone. 
Work in me, the spiritually healthy humility that yields a life of abundant joy in knowing You, worshiping You, seeing Your hand providing.
I surrender.
I will name Your gifts.

About Jennifer O. White
I'm a simple wife who has discovered God's amazing gift of prayer. Here at Prayerfully Speaking I share my journey of unwrapping this gift. God invites us to ask Him, but His enemy works diligently to keep that from happening. I hope to offer you encouragement to believe God is ready to pour more into your life than you've ever imaged.