New Blog Series: Courageous Prayers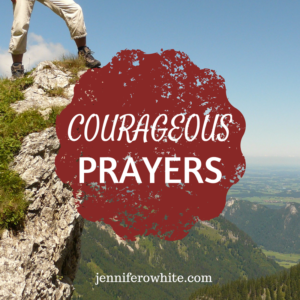 The ministry of prayer needs a steady dose of confidence in God and courage to believe God will respond to us. We have a persistent enemy who knows what God will do when you and I pray.
This summer at Prayerfully Speaking, we hosted a Confidence Revival focused on our confidence in God. If you missed it here's a quick overview:
When Your Fragile Confidence Meets God's Power
Freedom from Doubt, Fear & Pride: Praying for a Confidence Revival
Secure Your Marriage with Confidence in God
10 Simple Prayers for Your Marriage
God Can Restore Our Brokenness
Your Confidence in God Regardless of the Obstacles
Act Like God is Telling the Truth
Confident Prayers: Moving Beyond the "If You Can" Plea
Surrendering Our Thoughts of Defeat and Rejection: a Prayer
Wrestling with Confidence and the Need to Be Relevant
Calling on the Name of the Lord: Danny's Testimony
Our confidence in God should make us courageous in this world. Our next series, Courageous Prayer, is designed to encourage me and you to step into the wow world of trusting God and praying bold prayers and seeing God answer them.
God is a history making, life-changing God. He has proven His ability to do what humans find impossible. But …. He gives us the opportunity to be a part of the supernatural events He is waiting to release in response to our simple acts of prayer.
Today's dose of courage comes from pastor and author, Jim Cymbala, and the IF:Pray initiative. In the first part of this video, you'll learn how you can be a part of an international call to prayer on September 23rd. Jim Cymbala's teaching on prayer and how it has been the lifeblood of Brooklyn Tabernacle's ministry starts at the 4 minute 30 second mark.
May God infuse us both with even more courage to pray for the family, local and national situations that concern us most!
About Jennifer O. White
I'm a simple wife who has discovered God's amazing gift of prayer. Here at Prayerfully Speaking I share my journey of unwrapping this gift. God invites us to ask Him, but His enemy works diligently to keep that from happening. I hope to offer you encouragement to believe God is ready to pour more into your life than you've ever imaged.