You Can Cover that Sin Staring Back at You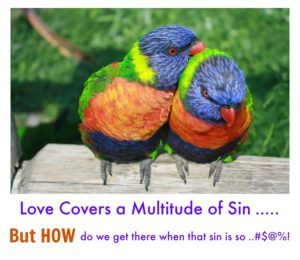 Most important of all, continue to show deep love for each other, for love covers a multitude of sins. 1 Peter 4:9
Have you read that verse and thought, "I have no idea what that means. How am I supposed to cover the sin of my _________________ (husband, parents, children, friends, pastor, etc.)?
When you and I see someone else's sin, especially another Christian's sin, our hearts quickly choose a response: empathy, disbelief, mercy, judgment, forgiveness, exile, and perhaps the overwhelming desire to fix this situation.
Maybe "fixing" this sin looks like confrontation. Maybe it starts out as getting the facts straight and slides into collecting every sick detail. Each one of us has watched it become the teeth-clinching topic of every conversation for weeks on end.
We've been influenced by sinful circumstances. God is very aware how we've been taught to react to the failings of others. With a merciful heart, He sent us Peter to guide our response into something Christ would do. He says we are to show deep love and cover the sin, the way Jesus did.
I'm writing at Church 4 Chicks today. Join me as I share how God is teaching me to cover sin. Are you staring at someone's sin and wondering what to do about it? Tune in here
About Jennifer O. White
I'm a simple wife who has discovered God's amazing gift of prayer. Here at Prayerfully Speaking I share my journey of unwrapping this gift. God invites us to ask Him, but His enemy works diligently to keep that from happening. I hope to offer you encouragement to believe God is ready to pour more into your life than you've ever imaged.