When Your Fragile Confidence Meets God's Power
I'm on a mission; a confidence mission. My confidence ebbs and flows especially when I've chosen to be vulnerable. The brave choice to follow Jesus requires a daring confidence.
Imagine what might happen if just ten of us were 50% more confident.
For the next several weeks, the focus here at Prayerfully Speaking will be relying on God with the same confidence the Shunammite woman in 2 Kings 4. While her son lay dead on a bed, she told her family "All is Well" as she rushed to find Elisha, the man of God, with complete assurance he could make a difference. I also want to react with the same confidence in God that Elisha demonstrated when he intervened in this situation.
Confidence. Why do we struggle with it? 
The source of our confidence should be the Most High God who chose to breathe life and purpose into us. With our focus on Who He is, what He has done, and what He can do through us, we would be …. should be ….. confident.
The opposite of confidence is doubt, fear, hesitation, weakness and uncertainly. Do any of those hit close to home for you? They all do for me.
Why are we, the children of God, so fragile in this area?
Our enemy has elaborate schemes aimed at everyone God created. His mission is to steal, kill, and destroy. And our confidence in God and God's work in us is at the top of his list. Because it takes faith to please God and that faith looks very much like confidence in God.
"Faith is the confidence that what we hope for will actually happen; it gives us assurance about the things we cannot see…..And it is impossible to please God without faith." Hebrews 11:1,6 NLT
Hebrews 11 gives us a long list of people who made history because of their confidence in God's character and power. They were simple people asked by God to do ordinary and extraordinary things. They lived out the truths of Ephesians 3:20 and 2 Corinthians 12:9-10.
Now all glory to God, who is able, through his mighty power at work within us, to accomplish infinitely more than we might ask or think. Ephesians 3:20 NLT
Each time he said, "My grace is all you need. My power works best in weakness." So now I am glad to boast about my weaknesses, so that the power of Christ can work through me. That's why I take pleasure in my weaknesses, and in the insults, hardships, persecutions, and troubles that I suffer for Christ. For when I am weak, then I am strong. 2 Corinthians 12:9-10 NLT
When we look at those two verses together, we lose any excuse to hide or cower in fear, doubt, and uncertainty. If we apply those truths to our lives, we  can confidently say: I am weak, BUT GOD is not. His power can be applied to my weaknesses. When that happens, God uses me to accomplish more than I can imagine or ask of Him.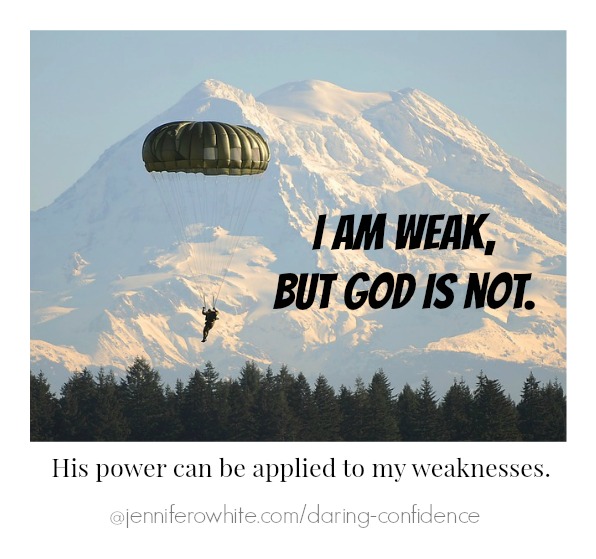 A confident Noah saved his family and the animals. A confident Abraham became the father of many nations long after Sarah could have given birth. "A whole nation came from this one man who was as good as dead" Hebrews 11:12 NLT
What fear, doubt, uncertainly, or weakness makes you feel as good as dead?
In prayer, lift that very thing up to God. Remind Him and yourself that you need His power to rest right there. Invite Him to make that weakness in you, strong. Ask Him to infuse you with a greater confidence that He is able.
Next in the Series: Scripture Prayers of Confidence: Declaring War on Fear and Doubt
About Jennifer O. White
I'm a simple wife who has discovered God's amazing gift of prayer. Here at Prayerfully Speaking I share my journey of unwrapping this gift. God invites us to ask Him, but His enemy works diligently to keep that from happening. I hope to offer you encouragement to believe God is ready to pour more into your life than you've ever imaged.