Faith Opens the Door to Victory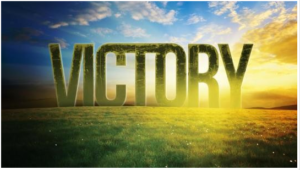 Faith is the victory. I've sung this hymn hundreds of times but in the last week it has become very real to me. Studying the shield of faith and the fiery darts led me to 1 John 5:4, "For everyone who has been born of God overcomes the world. And this is the victory that has overcome the world—our faith."
Jesus proved that He and God have more power than sin and evil.
With faith in that fact, we have chosen to live in the land of victory.
Hopelessness had been a sad little companion of mine. But as I desperately cried out "Help me Jesus," it began to fade away and faith moved in.  With that one simple and humble prayer, He ran to me with the help I didn't know to ask for. Just three desperate words opened the door to His victory at work in my life. 
As we walk into Good Friday, we can hang on to this hope – crucifixion always precedes resurrection.
While we die to doing life the easy way, our own way, or the way we might have learned to live, Jesus brings new life to us.
In He Restores My Soul,  Jennifer Kennedy Dean explains,
Salvation of the spirit is immediate, but salvation of the soul is progressive. The former sin-master of the soul has ingrained patterns of thought and behavior that must be eradicated. These flesh-patterns keep the believer from experiencing true, complete freedom.
Satan is known as one who kills, steals, and destroys. But we can choose a death that brings life – abundant life and more wholeness than we thought was possible. (John 10:10)
When the flesh-life of the soul has been crucified, the soul is free to live in resurrection power.

When I surrender to crucifixion (and sometimes I have to stay on the cross for a long time), the flesh in me dies, but then the life of Christ then manifests His victorious power. The place of my weakness now becomes the place of His greatest demonstration of power. Now my soul, instead of expressing the old, useless, self-serving Jennifer-life, is expressing Jesus-life.  – Jennifer Kennedy Dean
May God fill us with fresh revelation of Jesus' life and sacrificial death today. May He give us the courage to die to ourselves in the pursuit of a great life in Him.
The author and perfecter of our faith has made a way for us to live in victory.‪ Jesus saves‬ us for eternity, but also in our here and now. Because of Jesus, our tomorrows can be so much better than today. Nothing is impossible with God!
He is a risen Savior. The same victorious power that raised Him from the grave is at work in you and me.
Note: I highly recommend the book I referenced, He Restores My Soul by Jennifer Kennedy Dean. It is available today on Kindle for only 99 cents. Click here to get your copy. (affliate link)
About Jennifer O. White
I'm a simple wife who has discovered God's amazing gift of prayer. Here at Prayerfully Speaking I share my journey of unwrapping this gift. God invites us to ask Him, but His enemy works diligently to keep that from happening. I hope to offer you encouragement to believe God is ready to pour more into your life than you've ever imaged.