Fearless and Fruitful Suffering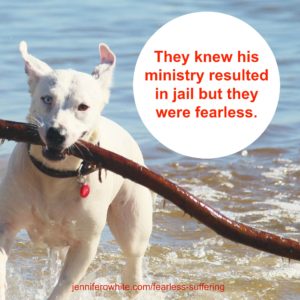 The headlines read, "The Advance of the Gospel" and "You Can't Imprison the Message."
They refer to Philippians 1:12-18, a letter from Paul explaining that his jail time is actually being used by God to advance the Good News about Jesus Christ.
"And most of the brothers, having become confident in the Lord by my imprisonment, are much more bold to speak the Word without fear." Philippians 1:14
Why would Paul's imprisonment make other Christians more confident in God?
He was imprisoned because He preached the gospel. People who knew that his ministry landed him in jail became "much more bold to speak the Word without fear."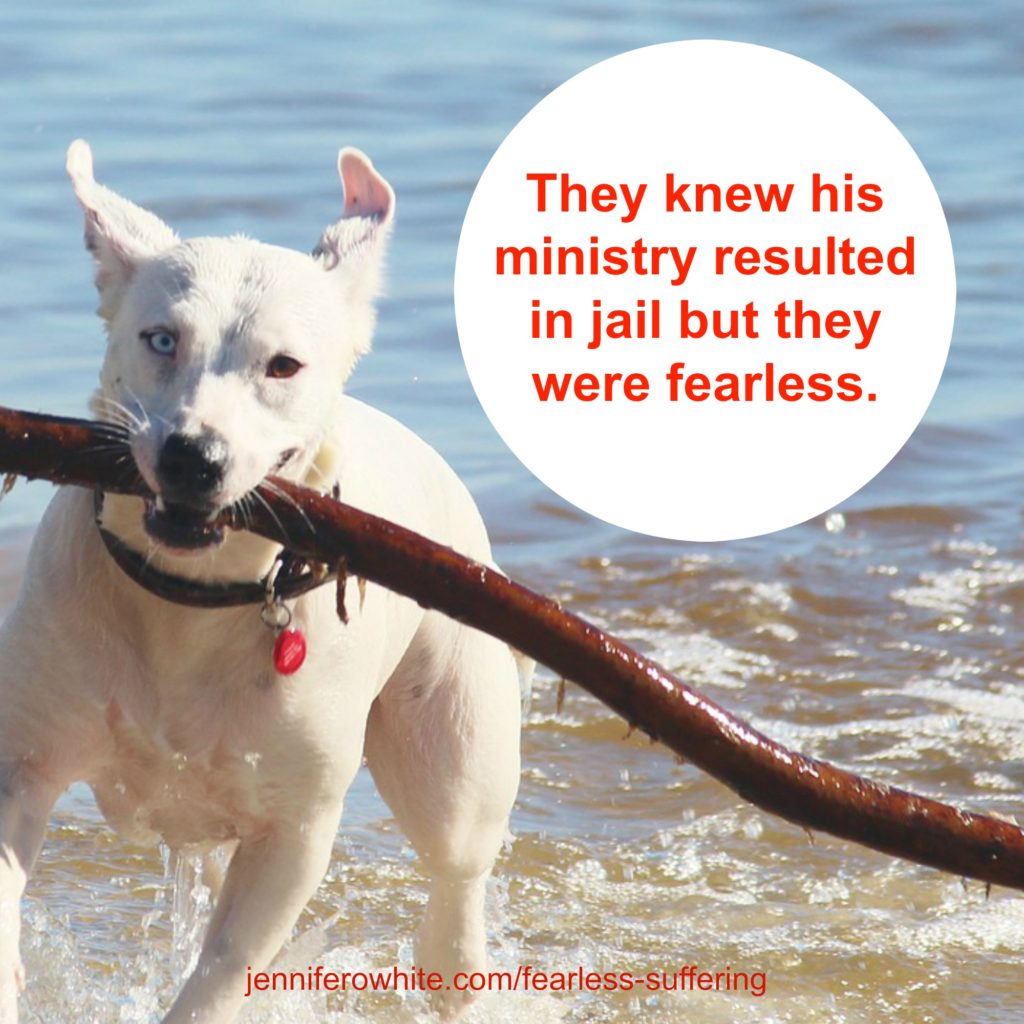 That is not natural is it? The potential threat of prison seemed to be of no consequence to them. 
I wanted to understand why Paul's hardship caused others to become bolder witnesses. So I researched a few commentaries and here is what I found:
"Paul's example gives them courage, because they know that he is suffering for the love of Christ, and is supported in his sufferings by the grace of Christ." Pulpit Commentary
I can see that. Through Paul's letters they knew that God was giving him endurance. Imprisonment had less power than God's Spirit in Paul.
"They feared God and not man," Gils Exposition of the Entire Bible
I'm guessing the "fear" was an awe of God who supernaturally caused Paul to write words of love and encouragement to them from a jail cell. Only God could fill a man with this goodness while He experienced such injustice.
Another commentary explained that God's "presence, power, grace, and Spirit, emboldened them." I want to soak in this truth!
Have you been "delayed" in doing good? Does illness, the lack of funds, a relationship conflict, or an injustice seem to stand in your way from ministering to others? Do you feel your God-appointed purpose has been thwarted?
What if your trial could actually be used to advance the gospel? Could your suffering be a tool God is using to inspire twenty or more people to live courageously for Him. If it were possible in Paul's life, it is certainly possible in yours.
May we all live fearlessly in the face of suffering using Paul and Jesus as our examples. (Tweet it)
Prayer Prompt:
There is none like You God! No one but You could bring good from circumstances that are deeply rooted in evil intent.
In the midst of temptation, disrespect, and sickness, You are my strength.
I surrender my desire to choose how You will use my life in Your Kingdom. I release my expectation to escape suffering and delay.
I am Your beloved creation, Your servant, and a vessel of Your glory. Use me in any way so that the hearts of those who see me are filled with Your fear-defying courage.
In Jesus, I pray.
Amen
About Jennifer O. White
I'm a simple wife who has discovered God's amazing gift of prayer. Here at Prayerfully Speaking I share my journey of unwrapping this gift. God invites us to ask Him, but His enemy works diligently to keep that from happening. I hope to offer you encouragement to believe God is ready to pour more into your life than you've ever imaged.