Fear Loses
Thanks to Leslie Lamb for guest posting today on the very important topic of fear and freedom.
Fear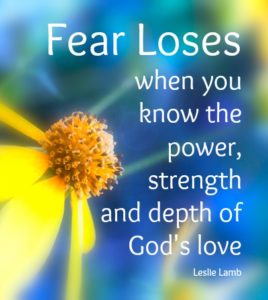 The first four letter word of the world: FEAR. Adam and Eve lived in a lush garden with all the luxuries of earth and mankind… and yet, one little lie changed everything. In actuality, it wasn't a little lie. It was a big lie, and the root of every fear we possess – God is holding out on us.
In one short conversation, Satan twisted every security God had provided into skepticism and doubt, with the words, "God knows… you will be like Him." Suddenly the caring Creator seemed crafty.
The truth was that God knew that knowledge and power could lead to death, and He desired to shield His beloveds as long as He could. It was a limit put in place to protect them, but the enemy made it seem like a ploy. "I know you think your precious God is for you. I know you think you've got it made here, but you are being trapped. I can free you." You can almost hear his lips smacking at the power of the lie – the trapper sounding like the hero. Sound familiar?
Fear is Forceful
Ultimately fear backs us into a corner while convincing us we will be free. As a child I was very fearful. I couldn't trust people. Instead of standing up for myself when I was being used and taken advantage of, the same lies crippled me. "If you just pretend this isn't happening it will be over and you will be free."
And yet, with each molestation, I wasn't free – I was falling deeper and deeper into the trap of self-hate, guilt and shame. I felt trapped. There was no way out, no hero, no protector. So I blamed the only constant in each circumstance, myself.
Fear Cripples
FEAR. It cripples us. It pulls us away from faith. It doubts the power of God, and misplaces His authority with apathy. Fear convinces us that God is against us, and mostly, fear is forgetting we are loved. It wasn't until I understood that the opposite of fear is not faith but love that I began to get freedom from the lies.
1 John 4:18 says, "No fear exists where his love is. Rather, perfect love gets rid of fear, because fear involves punishment. The person who lives in fear doesn't have perfect love." (GWT)
Jesus is Perfect Love
When we discover the power, strength and depth of that love, fear loses its hold. I am convinced that if we could ever truly glimpse the fullness of God's love for us, we would never again fear.
Prayer:
Oh Jesus, we need freedom from this malignant cancer called fear. We cry out to You for help.
Your gifts to us are LOVE, POWER, and a SELF-DISCIPLINED MIND. (2 Timothy 1:7) We choose You. We choose Your gifts to us.
We reject fear-filled thoughts as if though they were the wrong dishes delivered to us by a restaurant waiter.
Let Your Truths rule our thoughts. Remind us Who You are. Shine Your light on our thoughts and choices that are driven by fears so that we can reject them and make room for Joy!
—-
Leslie Lamb is an author and speaker who has a heart impassioned for this generation. Through her two published books, Kiss, Bang, Boom! And Paper, Rock, Scissors, she does her best to communicate to teens a message of hope and innocence in a world of serious and destructive issues. She can be found online at www.lesliealamb.com and through Facebook and Twitter @lesliealamb.
About Jennifer O. White
I'm a simple wife who has discovered God's amazing gift of prayer. Here at Prayerfully Speaking I share my journey of unwrapping this gift. God invites us to ask Him, but His enemy works diligently to keep that from happening. I hope to offer you encouragement to believe God is ready to pour more into your life than you've ever imaged.