Praise Him: Our Freedom from Shame
a prayer of thanksgiving, praise and surrender for God's gift of a Shameless life 
We praise You God. You are the only One who could save us from shame.
This shame we wear is a direct result of disregarding Your authority and Your desire to protect us from the selfish ways of this world.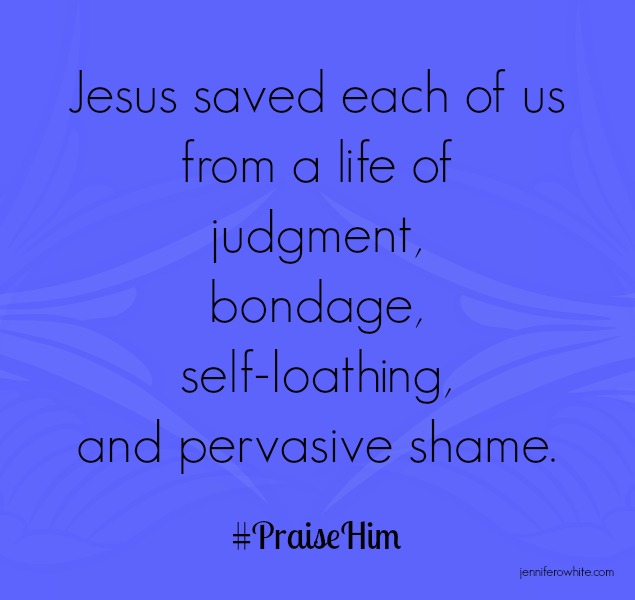 But You are merciful.
You saw the layers of sin and shame covering us like leprosy yet you looked at us with love in your heart. Your desire to save us from shame meant the death of the only one who had never disregarded Your commands. You allowed Jesus to take the punishment due of one judged guilty for a horrible crime. He did nothing wrong, but He agreed to Your plan and suffered so we would not have to.
Jesus, You became our Savior. You saved each of us from a life of judgement, bondage, self-loathing and pervasive shame.
You wore our shame and made it possible for us to wear Your robe of righteousness.
Your enemy wants us to be confused about Your love. Your enemy wants us to be distracted from the truth of our shameless life. He wants us to think about our weaknesses and hang our head. He wants us to focus on what was done to us and live in a hopeless sense of betrayal and fear. He does not want us to see Your love pouring into our lives as living water. He wants us to see a desert and believe we deserve to live in it.
He paints murals of disdain on the walls of our minds. Day and night he reminds of us our failure. He shouts angry words at us and causes them to sound like our own voice. He asks what others will think of us when they see the ruins displayed on our walls. He advises us to lock these evidences far away so we will be protected from shame.
Help us Jesus to grasp the Truth the enemy is trying to hide. Let Your light shine into the dark places of our minds and our hearts. Expose the fears we live by that are unjustified. Let the Truth about Your sacrifice on the cross cut the shackles we've worn like a laser.
You are our attorney defending us against the enemy. Help us to look up from our shame and see You at work for us.
You are the only litigator we need to win this fight. In many ways we have worked against You. Our feelings led us away from You. Forgive us Jesus. We did not know what we were doing was so wrong.
Our pride has tried to hide the truth of our need for Your help. We have been so afraid to appear weak and helpless.
Help us Jesus. We want to slay our pride, fire our fears, and humble ourselves at Your mercy – the mercy You've been offering to us every single day.
We want to see the goodness You offer and believe.
In the name of this Jesus who offers a shameless life, we pray,
Amen
About Jennifer O. White
I'm a simple wife who has discovered God's amazing gift of prayer. Here at Prayerfully Speaking I share my journey of unwrapping this gift. God invites us to ask Him, but His enemy works diligently to keep that from happening. I hope to offer you encouragement to believe God is ready to pour more into your life than you've ever imaged.