Getting Eternal Results
This is a powerful reminder to us all from Lyn Smith.
I hesitate to pick apart the spiritual "disciplines" and say that one is better or more powerful than the others. They are all important.
I love studying God's Word! It nourishes me like nothing else, and regarding prayer, The Word is necessary to know Who I'm praying to and how to pray.
I'm discovering more and more the incredible experience of long fasts and what God does as a result of them.
Gathering at church with other believers is such sweet fellowship that I wouldn't want to do without that.
But prayer! It changes us. It changes our lives. It is at once sweet, tender and intimate, while also being explosive, invasive, and stunning.
It hasn't always been that way for me. In fact, not until just a few years ago did I really begin to understand what is happening when I pray. It's not just a conversation, or me talking to an empty room, or a recitation of needs. Oh, no!
Prayer engages the forces of heaven. It sets things in motion that have eternal results. It is the pipeline to unleashing God's power.
Not that God is dependent on us to pray. He can do whatever He wants, when He wants. But He has chosen to use prayer as permission to intervene. He wants to be invited into our lives and situations. When we realize that The Almighty is ready to sweep into our lives, but He's waiting for our call, we should be galvanized into fervent, passionate, expectant prayer.
The answers are there, but we have to ask.
 "Call to Me, and I will answer you, and show you great and mighty things, which you do not know." Jeremiah 33:3 (NKJV)
May the Holy Spirit of the living God reveal to you today what you need to ask Him. He is waiting to pour out the unlimited wealth of Heaven to intervene.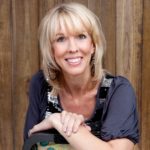 Lyn Smith is a truth teller who brings the reality and power of God into daily living. Traveling the world, she teaches at pastors' conferences, women's conferences, churches, and rehabilitation centers. She appears weekly on Christian Discipleship TV. Her second book, co-authored with best-selling author Tommy Newberry, is being released this fall. She is currently writing her third book. Lyn lives in Oklahoma with her husband and three children. Enjoy her blog and connect with her at lynsmith.org.
About Jennifer O. White
I'm a simple wife who has discovered God's amazing gift of prayer. Here at Prayerfully Speaking I share my journey of unwrapping this gift. God invites us to ask Him, but His enemy works diligently to keep that from happening. I hope to offer you encouragement to believe God is ready to pour more into your life than you've ever imaged.