His Glory Strength and My Faith, Hope & Love
Have you been contemplating the Glory Strength of God at work in you?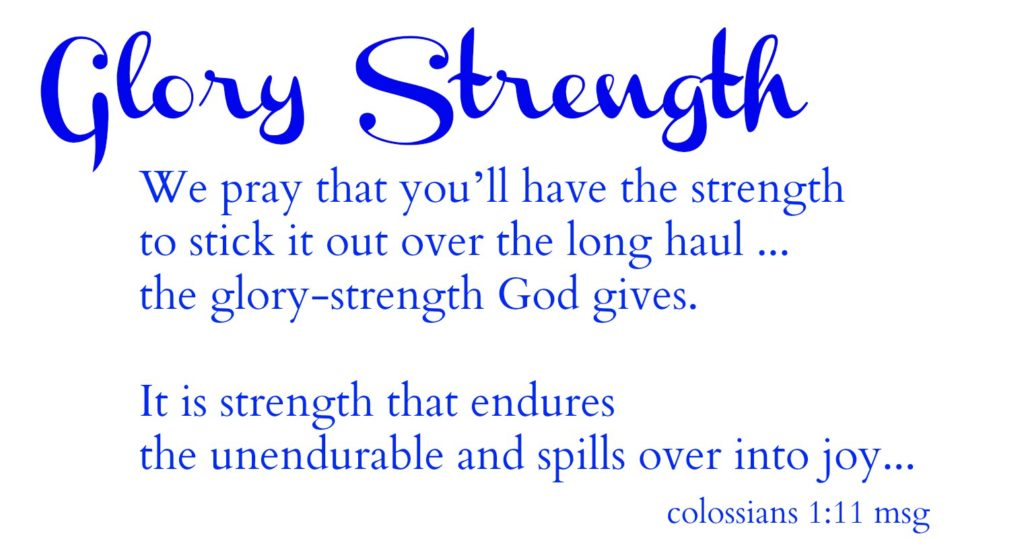 Since my last post, I invited His strength to work on my behalf.  I found myself feeling quite sad and a bit irritable. As I mentioned earlier, I'm am intentionally releasing my desire to "over-control" my emotions. I hope to at least acknowledge them to God and a few others. I've been able to admit my sadness to a few and now to you. That's the progress update for the week.
As I recognized my sadness this week, I felt very undone on the inside. Most of the time all I knew to do was ask God to "help me." I was not "at myself" enough to say to God, "I am relying on Your glory strength to get me through this." But the Holy Spirit of Jesus living in me knows I believe He is the One Who helps me.
This passage from the LOVE chapter blew hopeful winds into my sails today.
We don't yet see things clearly. We're squinting in a fog, peering through a mist. But it won't be long before the weather clears and the sun shines bright! We'll see it all then, see it all as clearly as God sees us, knowing him directly just as he knows us!

But for right now, until that completeness, we have three things to do to lead us toward that consummation: Trust steadily in God, hope unswervingly, love extravagantly. And the best of the three is love. (1 Corinthians 13:12-13 MSG)
Most of us nod our heads when we hear it this way: and these three things remain: faith, hope, and love – and the greatest of these is love. They are familiar words. They sound right and good. But what do we DO with them? How do we apply them to our lives?
These words – faith, hope, love – are commands right? They are verbs
Until I see as God sees and can relax in the areas that are a bit tangled in my head, I have three things to do:
Trust steadily in God
Hope unswervingly
Love extravagantly
Those words help me breathe a little deeper. What about you? 
Thankfully all of us have His glory strength to empower us to fulfill this tall and beautiful order. While we are depending on Him to be our strength, we can declare in advance that this is true of us (and others).
Speak the Truth!
I trust steadily in God.
I hope unswervingly in God's wisdom, power, and presence.
I receive God's extravagant love and pour it out into the lives of others.
Simple. Not always easy, right?
If you have trouble saying those words about yourself, just lift them up to the Lord and ask Him to help you believe they are true. He is where your faith comes from.
Where is God requiring you to apply your faith, hope, and love before you see the situation as He sees it?
About Jennifer O. White
I'm a simple wife who has discovered God's amazing gift of prayer. Here at Prayerfully Speaking I share my journey of unwrapping this gift. God invites us to ask Him, but His enemy works diligently to keep that from happening. I hope to offer you encouragement to believe God is ready to pour more into your life than you've ever imaged.