Strength: Yours or God's?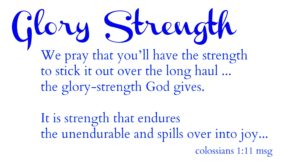 It was the first Bible study meeting of the new year. Being together again after a month brought on the silly giggles. With the lighthearted laughs, the rich time of praise and worship, came a phrase that stopped me in my tracks!
Glory Strength
She read from the Message translation. I heard Colossians 1:11 and I will never be the same.
We pray that you'll have the strength to stick it out over the long haul—not the grim strength of gritting your teeth but the glory-strength God gives. It is strength that endures the unendurable and spills over into joy, thanking the Father who makes us strong enough to take part in everything bright and beautiful that he has for us.
Maybe you can't relate. But friend, I am very familiar with the grim strength of gritting your teeth. As I confess my weakness of being emotionally stoic so as not to appear "weak, imperfect and human", God has powerfully revealed Truth to me.
God Gives His Strength
I have been slowly learning to depend on God's strength. I believe He is the gap-filler — where I am weak, He can fill in the gaps of my weakness and present Himself strong (2 Cor. 12:9). In doing so, He gets the credit for perfection. Jennifer is weak. God is strong. God is exalted instead of Jennifer. And… Jennifer gets the help she needs from God to accomplish the work and will of God.
Just in case you can relate to my struggle to look like I have it all together, I'm sharing this image as a reminder. print it out.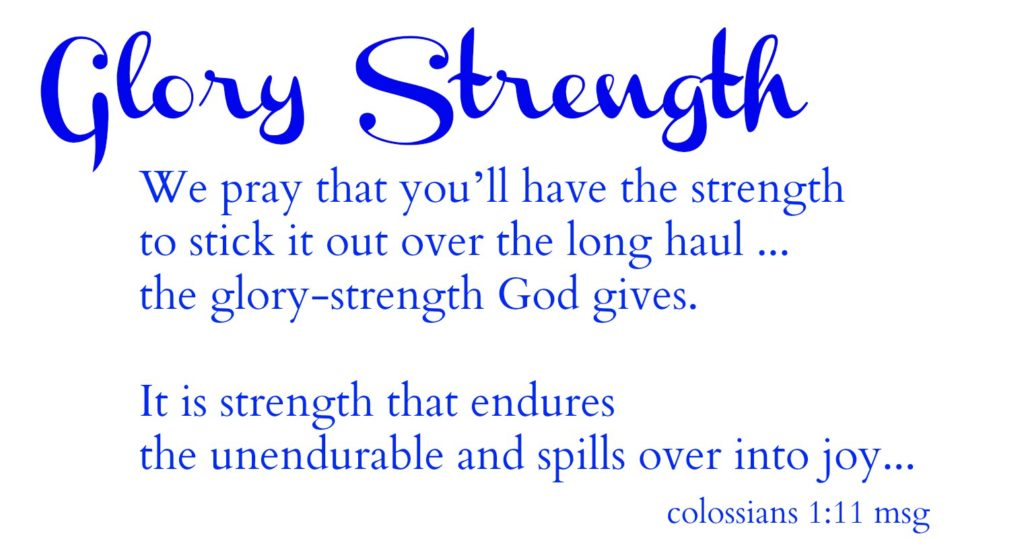 Speak the Blessing
We choose to speak the Truth as mighty weapon in our very real spiritual warfare. God spoke and life became a reality. We speak and depending on the words, life or death becomes a reality. Jesus cursed the fig tree and the next day it was withered. We do not know when we will see the fruit of our words.
Here are three blessings that agree with Colossians 1:11. Speak them over yourself or someone aware they are in need of God's glory strength.
God's glory strength is empowering me to endure with joy.
My energy is being renewed by God's glory strength.
I can endure because God's strength is alive and empowering me to thrive joyfully.
grab this Glory Strength reminder
How does the phrase "glory strength" resonate with you?
About Jennifer O. White
I'm a simple wife who has discovered God's amazing gift of prayer. Here at Prayerfully Speaking I share my journey of unwrapping this gift. God invites us to ask Him, but His enemy works diligently to keep that from happening. I hope to offer you encouragement to believe God is ready to pour more into your life than you've ever imaged.