God Answers Prayer: Jennifer's Story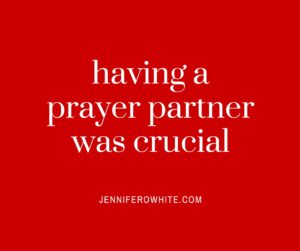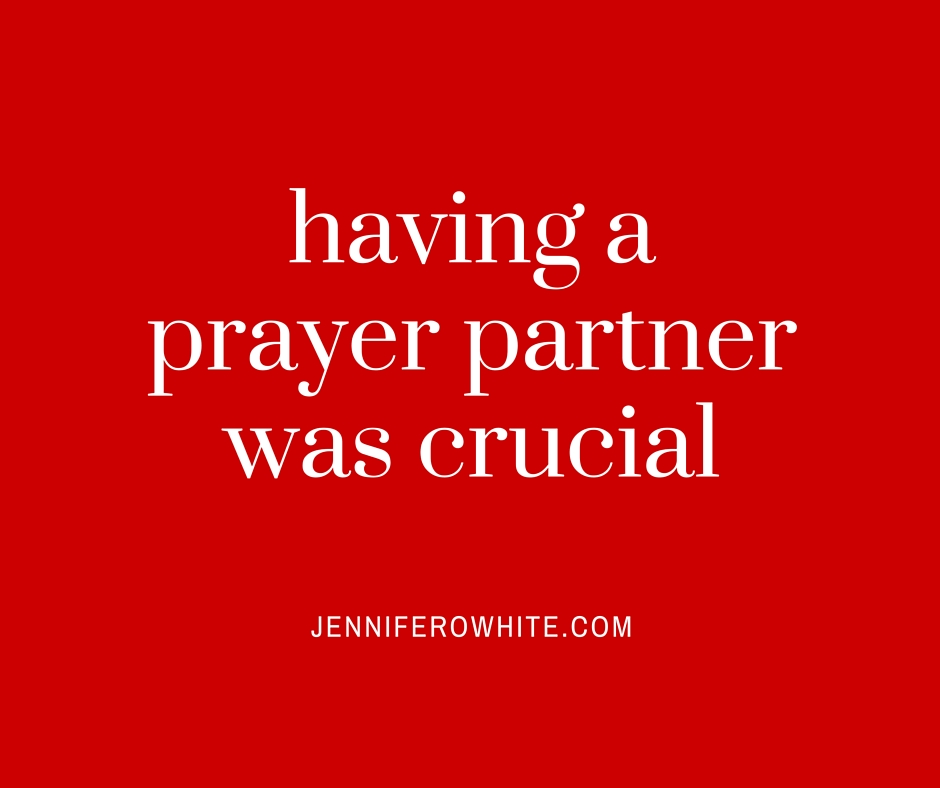 One of my favorite things to do here at Prayerfully Speaking is to encourage you with real stories of God answering prayers. Waiting on God is not easy work. Hearing how He has intervened in someone's life gives us a fresh hope. Today I am SO excited to share my own testimony of how God is answering a few of the prayers I started praying in 2015.
Early last year, Lyn Smith and I began to pray together two times a week for God's anointing on our recently published books. This was Lyn's idea and I am thankful she approached me about doing it. I needed her leadership on this because honestly, I don't think I would have done it otherwise. Without her, I doubt I would have crossed the hurdle from "should do it" to actually doing it. Our experience has taught me so much about the importance of a prayer partner.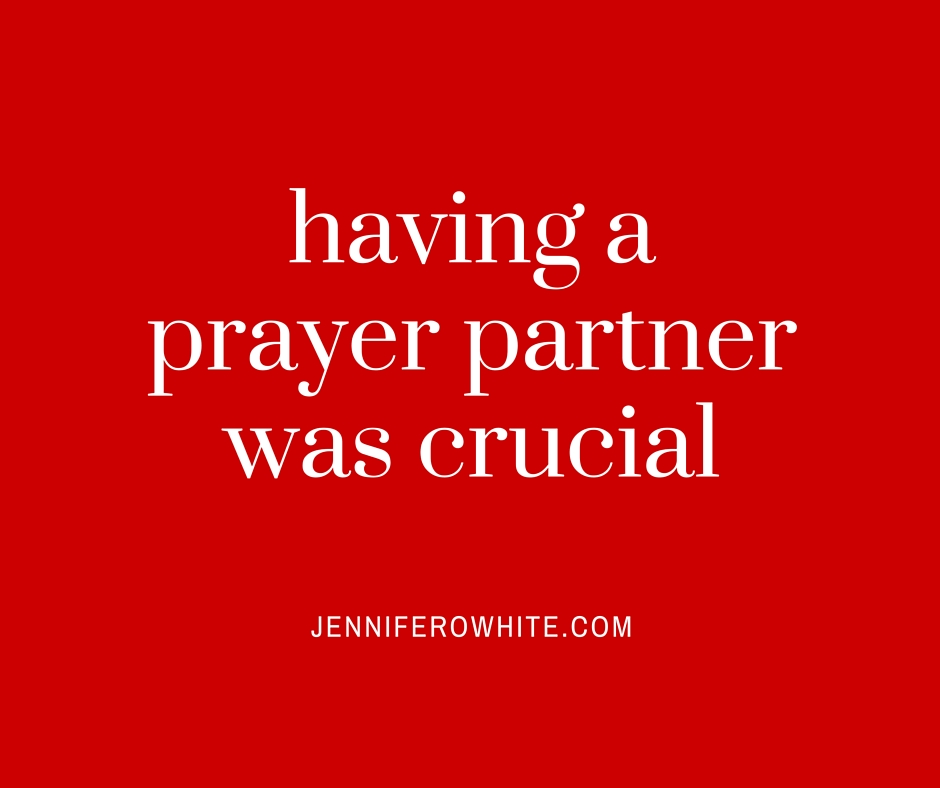 Almost every Tuesday and Thursday, we talk on the phone about our needs and our dreams for Prayers for New Brides and Word: Psalm 119 – a Study in 22 Meditations and we pray. At one point, God inspired me to pray for "endless tidal waves of word of mouth that would lead to sales which and transformed lives and marriages." Lyn and I have prayed for this consistently for months now.
One of my fervent prayers during 2015 was, "God, how do I connect my book to the movie, The War Room?" I  wholeheartedly believe that my book is a great supplement to the message of the movie. I talked to my publisher about what we could do to promote the book this way. I even worked on getting the book in the hands of the producers of the movie. I felt a lot of pressure about making this happen. It seemed like a enormous task and I was overwhelmed by it. You may not know this about me, but I've been known to complicate things when there is a very simple solution.
I watched the movie and loved it. It made me even more sure that my book would be a great read for someone who connected with the message of the movie. But I still didn't know what to do. I just kept asking God to direct me. Then … suddenly while I was putting on my makeup … I knew what to do. God inspired me to write a blog post with prayers from my book that could be used in every wife's war room. So I published 9 Prayers for Your War Room and my friends at iBelieve.com published too.
"For I am about to do something new. See, I have already begun! Do you not see it? I will make a pathway through the wilderness. I will create rivers in the dry wasteland." Isaiah 43:19
I was thrilled that God directed my path very clearly. But, to be honest, it just seemed like this would be a small drip in the sea of blog posts. I wondered how this plan could result in a significant impact. I'm glad God is able to use a mustard seed sized faith.
Within a few weeks the blog post went viral on Pinterest! Ya'll! What just happened?  I worked in marketing for years and never had success getting something to go viral. But God caused my simple blog post to be pinned or shared over 51,000 times (as of 01/08/16).
Those pins do not represent book sales — yet. But feel free to pray with me for that to happen! The great news is that so far 51,000 people have access to 9 prayers that will help them agree with God for their marriage. Just imagine the tidal wave of transformation happening for the ones who humbly prayed them.
Amazing God! Can you see "endless tidal waves of word of mouth" in those 51,000 pins? I sure do. As a result of this one article, several thousand people subscribed to my blog and/or began receiving Marriage Armor for the #PrayingBride daily prayers.
I have tried on my own to make that happen for months, … even years. But God, who is mighty in power reached into my life and used a few hundred words I had already written to impact the faith walk of all of these people.
I hope this doesn't sound like bragging. It's so obvious to me that I didn't do this. God gave me plenty of time to try on my own to reach more people with my book and my blog. I was not able to do it. I wasn't asking Him to do it either. I was focused on my own abilities and inabilities and proving myself. I was failing to "pray about everything", even about a blog on prayer. Ultimately I was not humble enough or faith-filled enough to do it. I wasn't intentionally avoiding praying about it. I was just not yet "awake" to the idea of it. "I once was blind, but now I see."
God is so merciful. He is continuing to transform my heart, my faith is increasing and my prayers are changing. I'm learning to pray more often about more things.
Thanks for letting me share the beauty of this new level of humility and joy in my life. Thank you for rejoicing in God's "more than we can ask or imagine" faithfulness with me.
I would love to hear how God has answered your prayers in 2015. Feel free to tell me in the comments of this post or email me.
Let's Pray for Each Other
Would you join me in praying for God to stir up endless tidal waves of word of mouth about Prayers for New Brides that lead to sales, transformed lives and marriages?
What is your big prayer right now? Let me and the Prayerfully Speaking community pray for you? Tell us here in the comments section of this post.
Ministry Highlight
Have you heard of Heartfelt Ministries or Heart to Home by Dr. Joneal Kirby? This is a wonderful church-based ministry helping the younger wives and mothers to learn from the generations before them. I had the privilege of speaking at a few of local Heart to Home gatherings and I can't recommend it enough.
I'm telling you today because I want you to check out the Heartfelt Conference, January 15 & 16 in West Monroe, Louisiana – just in case you live close enough to join us. The women of Duck Commander and Jeremy Camp are featured guests! Let me know if you are attending too. I don't want to miss the chance to hug your neck!
About Jennifer O. White
I'm a simple wife who has discovered God's amazing gift of prayer. Here at Prayerfully Speaking I share my journey of unwrapping this gift. God invites us to ask Him, but His enemy works diligently to keep that from happening. I hope to offer you encouragement to believe God is ready to pour more into your life than you've ever imaged.