God Answers Prayer: Katie's Story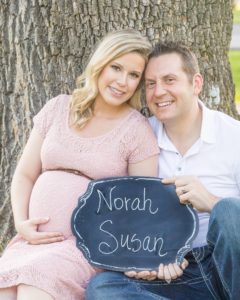 "In God's kingdom, what goes around comes around. And if you keep on praying again and again, your life will turn into a merry-go-round of miracles." Mark Batterson, Grave Robber: How Jesus Makes Your Impossible Possible
Are you waiting on a miracle? If you've thought about giving up, I have a very encouraging testimony for you today.
The miracle working power of God is alive in my dear friend Katie's life. Katie and I got to know each other when she asked me to direct her wedding. Since that time, we've worked together at New Leaf Publishing Group, carpooled most of those days, shared thousands of giggles and a few heartaches. Katie is a woman of faith and she inspires me!
For five years Katie and her husband, Matt, have desired to bring a baby into this world. Yes … 5 years of waiting, praying, investing in many different infertility treatments. Oh, to know how many prayers have been spoken on their behalf!
In this video, Katie shares great wisdom and encouragement for anyone who is waiting on God to do the miraculous.
It is so helpful to hear from someone who has lived through the waiting. I'm so thankful for Katie's perspective that God used the time of waiting to prepare them and to accomplish things through them. Do you believe He could be doing that in you now?
Daniel is a great example of persevering in prayer.
"The prophet Daniel prayed three times a day, every day, since his youth. He continued in prayer for nearly seventy years, until the time Jeremiah's prophecy came to pass! Yes, there are times when God acts quickly. More often, however, the work of God will take time. How long should we pray? We pray as long as it takes." — Francis Frangipane, The Power of Covenant Prayer
This is part of Daniel's prayer referred to in the quote above.
"O my God, lean down and listen to me. Open your eyes and see our despair. See how your city—the city that bears your name—lies in ruins. We make this plea, not because we deserve help, but because of your mercy.
"O Lord, hear. O Lord, forgive. O Lord, listen and act! For your own sake, do not delay, O my God, for your people and your city bear your name." Daniel 9:18-19
This week, I've been studying the compassion of our God. I'm amazed at how often the Bible repeats, "The LORD is merciful and compassionate, slow to get angry and filled with unfailing love." Psalm 145:8
I believe one of the ways the compassion of the Lord is displayed in our lives is through the prayers of other people. He pours out His unfailing love in the form of intercessors who will be for us what Daniel was to his people. We might grow weary of waiting and lose heart, but God has appointed Jesus to intercede for us. And Jesus, who is living within us, stirs others up to pray for us and prompts us to pray for others.
Are you surrounded by praying people? I hope you take Katie's encouragement to heart and find people to pray for you and with you. My life has improved exponentially since I've grown in humility and started asking others to pray for me. My prayer for you today is that God will fill your life with praying friends and give you the courage to ask for prayer.
 The Lord is good to those who depend on him, to those who search for him. Lamentations 3:25
Our prayers can help to change the course of someone else's history! When we pray, we are partnering with God to move mountains in the lives of others.
If you prayed for Katie and Matt to have a baby during the last five years, please comment below and share how you prayed and how this miracle has impacted your faith.
Side notes:
The video is not as crisp and clear as I would love for it to be. But I trust you found Katie's story so compelling it didn't bother you much.
There are likely many people who have prayed for five years and longer but did not see the miraculous happen in the way they hoped. I certainly don't know why God doesn't answer every prayer. But I know that He does not want us to give up on believing in His power and praying simply because we did not see His answer to one specific prayer.
About Jennifer O. White
I'm a simple wife who has discovered God's amazing gift of prayer. Here at Prayerfully Speaking I share my journey of unwrapping this gift. God invites us to ask Him, but His enemy works diligently to keep that from happening. I hope to offer you encouragement to believe God is ready to pour more into your life than you've ever imaged.