God is Joyful. God Enjoys You
Sometimes we are drawn to the Lord because of our problems. There is not a single thing wrong with that. God wants us to bring our difficulties and our sorrows to Him. That spiritual principle is made abundantly clear to us throughout the Word.
However, He doesn't want us to only come to Him when times are tough. He wants us simply to delight (take joy) in His presence. He wants us to allow His joy to lead us to Him.
Joy is a fruit of the Spirit, as we know from Galatians 5:22-23. And we know that the Spirit is the Holy Spirit, the Spirit of God.
When we allow that fruit of the Spirit to be evident in our thoughts, words, actions and countenance, we are actually allowing the character of God to be seen in us!
Just soak that in for a moment.
Joy is a characteristic of God.
God is joyful. He expresses rejoicing, delight, and gladness over us. He enjoys us! We are a source of joy to Him.
Zephaniah 3:17 (NLT) says it this way:
For the Lord your God is living among you. He is a mighty savior.
He will take delight in you with gladness.
With his love, he will calm all your fears. He will rejoice over you with joyful songs." (emphasis added)
That's a staggering thought to me. The God of the universe finds joy in me. Say that to yourself.
Whisper it if you have to. Shout it if you can: "The God of the universe finds joy in ME."
Now that is exciting!
When we express joy, we are imitating God!
That's a new twist. You want to be conformed into the image of God?  Show joy! (For me, that's some powerful motivation!)
Want more joy? Obey God's commandments. That keeps you in His love and fills you with joy. Just take a quick look at John 15:10-12 (NLT):
10 When you obey my commandments, you remain in my love, just as I obey my Father's commandments and remain in his love. 11 I have told you these things so that you will be filled with my joy. Yes, your joy will overflow! 12 This is my commandment: Love each other in the same way I have loved you.
No wonder Mother Teresa put it this way:
"Joy is a net of love by which you can catch souls."
It's time to use the joy of the Lord to influence the world around us!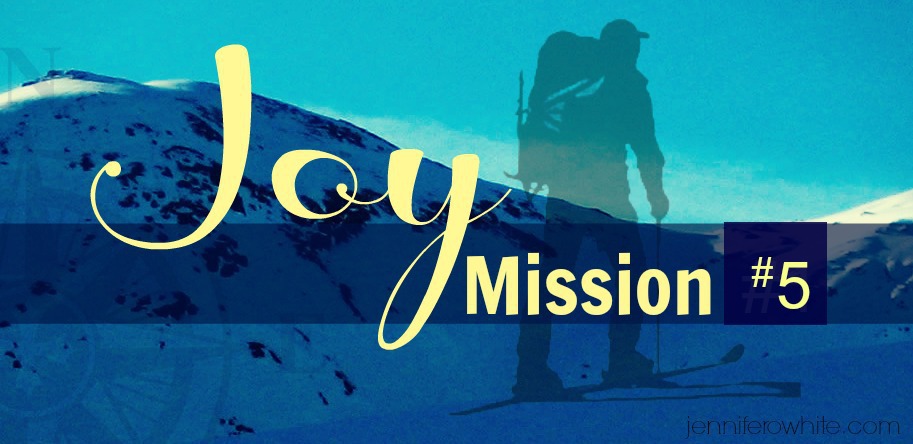 Here's JOY MISSION #5:
Pray this prayer with me:
"Daddy, help me to have Your character of joy! Please anoint me to express Spirit-joy extravagantly to the people in my life so that Your eternal love can be shown mightily in their lives. In Jesus' Name, Amen."
Do this:
Now that you have prayed this prayer, listen to the voice of the Holy Spirit and obey His direction concerning exactly what He wants you to do to express that joy to the specific people He wants you to reach.
One more thing: 
Share with us. Here and on Facebook. This journey is supposed to be an adventure. That means it's gonna take you out of your comfort zone. But God's there, too…and He is inviting you to join Him!
Catch up on the Joy Mission Blog Series by @RebeccaLecompte.
click here to read it and share it
it's powerful
About Jennifer O. White
I'm a simple wife who has discovered God's amazing gift of prayer. Here at Prayerfully Speaking I share my journey of unwrapping this gift. God invites us to ask Him, but His enemy works diligently to keep that from happening. I hope to offer you encouragement to believe God is ready to pour more into your life than you've ever imaged.