Restoration is God's Specialty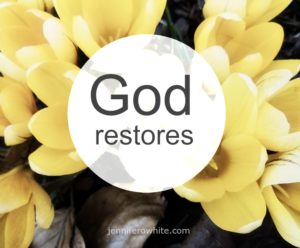 I'm interrupting the Even So, I Will Praise Him series with something so wonderful, I couldn't wait to tell you about it.
I'm hooked on Chris Tomlin's new album, Love Ran Red. Our Bible study group sings a few of them during our worship time. One of my favorites is, The Table. Check out the chorus:
Come all you weary; come and find
His yoke is easy; His burden light
He is able; He will restore
At the table of the Lord
As I sang the words "He will restore," I prayed "Please God, bring restoration" and I heard God reply: "What could stop me?" Those words from God washed over me like a strong wave. I can't stop thinking about my experience of His strength in that moment.
Seriously! He is Almighty God. What could stop Him from doing what He decides to do?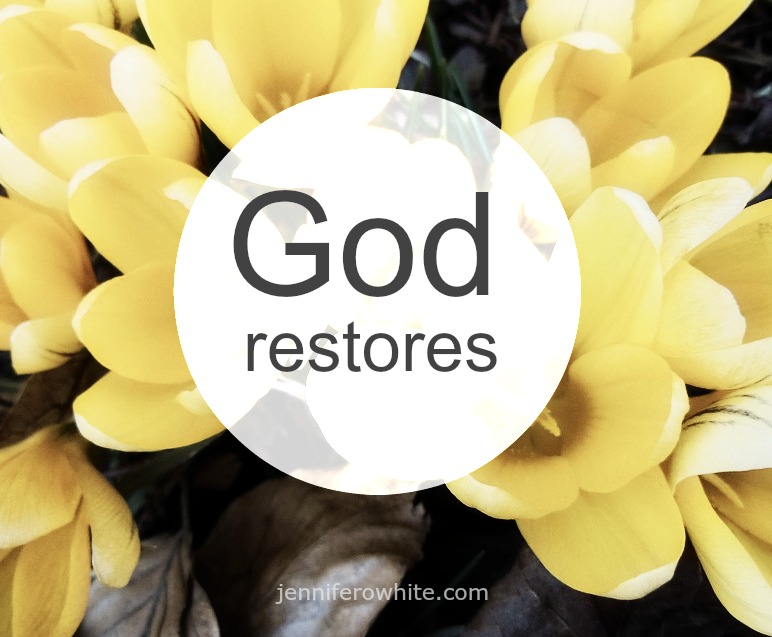 A few weeks later, I heard myself pray something that had never entered my mind before. And I knew it was Jesus praying it for me and helping me pray it for myself.
Here's the written version of what I heard and saw in that prayer:
 "Lord, I am swinging open the door of my heart and walking into Your light.  I recognize that I am under Your blood and I accept this in humility and thankfulness."
 "As I go, please restore what the locusts of fear and pride have eaten."
 Can you see it? There is great freedom in that prayer – a freedom I've been longing for.
It is such a bright and beautiful feeling. I don't know exactly what it means, but I know it is good. And it is the answer to so many prayers I've prayed for myself and others have prayed for me. Here are just a few of those prayers:
Fill me with joy, Lord.
Slay my pride, Lord.
I surrender my life to You, Lord.
Within a few days of this prayer, God showed me that I can also pray it for others. As I was praying over the phone with someone, these words flowed from my heart:
"Lord, on ________'s behalf, I swing open the door of my heart and I walk out of the darkness in victory. In Your mercy, please restore what the locusts of pride and fear have eaten in ______'s life."
I hope these encounters encourage your conversations with God.
God is shepherding us all to a life of freedom and joy. All throughout His Word, we find Him promising restoration and delivering it.
Here are a few of those promises:
For I will restore health to you, and your wounds I will heal, declares the Lord, because they have called you an outcast: 'It is Zion, for whom no one cares!'  Jeremiah 30:17
I will restore to you the years that the swarming locust has eaten, the hopper, the destroyer, and the cutter, my great army, which I sent among you. "You shall eat in plenty and be satisfied, and praise the name of the Lord your God, who has dealt wondrously with you. And my people shall never again be put to shame. Joel 2:25-26
Restore to me the joy of your salvation, and uphold me with a willing spirit. Psalm 51:12
Instead of your shame there shall be a double portion; instead of dishonor they shall rejoice in their lot; therefore in their land they shall possess a double portion; they shall have everlasting joy. Isaiah 61:7
And the Lord restored the fortunes of Job, when he had prayed for his friends. And the Lord gave Job twice as much as he had before. Job 42:10
How have you experienced God as one who restores?
About Jennifer O. White
I'm a simple wife who has discovered God's amazing gift of prayer. Here at Prayerfully Speaking I share my journey of unwrapping this gift. God invites us to ask Him, but His enemy works diligently to keep that from happening. I hope to offer you encouragement to believe God is ready to pour more into your life than you've ever imaged.