Grace in My Mouth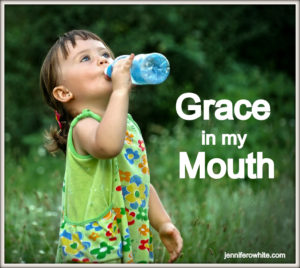 I have a new mantra.
Grace in My Mouth!
It came to me a few weeks ago. I was at my desk overhearing something that made me want to yell, "Would you just shut up!"  Obviously that would not be nice and maybe as destructive as what I was overhearing.
The words "Grace in my mouth" came to me. I am sure it was the direction of the Holy Spirit inviting me to speak words that would reflect the heart and patience of Jesus.
I remembered a visual image from Conversation Peace: The Power of Transformed Speech
; a Bible-study I participated in several years ago. The author used the visual of an 18 wheeler to show our words as transporters. They carry life or death to the hearts and minds of the one we are communicating with. It was a powerful prop for me. Can you see it? Can you see words leaving your mouth and delivered into your spouse's or dear one's heart?
 The tongue can bring death or life;
those who love to talk will reap the consequences. Proverbs 18:21
God used those words to coach me. I speak them to myself over and over if the occasion calls for it. And to be honest, at times, I only remember the new mantra after I let unfiltered words leave my mouth. Dang it!
I'm so grateful that His Words give life to me, and His grace is abundant for my unfiltered words. I should pray about my words and the grace in my mouth more often!
Father, let my words transport your grace to those you've placed in my life and in my path.  Let Your Holy Spirit remind me to filter my words to others so that they reflect your kindness and overwhelming patience with each of us.
You are where my help comes from!
—–
P.S. – If you say "Grace in My Mouth" out loud (even under your breath), it's super helpful. We need to hear ourselves speak truth! We have to coach ourselves to agree with the Holy Spirit of Jesus as He guides us.
About Jennifer O. White
I'm a simple wife who has discovered God's amazing gift of prayer. Here at Prayerfully Speaking I share my journey of unwrapping this gift. God invites us to ask Him, but His enemy works diligently to keep that from happening. I hope to offer you encouragement to believe God is ready to pour more into your life than you've ever imaged.