Healing from Post Traumatic Stress Disorder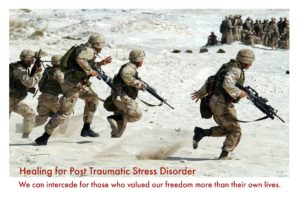 Thanks to Veteran's Day, we've set our minds on honoring those who courageously served and those who continue to serve. My family is filled with people who served our country well. My nephew-in-law is an Army man and has recently served in Afghanistan. Praise our God for raising up armies of men and women to serve as our defenders.
The celebration of Sergeant Andrew Tahmooressi's return from captivity in Mexico is on my mind. The trauma of being a brave warrior and yet a prisoner must be intense. Now that he is home, his mind will need to adjust to not being a prisoner. While he is physically free, his brain chemicals will likely still be protecting him.
Are you familiar with post traumatic stress disorder? It's the professional's label for flashbacks, nightmares, severe anxiety, emotional numbness, and that edgy feeling that occurs after something traumatic happens. Survivors of all kinds of abuse and horrible incidents deal with it. Many of our veterans, our defenders, have it.
Consider how a life of anxiety, depression, and edginess could affect a family. I can see how fear, hiding, and feelings of rejection could be etched into a family line. Addictions, abuse, divorce, and suicide are often relied upon as the emotional painkillers. The strategies of the prince of this world certainly emerge in that list. It's not hard to see "kill, steal, and destroy" in those symptoms and choices, is it?
But God! He is the Great Physician, our Healer, the lifter of our heads, and He is the ultimate authority in heaven and earth. Balancing brain chemicals is not a task our God would shy away from.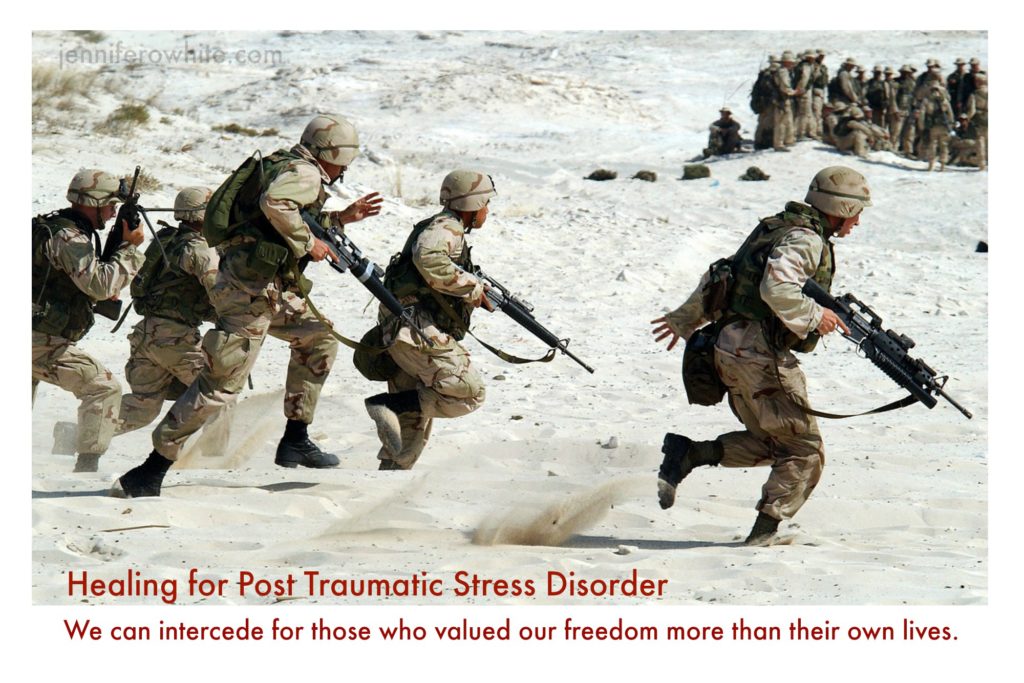 As faith-filled praying people, we can intercede for of those who valued our freedom more than their own lives. We pray in the name of the One who lived on this earth to set the captives free. We believe He invited us to leave a life of fear because He offers a tangible hope, true healing, and strength for our weaknesses.
Join me in praying in for anyone experiencing these life-hindering distresses, especially our veterans and their families.
We declare that You are their trustworthy God offering their minds an experience of safety, an impenetrable fortress of protection. (Isaiah 41:10, 13, Psalm 91:2)
Let Your strength reside within their minds causing them to be resilient regardless of the fears and felt threats. (Isaiah 41:10, Ephesians 3:16)
Today, I rejoice in the hope You have the power to calm the storm within their brains. (Romans 12:12, Matthew 8:26)
Raise a guard of protection for their hearts and minds so that peace can blanket their lives like green pastures. (Philippians 4:7, Psalm 23:2)
Bring Your Word, the Sword of the Spirit, to war against their anxiety and lift their heavy hearts. (Proverb 12:25)
Thank Your for work of the Holy Spirit who presents their needs to Your throne of mercy and healing. (Romans 8:26)
You are the Most High God and the Healer with complete authority over anxiety, depression, and unruly brain chemicals. (Psalm 47:2, Psalm 107:20)
I pray to You, O God, in faith that when I draw near to You on their behalf, You will rush to their aid. (James 4:8, 5:15)
Fill their minds with the vivid experience of Your joy, Your perspective, Your beauty so there is no room for illness and distress. (John 15:11, Jeremiah 33:3, Philippians 4:8)
Let their family members find You faithful in supplying all their needs and see Your glory as You heal them. (Philippians 4:19, John 11:4)
Nothing is impossible with You, Lord. (Luke 1:37)
In Jesus, we present these requests to You knowing that You are able to do so much more than we have asked or than we can imagine. Let it be so, Lord.
About Jennifer O. White
I'm a simple wife who has discovered God's amazing gift of prayer. Here at Prayerfully Speaking I share my journey of unwrapping this gift. God invites us to ask Him, but His enemy works diligently to keep that from happening. I hope to offer you encouragement to believe God is ready to pour more into your life than you've ever imaged.