Join Heaven's Song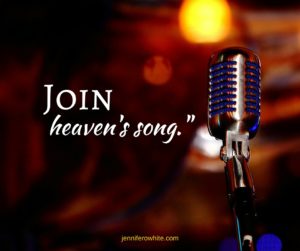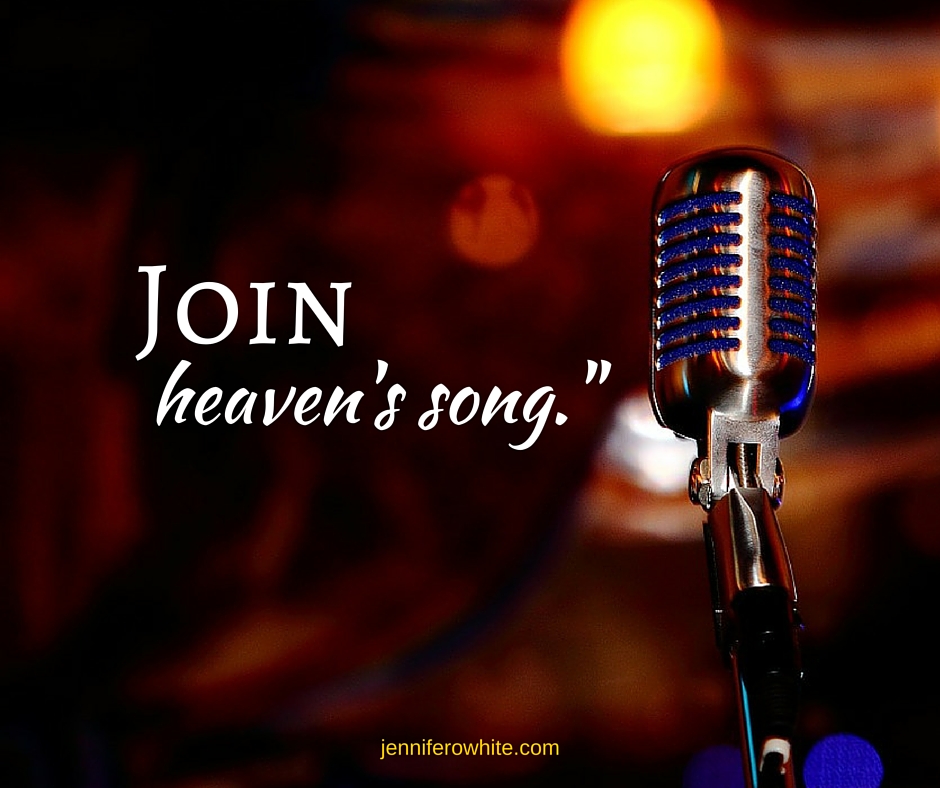 Hi friend! How has your Christmas been? How is your heart? Are you prayerfully embarking on a New Year adventure with God?
The last two posts were Christmas prayers inspired by Christmas hymns. I have one more prayer to share with you in this series. I know the Christmas season is over — but we are certainly not done celebrating Jesus. I promise this one will apply to your new year.
Today's prayer is inspired by Hark the Herald Angels Sing and O Come Let Us Adore Him.
It is simply this …
Lord, I want to live every moment of my life singing along with heaven's song.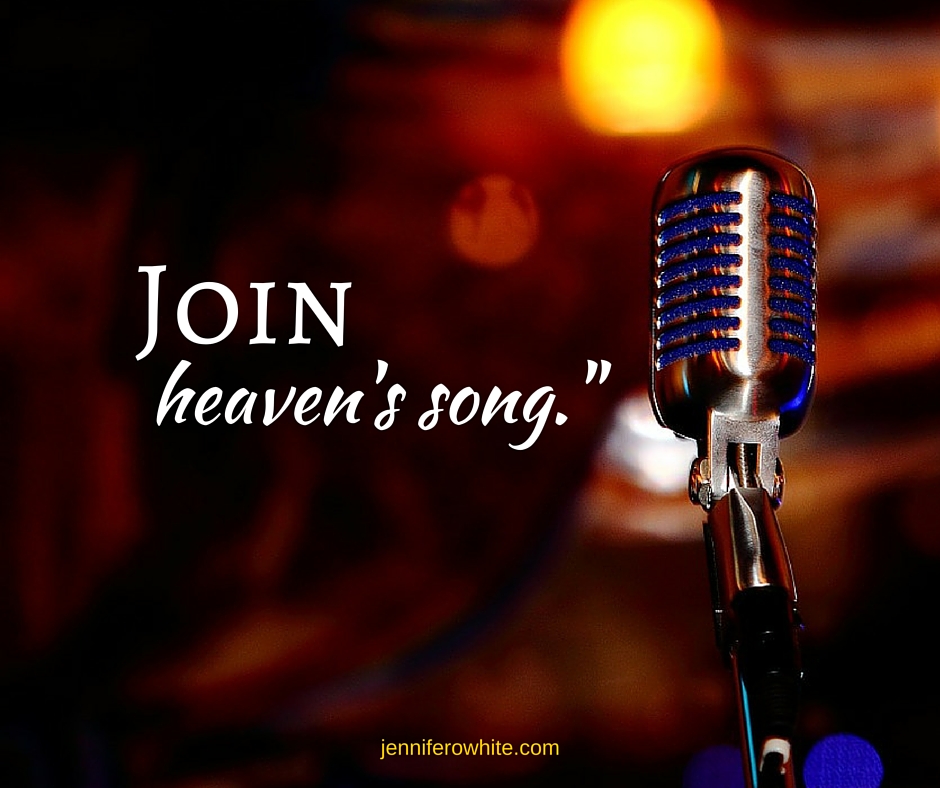 Join Heaven's Song!
All of heaven is rejoicing in who Jesus is and what He has done for us.
Then I looked again, and I heard the voices of thousands and millions of angels around the throne and of the living beings and the elders. And they sang in a mighty chorus:
"Worthy is the Lamb who was slaughtered—
    to receive power and riches
and wisdom and strength
    and honor and glory and blessing." Revelation 5:11-12 NLT
The angels are heralding Jesus' name and surrounding His throne to adore Him! Why not me? Why not now?
Somedays we feel stuck in the stuff of our lives. But the truth is … our spirits are not earthbound. They are only hindered by our focus on earthly things. I want my spirit to soar and sing of God. I want my focus to be on the realities of heaven and how they can and will impact this earth.
This simple prayer is also inspired by Heaven's Song. It's a beautiful worship song with a powerful invitation to join heaven's celebration of Jesus. I'm excited for you to hear the song and read the lyrics below.
Heaven's song is being joined in today, being joined in to stay
Will your voice sing along?
Heavenly eyes searching for human voices, searching for human choices
Will you join in the song?
All together singing, all earth and heaven,
Every voice is rising, to your holy name
Holy, Holy is your name, almighty God – the worthy One.
We lift our voices to proclaim, your holy name, your holy name, Jesus.
The song of the Lamb, is getting louder, the songs are getting stronger, as the church sings along.
Beholding the King in all His beauty, seeing all His glory, will they join in the song.
And altogether singing, all of earth and heaven, every voice is rising, to Your holy name,
Holy, holy is your name, almighty God, the worthy One
We lift our voices to proclaim Your holy name, Jesus.
Bridge
Jesus You have saved us, this is why we praise You, hearts full of surrender, this is why we praise You.
Repeat 2x
Holy, holy is your name, almighty God, the worthy one
We lift our voices to proclaim, your holy name, your holy name Jesus.
Check out the song on YouTube and iTunes.
By the way! Heaven's Song was recorded by the daughter of one of my Bible study friends and published on an album by their church here in little West Monroe, Louisiana. Cool huh!
What song are you singing as you walk courageously with God into 2016?
About Jennifer O. White
I'm a simple wife who has discovered God's amazing gift of prayer. Here at Prayerfully Speaking I share my journey of unwrapping this gift. God invites us to ask Him, but His enemy works diligently to keep that from happening. I hope to offer you encouragement to believe God is ready to pour more into your life than you've ever imaged.