Here is Love, an Easter Prayer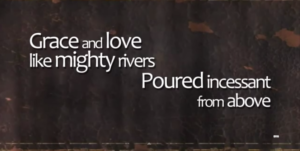 I woke up with the words of a beautiful hymn playing on the radio of my heart today. It's a welsh hymn titled Here is Love. The first words paint such a beautiful picture! "Here is love, vast as the ocean, Lovingkindness as the flood, When the Prince of Life, our Ransom, Shed for us His precious blood."
It's our Resurrection heritage. This love that can not be contained or experienced all at one time – it's just too big to comprehend. It is our  "everything can be made new again" and "nothing is impossible with God" present hope.
See these words from the song. Let God use them to paint a picture for you.
Grace and love, like mighty rivers
Poured incessant from above
And Heav'n's peace and perfect justice
Kissed a guilty world in love
An Easter Prayer for Us:
Open! Our eyes and our hearts are open to experiencing this never-ending ocean of Your love.
On this Easter weekend, let the mighty wind of Your Reality create waves that break through the dams of our perspective.  Change the landscape of our heart with the power of Your grace and love. Let us see our guilt.  Let us taste our past and/or current need to be rescued.
Help us to see You holding out for us the gentle kindness and tender comfort we desperately want.
We are ready, Lord. We want to settle deeper into our personal space in Your family room. We are eager to sing "Here is Love" with you and our family.
With Jesus' name on our lips and in our hearts, we listen and we sing.
The Love Song of the Welsh Revival
(the first few seconds of this hymn is in welsh)
Here is a link to a newer version sung by Matt Redman.
More on the Welsh Revival here.
Please add to this prayer in the comments below.
About Jennifer O. White
I'm a simple wife who has discovered God's amazing gift of prayer. Here at Prayerfully Speaking I share my journey of unwrapping this gift. God invites us to ask Him, but His enemy works diligently to keep that from happening. I hope to offer you encouragement to believe God is ready to pour more into your life than you've ever imaged.