Hold!…Hold! …Hold! Your Peace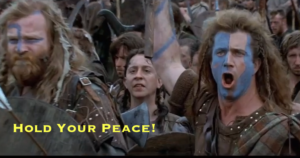 Mom and I were having a heart to heart. I was telling her how bad I wanted to verbally let someone have it.
She wisely recounted a scene from Braveheart (don't you love a mom that remembers a Braveheart scene?!). In the scene, Mel Gibson's army is standing as a group watching as armored men on horses charged them. Gibson leads his army in a LONG wait saying "Hold!… Hold!… Hold! (click here for the movie clip)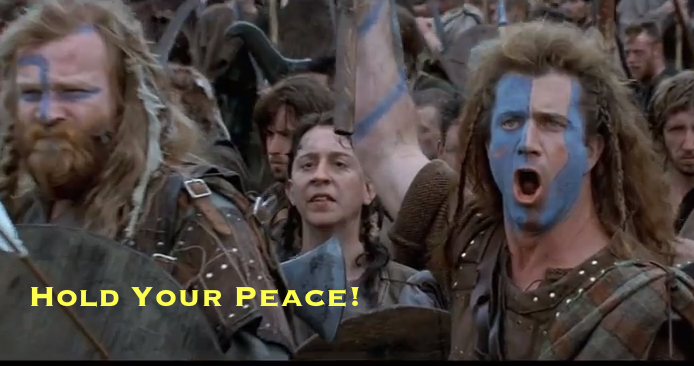 Gibson's army looks vulnerable, weak. He's appears to be on the losing side of this battle.
That's how I was feeling too. How could I just stand there watching the attack coming at me and do nothing?!?
Gibson's character had a battle plan. He had shared it with his army and they were following his lead. Waiting while danger approached.
As a Christ follower, we are asked to go when He says go, and wait when He says wait. (great song about this)  If we trust Him, His strength, His power, His leading to be for our own good , we submit. We say "Yes" to His leadership regardless of what the situation looks like.  We don't have the Big Picture, like God does. But we do have a Bible full of instructions. We have armor and a battle plan. The All – Mighty Warrior is leading us. He is all wise – we are not. He is all knowing – we are not. He is perfect and WE ARE NOT.
One of His instructions is to hold our peace.
He who is devoid of wisdom despises his neighbor,
but a man of understanding holds his peace. Proverbs 11:12
Here He explains our role regarding peaceful relationships.
If it is possible, as much as depends on you, live peaceably with all men. Romans 12:18
Are we suppose to just stand there and get chewed out, verbally abused, lied to or about? No, I believe we  are to obey God while He fights for us. Do we trust that an unseen God will work behind the scenes for us? Are we expecting Him to defend us?
The Lord will fight for you, and you will hold your peace. Exodus 14:14
It boils down to this … the fight belongs to God
God, do not keep silence; do not hold your peace or be still, O God! For behold, your enemies make an uproar; those who hate you have raised their heads. They lay crafty plans against your people; they consult together against your treasured ones. Psalm 83:1-3
But what do we do with our anger while God fights for us and we obediently hold our peace?
But know that the Lord has set apart the godly for himself; the Lord hears when I call to him. Be angry, and do not sin; ponder in your own hearts on your beds, and be silent. Selah Psalm 4:3-4
Are you shaking your head with me right now? We are supposed to think about it and be silent? How could we possibly hold it in, right?
The Holy Spirit (the same one who raised Jesus from death) lives within us to empower us to do what God says to do. He is where our help comes from. He helps us to be silent. He is our wonderful counselor. He shepherds and protects.
Prayer: Help us Lord!
We need Your help, Your supernatural power to hold our peace.
We want to grow in this area of trusting You to fight for us. Give us eyes to see and ears to hear your instructions and obey them.
Jesus, we need Your understanding, Your perspective in order to HOLD our tongues, HOLD our fears, and preserve the PEACE You've generously offered. Release Your power, love, and sound mind in our lives today so that we can be known as Christ followers who are able to be peaceful in unbelievable circumstances. Amen
Join this discussion by using the comment section below. Add your own prayer, thoughts on this subject, and/or Bible verses that come to mind.
About Jennifer O. White
I'm a simple wife who has discovered God's amazing gift of prayer. Here at Prayerfully Speaking I share my journey of unwrapping this gift. God invites us to ask Him, but His enemy works diligently to keep that from happening. I hope to offer you encouragement to believe God is ready to pour more into your life than you've ever imaged.