Joy is a Habit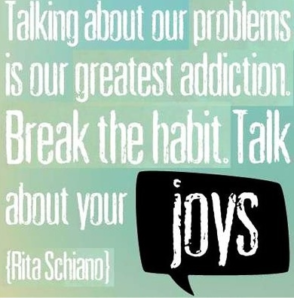 In the first two posts of this series, we discussed how JOY is a choice and how we must choose JOY over fear, anger and worry. Then we prayed and saw some great results…results that prove that God is faithful and gives us good gifts!
Last week we began to take our thoughts captive to the obedience of Christ, as it says in 2 Corinthians 10:3-5,
"For though we live in the world, we do not wage war as the world does. The weapons we fight with are not the weapons of the world. On the contrary, they have divine power to demolish strongholds. We demolish arguments and every pretension that sets itself up against the knowledge of God, and we take captive every thought to make it obedient to Christ."
I noticed something about those pesky rebellious thoughts: sometimes they tiptoed in when I wasn't really paying attention. And then they snuck out of my mouth. Suddenly, I was speaking negative words that weren't joy-filled.
I found myself stuck. I was in this in-between phase. I knew that I wanted to think joyful thoughts, but I often just didn't know what to say. My joyful thoughts were often vague and difficult to express. And that just wasn't enough!
So I began to meditate on God's Word about joy. Much of what is referenced in scripture is joy in response to a circumstance or situation. And the Holy Spirit whispered to me that I could, at any moment, choose to recall a blessing from Him and experience joy. I could also choose to remind myself of His Word, which promises us so much, including taking joy in doing His will. (Psalm 40:8)
I also started to remind myself out loud all of the good things that God has done for my family and me. That did wonders for my joy level!
As I rehearsed the good things God had done for us in the past, that brought confidence into the present and allowed me to think and speak joyfully about the future and my ability to handle it successfully!
Joy had just kicked fear in the face. And fear was down for the count!
I replaced joy-deficient thinking with joyful thoughts that brought even more joy.
I found that joy is contagious in my thought life. Once I began to deliberately think positive, joy-filled thoughts about my life, it became much easier to express joy in my speech. What a delight that revelation was!
Now it's your turn!
Joy Mission #3
First, pray this prayer with me:
"Lord, please teach me how to deliberately think joyful thoughts about You, my family, friends, myself, and my circumstances. In Jesus' Name I believe I receive when I pray. Amen."
And then do this activity with me:
Find a handful of things to think about as your "go-to" joy-filled thoughts. Write them down somewhere you will have easy access to them. Read them out loud when you're having trouble thinking of something joyful to say.  Share one or two of your new "go-to" thoughts with us here in the comments below or on the Facebook Joy Mission group.
The Joy Mission Series is a gift to us from Rebecca LeCompte. She has generously hijacked the blog while I (Jennifer) complete the Prayers for New Brides manuscript and host the 1st Come Away: Ephesians 3:20 event.
About Jennifer O. White
I'm a simple wife who has discovered God's amazing gift of prayer. Here at Prayerfully Speaking I share my journey of unwrapping this gift. God invites us to ask Him, but His enemy works diligently to keep that from happening. I hope to offer you encouragement to believe God is ready to pour more into your life than you've ever imaged.