Don't Quit Praying Now
Today, our dose of Hope comes from my faithful friend, Sundi Jo Graham.
Meet Daniel, a teenager just playing Dodge ball with his buddies, Hananiah, Mishael and Azariah. He was the quarterback and all the cheerleaders loved him. He was looking at a promising scholarship to the University of Jerusalem.
But in the blink of an eye everything changed.
He was carried off to Babylon by a king with a funny name and his name changed to something that sounded like a genie in a Disney movie. Belteshazzar. Say that three times fast.
God did some amazing things in this kid. He interpreted dreams. He was brave enough to claim that God would give him the strength to fight only eating fruits and vegetables. Oh, and there's the surviving being thrown in a fiery furnace thing. And let's not forget sleeping with lions for 24 hours and living to tell about it.
What most amazes me about Daniel is his prayer life.
For 21 days, Daniel fasted, as he grieved over the events happening around him. He brought his sorrow before the Lord and he did it on an empty stomach. Not only did he fast and pray, but also he had a conversation with his guardian angel.
"Do not be afraid, Daniel. Since the first day that you set your mind to gain understanding and to humble yourself before your God, your words were heard, and I have come in response to them." – Daniel 10:12
For the record, I would be so okay with an angel hanging out with me, even if for a few moments. I may stop breathing, but it would still be awesome!
When we pray, we can expect spiritual warfare behind the curtain.
Often when that happens, we have the desire to quit praying. What if Daniel quit praying before the miracle came through? What if he quit on day twenty? Mark Batterson, author of The Circle Maker, gives the perfect answer to this question.
"The answer is simple: Daniel would have forfeited the miracle the day before the day."
Batterson notes that every breakthrough has a genesis and a revelation. There's the first breakthrough, then the second.
Daniel saw the first breakthrough the moment he began praying. Wow! This means the answers to your prayers begin the moment you start talking to God about them. The second came for Daniel after day twenty-one.
The dash between days one and twenty-one was eventful for sure. The prince of the Persian kingdom, aka an evil spirit, fought hard to keep Daniels prayers from being answered. But angelic backup showed up and God won again!
God answers when we keep praying through.
Daniel insulted a king by refusing to eat his food because he was more concerned with insulting God. Obedience to the God who kept him from burning and being eaten by a lion was his priority.
Do you need a breakthrough? It's time for prayer, my friend. It's time to hit your knees before the God who desires to bring your prayers to fruition.
Don't quit praying before the miracle happens.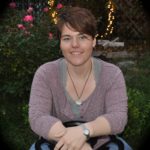 Sundi Jo is the founder and director of Esther's House of Redemption, a faith-based residential discipleship program, offering hope to broken women, free of charge. She blogs at sundijo.com and her latest book, Dear Dad, released in spring 2013. Find her on Twitter (@sundijo).
About Jennifer O. White
I'm a simple wife who has discovered God's amazing gift of prayer. Here at Prayerfully Speaking I share my journey of unwrapping this gift. God invites us to ask Him, but His enemy works diligently to keep that from happening. I hope to offer you encouragement to believe God is ready to pour more into your life than you've ever imaged.