The Power of Kindness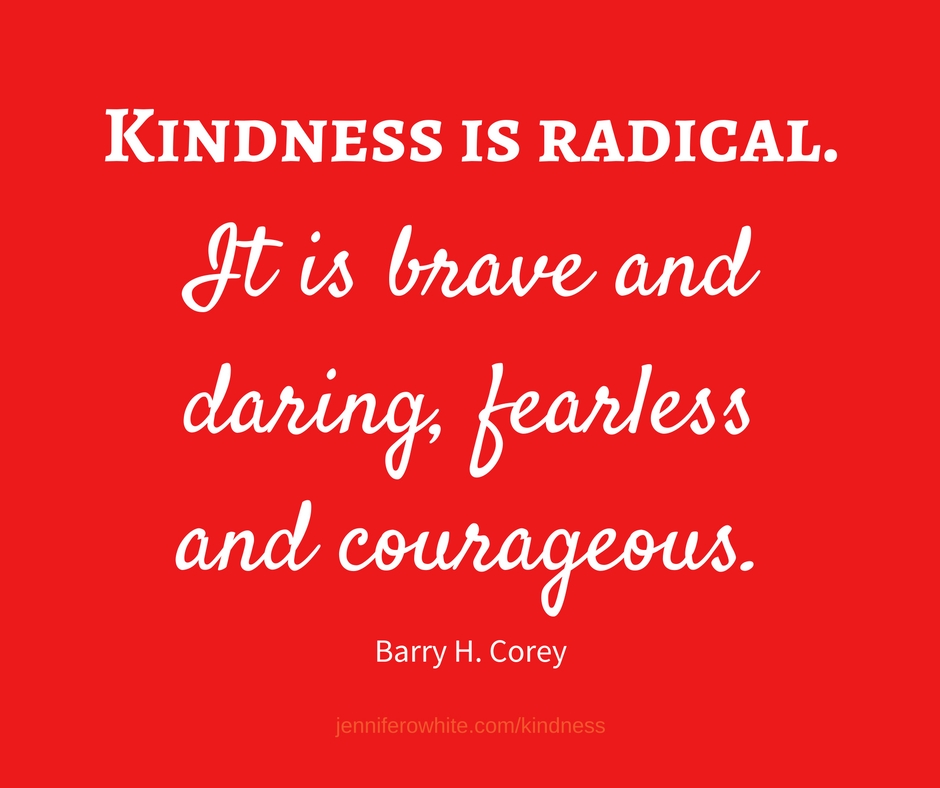 "When visitors walked into his room, even during his last days, he made them the honored guests."
"His kindness was the open door for friends and strangers to enter."
"He was wildly welcoming, epic in life because he was epic in love."
These are the words Barry H. Corey used to describe his father. I'm reading Barry's book, Love Kindness, which is a call to discover the power of a forgotten Christian virtue. As I've been praying through a few relationship questions on my heart, the Lord has been bringing the image of this book to my mind. I received it as a gift for my birthday and wondered when will I have time to read this book. God knew. He knew I needed it and He knew when I would be hungry for the answers it is providing me. I'm sharing a few nuggets from it with you today because maybe, you've got some questions about kindness in your heart too.
As I pursue humility and wholeness, God is faithfully showing me the weaknesses in me that require His strength. As I ask my Abba Father and Healer to transform me into the best version of me, He is highlighting discrepancies between my ideas of kindness and His. Sure, I've been the vessel of His kindness in the lives of many. But transformation requires a check of our motives. Sometimes the need to be affirmed and the need to feel necessary in the life of someone else was lurking in the background . This book is helping me clean out the closet of my heart by helping me redefine kindness.
The Power of Kindness
Corey says, "Kindness doesn't pamper, and it's not random. It's radical. It is brave and daring, fearless and courageous, and at times, kindness is dangerous. It has more power to change people than we can imagine. It can reconcile relationships long thought irreparable. It can empower leaders and break stalemates. It can reconcile nations. Kindness as Jesus lived it is at the heart of peacemaking and has the muscle to move mountains. It is authentic and not self-serving."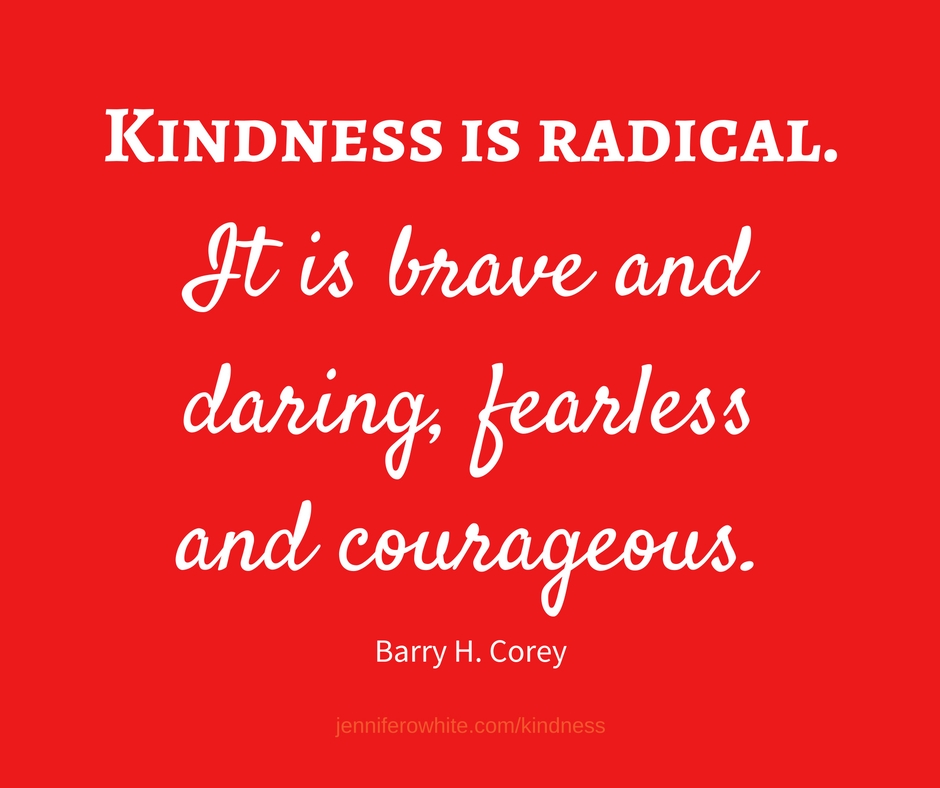 Instead, be kind to each other, tenderhearted, forgiving one another, just as God through Christ has forgiven you. Ephesians 4:32
Kindness is not niceness. This has been my perception and thankfully it is being challenged. Nice works to keep people civil and happy. Kindness tells the truth with a love that is willing to risk the reaction. Kindness has faith that truth has the power to change someone's future. Nice tolerates intimidation. Kindness resists the intimidation while loving the intimidator.
"As God's chosen people, holy and dearly loved, clothe yourselves with … kindness. Colossians 3:12
Love is patient, love is kind. 1 Corinthians 13:4
The Jesus we read about in the Bible was kind to people. He valued them. He corrected them. He gave them what they needed regardless of what it cost Him.
Can we really be "kind" to others before we have experienced this "kindness" from Jesus? Have you received Jesus' kindness?
Could it be that people (including me and you) are often afraid of getting close to God because the people who represent Him have been unwelcoming and unkind?
Receiving Jesus
I am receiving His kindness towards me more than ever before. Each time I ask Him to help me and I recognize that He does, I sense that He is for me and with me. He is revealing Himself to me more than ever before perhaps because I am drawing near to Him more often.  The ministry of His kindness to me is a beautiful mixture of His choice to be near me and His truth that leads me to make changes that bring forth a more rich and satisfying life.
The woman at the well is one of the best pictures of this for me. Regardless of her outcast status and her bad choices, Jesus sat with her. Jesus, the ultimate Goodness that overcomes evil, affirmed her value with His presence. He did not shy away from telling her the truth. He wanted to give her what she lacked — life and peace. He wanted her to have more of God than she ever thought possible.
In Love Kindness, Barry Corey, describes his dad as "receivable." His dad chose to live Matthew 10:40.
"Anyone who receives you receives me, and anyone who receives me receives the Father who sent me."
Barry's father told him, "I've got to live my life so strangers, friends, aching, lonely, family – they receive me, and through me they see God's inexhaustible love." He was not concerned about being "received" but "receivable." He knew that humility is accepting that our kindness will sometimes be rejected.
Overcoming the Fear of Rejection
According to Corey, "Living to be received focuses on how others respond to my kindness … and ultimately inflates my ego." Ouch! "Living the way of kindness calls us to a posture of humility, and humility is most authentically lived when I accept that my kindness will sometimes be rejected."
Jesus was not concerned about being rejected. Jesus was all about offering Himself to others as the way to connect with God. Jesus held nothing back! He was unhindered by the mockers, unbelievers, and betrayers. Jesus was sure of who He was (is) and what He had to offer.
Knowing Jesus more intimately is stabilizing me. Knowing He is my friend helps me be less concerned about how people judge me. I certainly haven't completely overcome my fears and insecurities. Far from it. But I am less needy and able to make better choices for myself. I am being more kind to myself finally recognizing that I don't have to be overly kind, giving myself away to make sure someone feels secure. I am realizing that their security is between them and Jesus.
I am learning that telling the truth even when it's hard is kind. It will help people see their need for Jesus who is ready to give them a more rich and satisfying life. I used to think telling a hard truth might damage or end the friendship. But the Holy Spirit is consistently reminding me of this truth:
Faithful are the wounds of a friend; profuse are the kisses of an enemy. Proverbs 27:6
Faithful friends are willing to wound. Nice people, without the wonder-working power of Jesus' kindness, are not so brave. I need to be more brave.
This is just a glimpse at what I am learning. There is so much more of this book I want to share with you. Maybe in the next post. Until then, I want to pray about this power of kindness for myself and I welcome you to join me in the prayer.
Thank You, Jesus, for being kind to me. I want to recognize and receive even more of Your kindness. I trust that the power of Your kindness will overcome the residue of people's judgment and condemnation that is embedded in my heart. 
May Your radical kindness towards me lead me to be humbly receivable so that others can receive You. When the truth needs to be spoken in love, make me brave and quick to obey You. Let Your love be in my heart and on my lips. I trust that Your kindness at work in me can move mountains. In Jesus, I pray. Amen
About Jennifer O. White
I'm a simple wife who has discovered God's amazing gift of prayer. Here at Prayerfully Speaking I share my journey of unwrapping this gift. God invites us to ask Him, but His enemy works diligently to keep that from happening. I hope to offer you encouragement to believe God is ready to pour more into your life than you've ever imaged.