Praise Him: for a Life of Less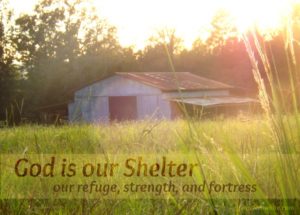 an inspiring post in the Let's Praise Him series from Edie Mohn.

Psalms 34: 1-7
I will bless the LORD at all times;
His praise shall continually be in my mouth.
My soul will make its boast in the LORD.
The humble will hear it and rejoice.
O magnify the LORD with me,
And let us exalt His name together.
I sought the LORD, and He answered me,
And delivered me from all my fears.
They looked to Him and were radiant,
And their faces will never be ashamed.
This poor man cried, and the LORD heard him
And saved him out of all his troubles.
The angel of the LORD encamps around those who fear Him,
And rescues them.
Ooh the Excess 
Ok, so I'm a borderline hoarder, not like a bad hoarder, but a hoarder. I don't hoard cats or stacks of old cereal boxes or anything like that but I do hoard things like can goods, food, toilet paper, and what I am now realizing, books. It went from, hey I'd like to read that or it was on sale, to Wow I guess I need a few more book shelves to store my "collection". Now because of this I have been made fun at times by my own family, asking if I was getting ready for Armageddon. Note: They weren't taunting me when they used the last of the toilet paper and needed some more immediately now were they?
Anywhoo… see growing up in financial strife or struggle at times has made me what I would call a little more sensitive to making sure we have a back up. We were the family growing up that was always missing one or the other. Peanut butter no jelly, butter no bread, salsa no chips, chocolate syrup no milk, you get the point. We were always running out of toilet paper. Note this is where my hoarding of toilet paper comes in. So needless to say I am a little over prepared on a few items in the cabinet.
That being said, a few years ago I felt the Lords prompting on my heart to take a look around, a good look, and notice all of the excess I had in my life. See we lived in a big beautiful home with more sinks than people, more space than we needed, more clothes than we wore, more shoes than we would wear in two or three years. Oh, I forgot to mention my other hoarding item…shoes. Were just going to move on past that one though. My kids had so many toys that when they starting digging in their toy boxes they would literally find stuff they didn't know they had. God really opened my eyes to the excess which was enlightening but it was a very hard realization.
As I looked around I started to feel trapped by all of these things. As the days went on I began to go through clothes in the closets, toys, household goods, etc. getting rid of them. Notice I didn't say shoes. Even though getting rid of these things was good, there was still a nagging in my heart. I knew God was trying to not only show me something but prepare me for something as well. I just didn't know what.
Mutiny Against Excess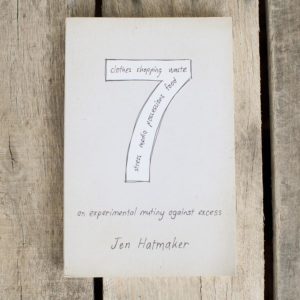 One day while out shopping (at a store that may or may not sell books), I happened upon a book called 7 written by Jen Hatmaker. Right on the front cover was the words "An experimental mutiny against excess". I was sold; I had to have it (of course). When I flipped the book over I read the question. "Do you feel trapped in the machine of excess?" Yes, yes, yes, I do! As I began to read this book I fell in love. Jen writes about an experiment she did where she and her family would spend thirty days on each topic living without the excess of certain things. They narrowed it down to only eating 7 foods, wearing 7 articles of clothing, spending money in only 7 places, etc. All to prove that living a reduced life can help you to discover a greatly increased God. It was eye opening. Seriously Jen Hatmaker is hilarious. I realized then that this was just another way that God was speaking to my heart and preparing me for what He was about to do.
In the summer of 2012 my husband starting mentioning how he felt that we were supposed to make a change. Maybe a temporary change, maybe a permanent one, he wasn't sure but he knew that a change was coming. He was feeling unfulfilled at his job. His income had decreased; he would go in some days and feel like he didn't even know why he was there. He just knew that wasn't where he was supposed to be. At the time we lived three hours from our family and had for the past almost ten years. He asked me if I would be willing to move back home to where our family was. He told me he could get a job there and then he asked if I would be willing for all of us to stay at his grandmother's house for a few months just to make sure that was where God was calling us to. Leave our things at home just take a few suitcases and the kids. For some reason only known to God, I said yes.
Letting Go
This was not easy on my heart. This is the home my son started school in, this is the home where my husband led our son to the Lord, this is the home where on our knees we cried out to God asking for another baby, and this is were we brought that baby home to from the hospital. That back bedroom back there, that's where we homeschooled our kids, and nursed sick Grandmas back to health, this is the home we invited people into to live with us and do life together all the while they were trying to break the bondage of drug addictions. God had done so many great things here and it was gut wrenching and heart breaking to leave it all. I was also very fearful to leave it all, to step into the unknown. But you see the stirring in my heart flashed before my eyes. Maybe this is it. Maybe this is what God was preparing me for. And it was!
So here we are 17, yes 17 months later. Still back home with the fam, still staying at Granny's, still having everything we own back at what now seems more like a glorified storage unit instead of  a home. We did however just purchase a home and we are renovating it and getting ready to move in. It's a much smaller, older home, but I'm in love. I can't wait to see what God has planned for us there.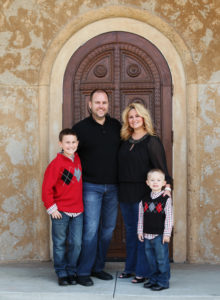 This season of my life has been extremely hard and extremely good all at the same time.
My kids have had the opportunity to have grandmas, papas, uncles, aunts, and cousins in their lives on a daily basis which is something they never had before. God has been so faithful. I know Him so much better now. He has pulled back the scales of my eyes. He has thinned the veil to show my heart a glimpse of glory. He has opened the doors and allowed my children and myself to meet the needs of the homeless. He has made my marriage stronger and my love and respect for my husband greater. One of the greatest gifts He has given me is time. The time I am able to spend with my Mother who is sick and He has allowed me to be part of the great work He is doing in her life. He has led us to an amazing body of believers and a pastor who is led by the Spirit. I now feel a little like the Israelites when God led them out of Egypt. They wandered in the wilderness for forty years living in tents or booths but He met every one of their needs. He had mercy on them and led them into the Promised Land.
Where God is 
See I was so comfortably fixed that God called me to an unsettled state and with utmost care and tenderness imaginable hung a canopy over me. God is our shelter. Not the home we live in or even the life we've built. He is our rescue. He hears us and answers our prayers. He delivers us from our fears and saves us from our troubles. I am so thankful for the journey the Lord has brought me on because where He is, is where the blessing is. I feel that because of my time with Him I am more radiant than I have ever been.
I am excited for this new season of my life. Less excess, smaller home, bigger life, more Jesus. I say smaller home but I guess I need to check my heart on that one. Only time will tell. When I run out storage space for my canned goods and toilet paper we might have a problem Jesus. Hey just keeping it real, I am a work in progress!
Edie Mohn
Devoted to the one true king…Jesus
Wife to one awesome God loving man…Daniel
Homeschool Momma to two amazing boys… Jackson and Titus
Lover of people, Believer in others, Determined, Passionate, Compassionate, Creative, Excited, Enthusiastic, Believer in Prayer, Seer, Warrior Chic, Fighter for freedom from bondage in the lives of believers, Word lover, Homeless Helper, Relentless, and die-hard for the cause.
About Jennifer O. White
I'm a simple wife who has discovered God's amazing gift of prayer. Here at Prayerfully Speaking I share my journey of unwrapping this gift. God invites us to ask Him, but His enemy works diligently to keep that from happening. I hope to offer you encouragement to believe God is ready to pour more into your life than you've ever imaged.