Refreshed by the River of Living Waters
On this Labor Day weekend, we can simply celebrate the refreshing nature of the River of Living Water flowing to us and through us.
In John 7:38 Jesus says, "Anyone who believes in me may come and drink! For the Scriptures declare, 'Rivers of living water will flow from his heart.'" That river, the Holy Spirit, is alive in you and me today! He is our moment by moment source of life-giving thoughts and words. He gives us brilliant thoughts, wonderful counsel, step-by-step direction, creative ideas, and comfort that stabilizes us in life's storms. As we allow Him to minister life to us, He is sure to spill over onto those around us.
Let these words from the Matthew Henry Commentary encourage you:
"If any man desires to be truly and for ever happy, let him apply to Christ, and be ruled by him. This thirst means strong desires after spiritual blessings, which nothing else can satisfy; so the sanctifying and comforting influences of the Holy Spirit, were intended by the waters which Jesus called on them to come to Him and drink. The comfort flows plentifully and constantly as a river; strong as a stream to bear down the opposition of doubts and fears. There is a fulness in Christ, of grace for grace. The Spirit dwelling and working in believers, is as a fountain of living, running water, out of which plentiful streams flow, cooling and cleansing as water. These streams have flowed from our glorified Redeemer, down to this age, and to the remote corners of the earth. May we be anxious to make them known to others."
What part of that description resonated with you?
I love that His comfort is so strong that it can overcome the doubts and fears brewing within us. I'm thankful for the dynamic duo of sanctification and comfort at work together in my life. As I press in to God for both, I find myself becoming more encouraging to others. I sense a growing boldness in me to be a light, to speak life.
He has promised that in the presence of our enemies (spiritual and physical), He is faithful to feed us from His abundance! (Psalm 23:5) How are you feasting at the table of the Lord? Are you there often enough to feel truly refreshed?
My word for 2016 is ABIDE. I'm amazed at how God is at work helping me abide in Him more often and in deeper ways. (More about that in the next post.) As we choose more of Him, we will not have to "strive" to be a source of help to others. It will be more natural and beautiful than we've ever imagined. We can rest from our labor and trust His labor to flow through us in a way that increases our delight.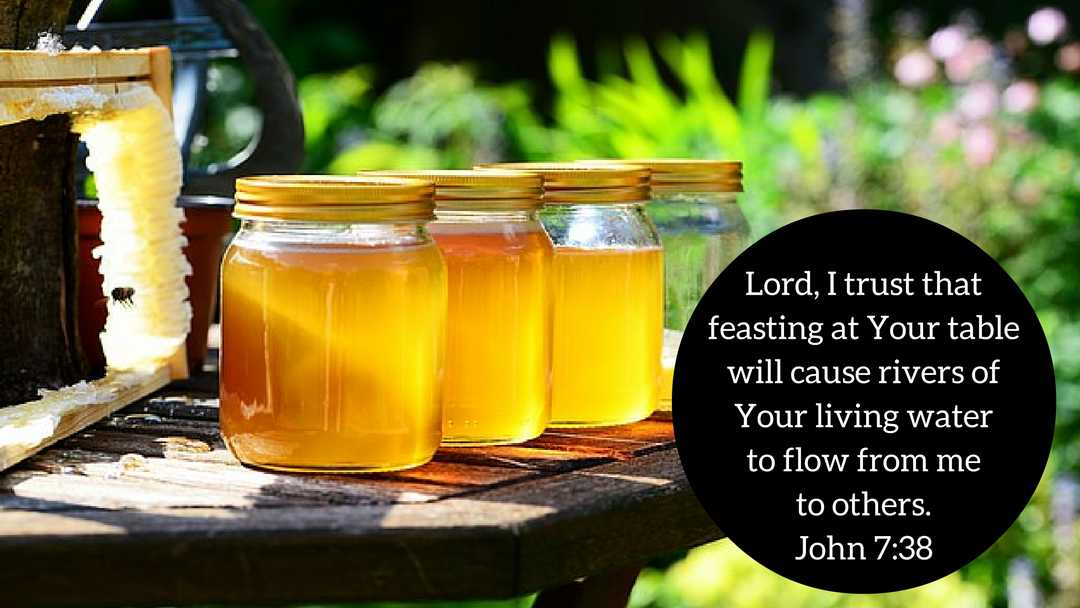 Let's Pray
Lord, I trust that feasting at Your table will cause rivers of Your living water to flow from me to others. Help me to embrace the reality that Your power works in me and through me. I lift my eyes to You and away from my personal weaknesses and circumstances. You satisfy my soul.
Thank You for giving me the comfort of Your love. Help me to receive it more fully.
Sanctify me so that I will enjoy the blessings of those who fear You. In the presence of my problems, I want to rest in Your provision. 
Let my life, the struggles and the victories, draw the attention of many to Your life-giving ways.
In Jesus, I pray. Amen
Scripture References: Psalm 23:5, John 7:38, Ephesians 3:16 & 20, Romans 8:6, 2 Corinthians 12:9, Psalm 23:3, Proverbs 22:4,
About Jennifer O. White
I'm a simple wife who has discovered God's amazing gift of prayer. Here at Prayerfully Speaking I share my journey of unwrapping this gift. God invites us to ask Him, but His enemy works diligently to keep that from happening. I hope to offer you encouragement to believe God is ready to pour more into your life than you've ever imaged.