Looking for Miracles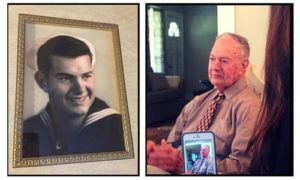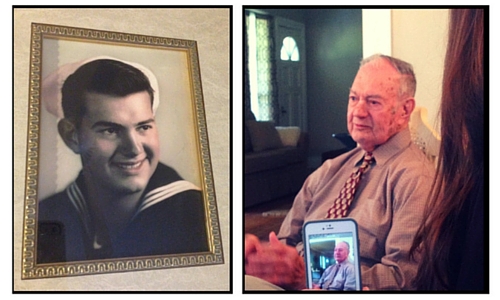 A few weeks ago, my dear friend and prayer partner surprised me with the gift of a new book. It was just what God knew I needed. This book is GOOD ya'll! Better than any form of dark chocolate I've had so far. 🙂
In The Grave Robber: How Jesus Makes Your Impossible Possible, Mark Batterson helps us wake up to the miraculous happening all around us all the time. I'm just a few chapters in and it's working. Last weekend I heard my father-in-law tell a story about being in the Navy during WW2 and I was blown away by how God intervened to save his life. (I'll share the story later in this post.)
Batterson calls us awake to the everyday miracles God is performing
Is it possible God says every morning, "Do it again" to the sun; and every evening, "Do it again" to the moon? The repetition of nature may not be a mere reoccurrence; it maybe a theatrical encore. C.K. Chesterton

When was the last time you thanked God for keeping us in orbit? I'm guessing never! "Lord, I wasn't sure we'd make the full rotation today, but You did it again!" We just don't pray that way. And that is the ultimate irony: we already believe God for the big miracles like they're no big deal. The trick is trusting Him with the little ones like healing an incurable disease, finding Ms. Right, opening a deadbolt door of opportunity, or getting us out of what seems like insurmountable debt.

Compared to keeping the planets in orbit, how big is your biggest dream? How bad is your worst problem? How difficult is your greatest challenge? p. 18,19
Batterson teaches that skepticism and disappointment are the two wires that trip us up in looking for and expecting the miraculous. I've done some soul searching on this and look forward to sharing what I'm learning in a future post.
Maybe You Are Part of Someone's Miracle
Does your head spin a bit when you consider that Jesus told his disciples (and us) that we would do "even greater things" than what He did while living as a man on earth? Batterson helps us comprehend it with these words:
"If you follow Jesus, you'll do what He did. You'll seek to please the heavenly Father first and foremost. You'll care for the poor, you'll wash feet, and you'll offend some Pharisees along the way. You'll also traffic in the miraculous. And it won't just be as an eyewitness. It'll be as a catalyst. Please believe me when I say, you are someone else's miracle!"
God used someone as a catalyst for a miracle in our family.
On Mother's Day, we had the treat of hearing David's dad talk about his time in the Navy during WW2. One of his stories revealed how God intervened to save his life. He was on a ship near Hong Kong and received a message from a nearby ship stating their need for a Quarter Master in order to return to the United States. That was Mr. White's job. As a Quarter Master, he helped navigate the ship using the stars a his guide.
The ship Mr. White was serving on was scheduled to be at sea a few more years, but his time in the Navy was soon to be over. The captain released him to the other ship so he could return to the US and his civilian life. It was during his physical exam (required for discharge) that Mr. White was diagnosed with thyroid cancer. Because he was still in the Navy they sent him to a hospital in NYC where an international team of surgeons took care of him. They saved his life but didn't expect him to live. They advised he and Mrs. White not to get married and not to have children. 67 years of marriage later …. he is alive and well. My husband is one of his two sons. Today, he is grandfather to five and soon to be the great-grandfather to five. He served in our church over sixty years as a Sunday School teacher.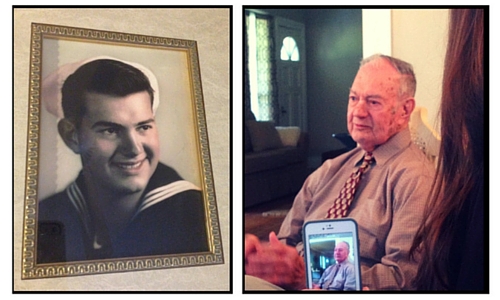 I'm in awe that God sent a ship to bring him home so He could save his life. God created or allowed a need on the other ship and placed that ship in an area where their need would be met. The captain of his ship was one of the catalyst's God used to bring him home. This miracle allowed our entire family to exist and impacted the lives of hundreds of people.
Has God performed miracles in your family?
Do you want to see more of God's miracles? Do you want to be a catalyst in someone else's miracle? Here are a few simple prayers to lead us into this role of witnessing and doing "greater things than these."
God, help me look for Your wonder working power in my life. Help me believe that You can and will intervene in my current situation. 
God, I am excited that You would consider using me as a catalyst for someone else's miracle. Train me to be obedient to the promptings of Your Spirit so that I do not miss the opportunities You have ordained for me. 
Teach me, Lord, to believe that NOTHING is impossible with You!
About Jennifer O. White
I'm a simple wife who has discovered God's amazing gift of prayer. Here at Prayerfully Speaking I share my journey of unwrapping this gift. God invites us to ask Him, but His enemy works diligently to keep that from happening. I hope to offer you encouragement to believe God is ready to pour more into your life than you've ever imaged.