Knowing Jesus as the Lord of Rest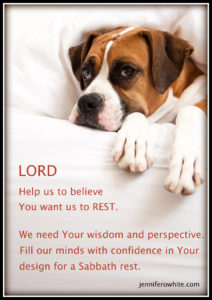 We are continuing our understanding a relationship with Jesus series. Today we begin an honest conversation with Jesus – the Lord of Rest. Knowing who He is helps us relate to Him. I want to know and relate to the God who offers rest beside still waters.  Join me.

Confession:
I'm a somewhat recovering work-a-holic.
Truth is I really want to know what it means to rest. What does balance between accomplishing and enjoying down time look like?
We do not live in a culture that respects rest. Our society wants more done for less resources and in less time. And in order to stand out in a crowd of people via'ing for the attention of employers and customers, we (I) want to push harder and be more "Productive". Even as a Christian, we are addicted to making every moment count and unsure if it's ok to relax when there are people who need help.
But right there in the ten commandments, we are instructed to keep the Sabbath holy, consecrated and set apart. Exodus 20:8-11
So on Sunday afternoon, sitting at my computer, I Googled …
"Sabbath Rest"
and what I found was an excellent article by Timothy Keller, incredible author and respected preacher. (Get his free sermons here)
"Sabbath, then, is the deliberate limitation of productivity, as a way to trust God, be a good steward of your self, and declare freedom from slavery to our work." Timothy Keller, Wisdom and Sabbath Rest.
"Sabbath is the key to getting this balance, and Jesus identifies himself as the Lord of the Sabbath —the Lord of Rest!"
Then Jesus said to them, "The Sabbath was made to meet the needs of people, and not people to meet the requirements of the Sabbath. So the Son of Man is Lord, even over the Sabbath!" Mark 2:27-28
I really hope you will read the entire article. After reading it, I am praying the following for you and me:
Prayer
Jesus, thank You for being the Lord of my life which includes being the Lord of my rest.
You have graced me with a life filled with minutes and a heart to serve and accomplish. Thank You!
You are the Truth. I have been a believer of a few lies regarding rest. Please have mercy on me. I have been a repeat offender – ignoring the need for a Sabbath rest. My constant mental and physical activity is not the result of trusting You and applying Your Word to my life. I need Your forgiveness and Your help.
I need the wisdom you offer in James 1:5. Gentle Shepherd, lead me to plan ahead for Sabbath rests. Provider, help me to rely on You to know and meet the needs despite my downtime. Sustainer, keep me motivated to do Your will – the call to rest and to resume work and ministry. Mighty Warrior, defend me and train me to battle against the draw to keep going without breaks.
Fill my mind with confidence in Your design for a Sabbath rest.
I want to live in obedience to Your Word.
In Your Name above all names, I ask for Your help,
Amen.
Please share how you are relating to Jesus as the Lord of Rest. We want to learn from your experiences.
About Jennifer O. White
I'm a simple wife who has discovered God's amazing gift of prayer. Here at Prayerfully Speaking I share my journey of unwrapping this gift. God invites us to ask Him, but His enemy works diligently to keep that from happening. I hope to offer you encouragement to believe God is ready to pour more into your life than you've ever imaged.