The Prayer of a Marine's Wife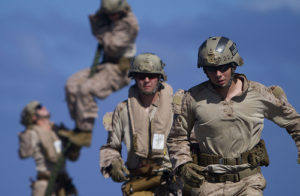 My husband deployed this week.
We've been married for 18 months and while we both knew that the day would come when he had to leave, it dawned on me as I clung tightly to his neck in the eerily quiet dark of the early morning, that nothing I could have done would ever really prepared me to say "Bye for now. See you in six months.
I cried most of the day. In 30 minute intervals actually.
Coming home and seeing his things still strewn about, as if he was coming back for them, made it nearly impossible to breath. Crawling into his side of the bed, where the warmth of his body still permeated the sheets was almost unbearable.  Catching faint whiffs of his scent still lingering in our bathroom and closet was paralyzing.
I wanted so badly to pray for his safety as he flew around the world. I wanted so badly to ask the Lord to guard and protect our hearts and minds while we were apart. I wanted desperately to ask that God would move and work in us spiritually during this season so that, while we missed each other, we would grow more in love with the Lord.  I had so much I wanted to say, but no voice with which to pray.
Nearly hysterical crying, heaving, and gasping. That's all that seemed to come out.
In what seemed to be one of the most vulnerable moments in my adult life, sitting alone in our home and with absolutely no idea how go about my day, I did feel a very profound sense of peace.
The only clear thoughts that I could distinguish were God's promises to us.
"If we don't know how to pray, it doesn't matter. He does our praying for us, making prayers out of the wordless sighs and our aching groans. He knows us far better than we know ourselves… and keeps us present before God." (Romans 8:26-27 The Message)
"Christ Jesus, the one who died for us—more than that who was raised—is at the right hand of God, interceding for us." (Romans 8:34 ESV)
What a mind-blowing truth. In our weakness and desperation, we are "hemmed in, behind and before." While the Holy Spirit interprets our cries, Jesus, sits by the Father and speaks on our behalf.  Jesus himself gives his own perfect words to our prayers and speaks them out loud, with authority, to God.
Could there be a more beautiful or effective prayer than allowing Christ to speak for you? To interpret our circumstance and emotions into a prayer that is ultimately for our greatest good and his utmost glory?
It in undoubtedly a hard place to be when those cries crawl out of us and leave us emotionally emaciated. But we know, we have been promised, that Jesus hears us in that place. He personally delivers those utterances to the Father and, I venture to think, adds, "This is the heart cry of my beloved. She's so beautifully broken. Never has she been more lovely to me than now. This is my prayer for her. Please hear my plea on her behalf. I choose to fight for her. She can not stand without me."
I can think of no greater prayer, no more powerful or sure hope than this: Christ interceding for us.
May we leave in our prayers for Him to say what we can not.
———-
Meredith Lewis still considers herself a newlywed. Married to a pilot in the Marine Corps, she's on a self-professed "steep learning curve" when it comes to marriage and the military. She works for Compassion International and is a graduate of Liberty University, where she majored in Business Marketing. Writing a book is somewhere on her life's bucket list, but for now, she's happily testing Pinterest recipes.  You can read more about her adventures as a Marine's Wife at  www.themarineswife.com.
About Jennifer O. White
I'm a simple wife who has discovered God's amazing gift of prayer. Here at Prayerfully Speaking I share my journey of unwrapping this gift. God invites us to ask Him, but His enemy works diligently to keep that from happening. I hope to offer you encouragement to believe God is ready to pour more into your life than you've ever imaged.