Praying God's Word for Your Marriage (James Chapter 3)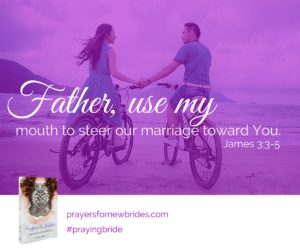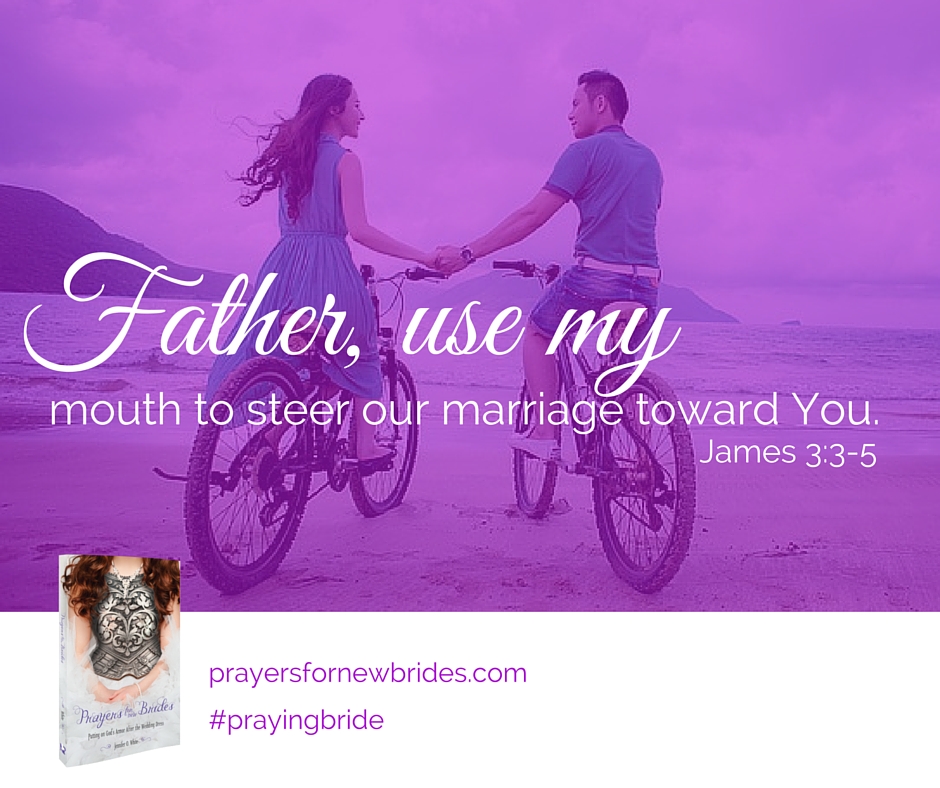 Hello praying friend! It's been a few weeks since I've written here. God is doing a very deep work in my heart. I look forward to sharing it with you soon, but right now I am in a season of being quiet and listening.
I want to encourage you today with this:
God's Word will bear fruit in our marriages when we speak, pray, and act in agreement with it. The last twelve years of my life have proven this to be true!
"The rain and snow come down from the heavens and stay on the ground to water the earth. They cause the grain to grow, producing seed for the farmer and bread for the hungry. It is the same with my word. I send it out, and it always produces fruit. It will accomplish all I want it to, and it will prosper everywhere I send it. Isaiah 55:10-11 NLT (emphasis mine)
In the daily email subscription that I offer, Marriage Armor for the #PrayingBride, we are praying through the book of James. I am thrilled to share these prayers with you as well. (You can find a summary of the prayers from the previous chapters of James here: James 1 and James 2).
May our God have His way in our hearts and marriages!
Prepare me, Lord, for the teaching ministry I have in our marriage and in the body of Christ.
Dear brothers and sisters, not many of you should become teachers in the church, for we who teach will be judged more strictly. James 3:1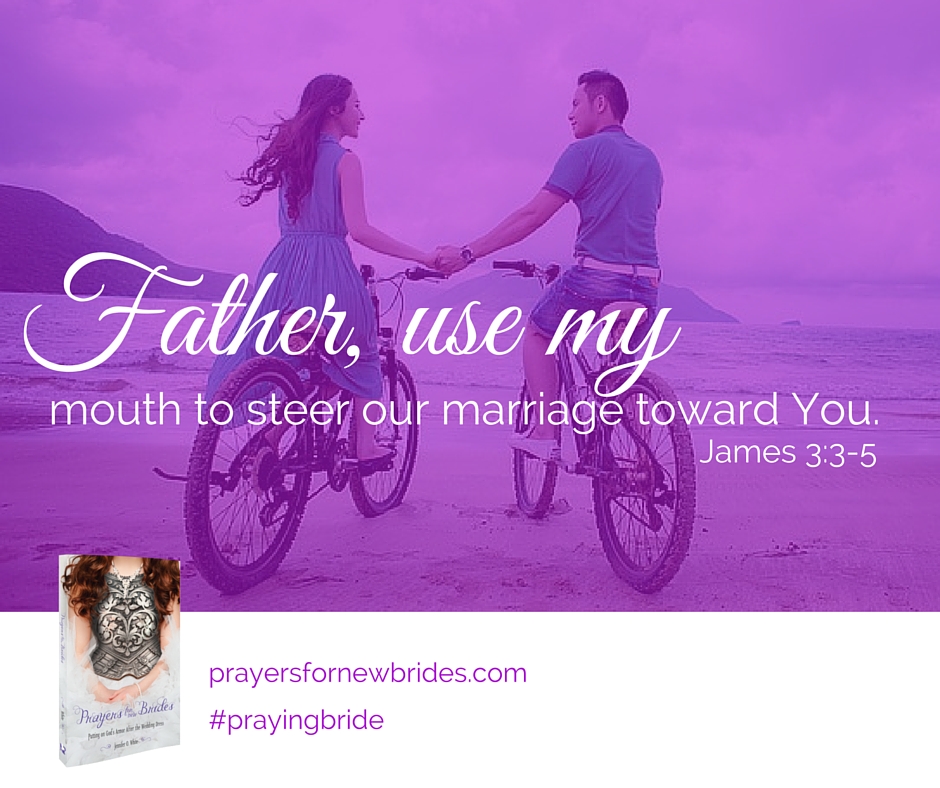 Father, use my mouth to steer our marriage toward You.
We can make a large horse go wherever we want by means of a small bit in its mouth. And a small rudder makes a huge ship turn wherever the pilot chooses to go, even though the winds are strong. In the same way, the tongue is a small thing that makes grand speeches. But a tiny spark can set a great forest on fire. James 3:3-5
Forgive me, Lord, for the unholy words I have spoken to and about my husband.
And among all the parts of the body, the tongue is a flame of fire. It is a whole world of wickedness, corrupting your entire body. It can set your whole life on fire, for it is set on fire by hell itself. James 3:6
Help me, Lord, to forgive my husband when his words hurt or disappoint me.
People can tame all kinds of animals, birds, reptiles, and fish, but no one can tame the tongue. It is restless and evil, full of deadly poison. Sometimes it praises our Lord and Father, and sometimes it curses those who have been made in the image of God. James 3:7-9
By Your grace, God, our hearts will be pure and our words will bless each other.
And so blessing and cursing come pouring out of the same mouth. Surely, my brothers and sisters, this is not right! Does a spring of water bubble out with both fresh water and bitter water? Does a fig tree produce olives, or a grapevine produce figs? No, and you can't draw fresh water from a salty spring. James 3:10-12
Lord, let humility that comes from Your wisdom guide us to live honorably.
If you are wise and understand God's ways, prove it by living an honorable life, doing good works with the humility that comes from wisdom. James 3:13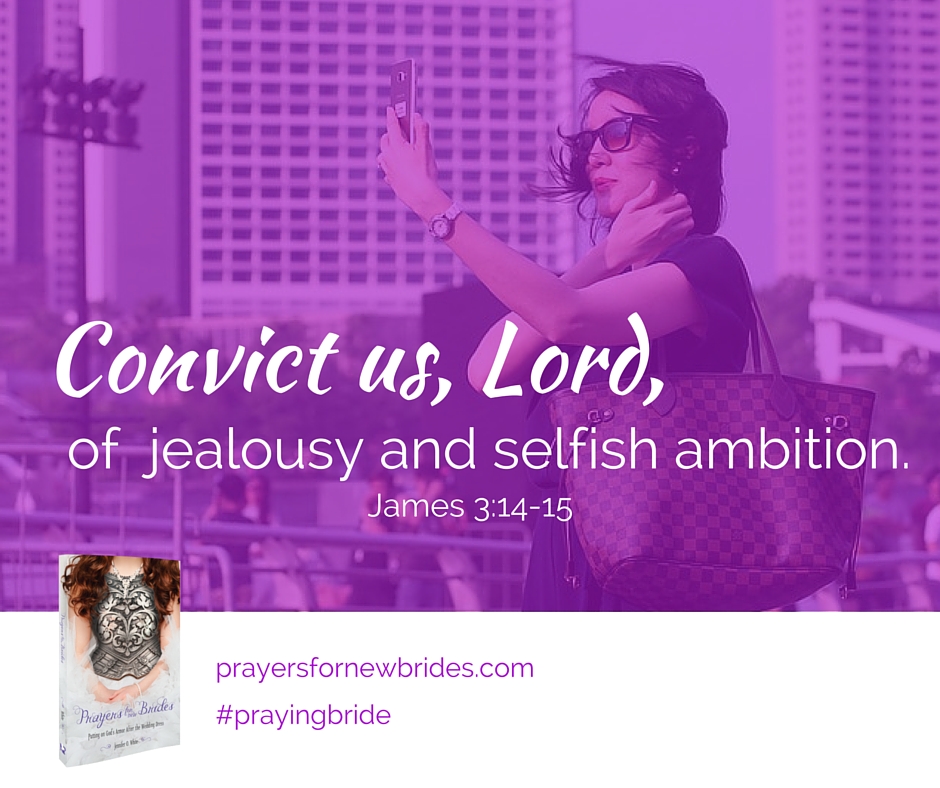 Convict us, Lord, of any jealousy and selfish ambition.
But if you are bitterly jealous and there is selfish ambition in your heart, don't cover up the truth with boasting and lying. For jealousy and selfishness are not God's kind of wisdom. Such things are earthly, unspiritual, and demonic. James 3:14-15
Thank You, Father, for teaching us the consequences of our jealousy and selfish ambitions so that we can avoid bringing disorder and evil into our marriage .
For where there is jealousy and selfish ambition, there you will find disorder and evil of every kind. James 3:16
Father, fill me with Your wisdom so that I am a peace loving and gentle wife.
But the wisdom from above is first of all pure. It is also peace loving, gentle at all times, and willing to yield to others. It is full of mercy and the fruit of good deeds. It shows no favoritism and is always sincere. James 3:17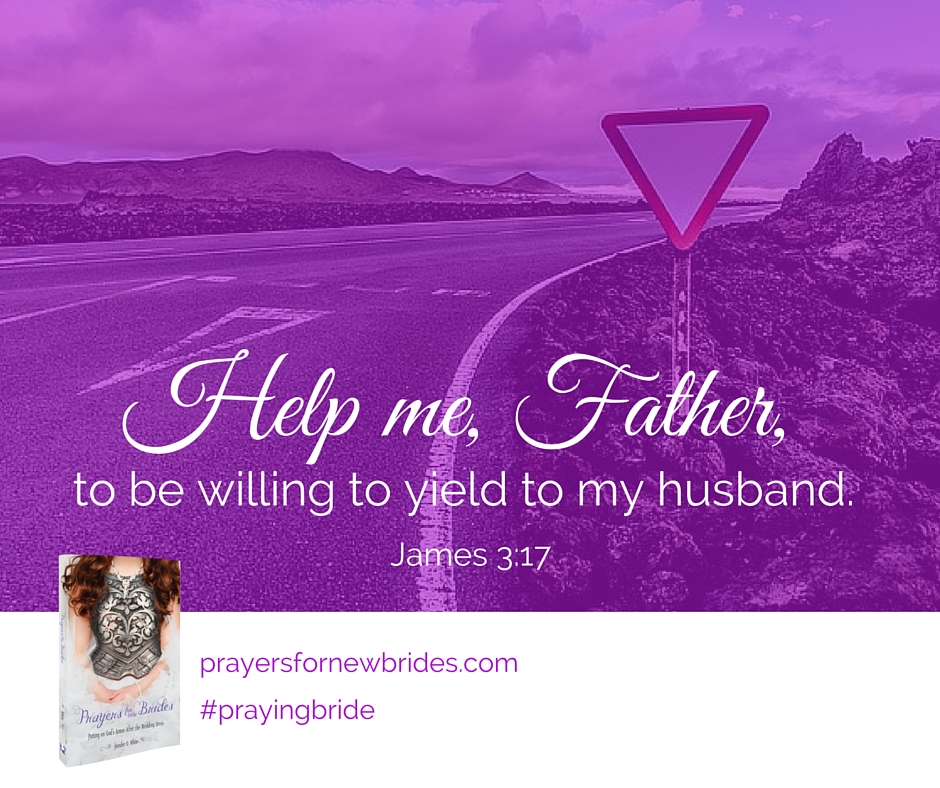 Help me, Father, to be willing to yield to my husband.
But the wisdom from above is first of all pure. It is also peace loving, gentle at all times, and willing to yield to others. It is full of mercy and the fruit of good deeds. It shows no favoritism and is always sincere. James 3:17
Teach us, Lord, to become peacemakers so we will enjoy Your promised blessings of righteousness.
And those who are peacemakers will plant seeds of peace and reap a harvest of righteousness. James 3:18
About Jennifer O. White
I'm a simple wife who has discovered God's amazing gift of prayer. Here at Prayerfully Speaking I share my journey of unwrapping this gift. God invites us to ask Him, but His enemy works diligently to keep that from happening. I hope to offer you encouragement to believe God is ready to pour more into your life than you've ever imaged.