Marriage Restored: Penny's Story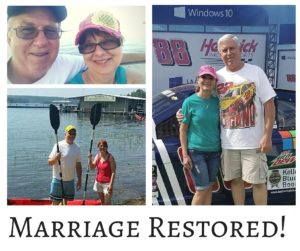 I'm so excited for you to hear Penny's story. Find out how God ministered to her in the years she and her husband were separated and divorced. See how she related to God in the midst of intense grief. God sustained her and restored her marriage after they spent twelve years apart. This is a God is Able, Ephesians 3:20 testimony!
Penny's experience paints a picture of God's faithfulness to us in the worst times. I hope you will watch the video and let it encourage your faith. She is a great example of how to put your hope in the Lord. Her story shows how God can redeem our mistakes in amazing ways. God surprised her with "more than she could have asked or imagined" testimony that she joyfully shares today.
Be Encouraged!
For nothing is impossible with God. – Luke 1:37
Jesus looked at them intently and said, "Humanly speaking, it is impossible. But with God everything is possible. – Matthew 19:26
"I am the LORD, the God of all the peoples of the world. Is anything too hard for me? – Jeremiah 32:27
There is so much to learn from Penny's experience. One of my big take-aways is the importance of putting God first in my heart and my husband first in my daily life. I would love to hear what you are taking away from her story. Let me know in the comments.
Meanwhile I pray that you are filled with hope that God is able, through His mighty power at work within us, to accomplish infinitely MORE than you can ask or imagine in your situation. (Ephesians 3:20)
About Jennifer O. White
I'm a simple wife who has discovered God's amazing gift of prayer. Here at Prayerfully Speaking I share my journey of unwrapping this gift. God invites us to ask Him, but His enemy works diligently to keep that from happening. I hope to offer you encouragement to believe God is ready to pour more into your life than you've ever imaged.