Her Next Brave Adventure: Pray for Meghan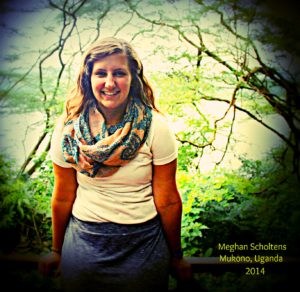 They were brave and able warriors
(1 Chronicles 12:21 – Living Bible)
I want you to be a part of this brave and able warrior's story. Meghan Scholtens has impressed me for years with her passion for Africa and her fearlessness in serving there. I asked her to share her latest adventure with us so we can join her mission by praying for her. 
My name is Meghan Scholtens and I will be a junior in college this year. I attend John Brown University in Siloam Springs, Arkansas, but for the Fall semester of 2014 I will be going to college in Mukono, Uganda at a school called Uganda Christian University. It is a study abroad trip just for the fall and I will return back to JBU in the Spring. My major is Intercultural Studies. I also am pursuing a degree in Nursing, but this trip focuses on my major. I fly out of the States on August 22nd and I will return on December 17th.
I went to Uganda in May on a mission trip with JBU and had a chance to visit the school. It is a beautiful campus with very nice facilities (in African terms) and they cater to about 8,000 students during the Fall and Spring semesters.
I will have the privilege to live alongside the students going to this school full-time, to immerse myself into the culture, and to learn so much about who I am, who God is, and who his people are all around the world. I will do two home-stays with Ugandan families. One will be a week-long stay in a rural village, and the other will be a two-week stay with a family in the city and closer to the school. I will eat with them, help with chores, live alongside them, and will become part of their family for the time I have with them.
I am pumped to be able to go back to Uganda for a second, longer time this year and I am so honored that I was chosen to be a part of the Uganda Studies Program.
Prayer is what will get me through this four months, though. As excited as I am, I will be living in a completely different world. I am blessed to have been able to spend one month in Uganda in May because it has prepared me for this, but it will still be an adjustment and will be very hard at times.
I know no one going on the trip and will not meet them until I touch down in Africa, so please pray that G od allows me to connect fast with the other students on the trip. Pray for traveling mercies for the entirety of the trip, and pray for peace of mind and spirit.
Thank you so much for your thoughts and prayers!
I will leave you with this prayer from Paul that I have decided to commit to memory and to daily repetition.
When I think of all this, I fall to my knees and pray to the Father, the Creator of everything in heaven and on earth. I pray that from his glorious, unlimited resources he will empower you with inner strength through his Spirit. Then Christ will make his home in your hearts as you trust in him. Your roots will grow down into God's love and keep you strong. And may you have the power to understand, as all God's people should, how wide, how long, how high, and how deep his love is. May you experience the love of Christ, though it is too great to understand fully. Then you will be made complete with all the fullness of life and power that comes from God.
Now all the glory to God, who is able, through his mighty power at work within us, to accomplish infinitely more than we might ask or think. 21Glory to him in the church and in Christ Jesus through all generations forever and ever! Amen.
Please post your prayers for Meghan in the comment section on the blog. Thanks friends!
About Jennifer O. White
I'm a simple wife who has discovered God's amazing gift of prayer. Here at Prayerfully Speaking I share my journey of unwrapping this gift. God invites us to ask Him, but His enemy works diligently to keep that from happening. I hope to offer you encouragement to believe God is ready to pour more into your life than you've ever imaged.