When Someone You Love Needs Hope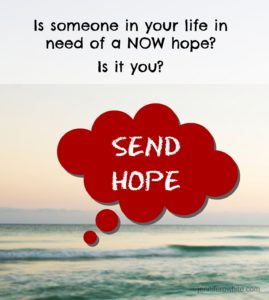 I am particularly burdened for a sweet friend whose life changed dramatically after a stroke. Three years later she's living with great losses that stem from that one incident. Her heart longs for the one thing her faith is sure of – the hope of heaven.
Do you have a similar burden?
Is someone in your life in need of a NOW hope? Is it you?
Oh how I want her to hope for something In the more foreseeable future – something much sooner than heaven. I want to reach into her future grab something for her to hang her hope on, and bring it back for her to stare at everyday.  — keep reading here (I'm guest posting at Church4Chicks today. The entire article is at their site.)
About Jennifer O. White
I'm a simple wife who has discovered God's amazing gift of prayer. Here at Prayerfully Speaking I share my journey of unwrapping this gift. God invites us to ask Him, but His enemy works diligently to keep that from happening. I hope to offer you encouragement to believe God is ready to pour more into your life than you've ever imaged.