Introducing a Bible Study for New Brides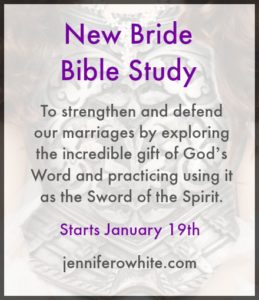 What if you bought a security system for your house and forgot to set the alarm 90% of the time? Getting married and forgetting to ask God to defend your marriage is very much the same.
Every happily ever after is threatened by subtle and subversive evil schemes. Marriage is always targeted because it represents God's covenant love for His people. God offers every bride a supernatural armor. But she doesn't always know it exists or how to use it.
I am a veteran of one failed marriage and one saved by God's leadership. I've stumbled into the spiritual battle unarmed more than once. And today I know Jesus as the savior and sustainer of marriages. In my new book, Prayers for New Brides: Putting on God's Armor After the Wedding Dress, I share from my own experiences how wives can …
Trust God's authority
Apply His perfect counsel to your life and your marriage
Maintain constant communication with the marriage Creator and Savior
Marriage Armor Study Begins January 19
New and soon to be brides of every age are invited to join me for the first group study of the book. Before Prayers for New Brides is even available to the public, our group will explore the incredible gift of God's Word and practice using it as the Sword of the Spirit to strengthen and defend our sacred unions.
Starting Monday, January 19th we will study 5 chapters a week for 3 weeks. Each chapter will take less than 25 minutes to read, pray and complete that day's assignment. In the group, we will review the chapters, pray for each other and discuss the "A Wife's Call to Action" homework experiences. Each week brides will have the chance to win fun prizes that will make praying for your marriage easy and exciting.
We will wrap up our study of the first 15 chapters of this 40-chapter book with a fun Facebook event on February 10th. We will celebrate marriages and the official release of Prayers for New Brides with incredible prizes including gift cards for great date nights and a romantic getaway weekend in Branson, Missouri.
 Invite Your Friends
Invite the new and soon to be brides you love and lead to register today by completing this simple form and enter for your chance to win a $50 Amazon card!
Not a new bride but want to participate in the study? No problem. Every bride can benefit. Go ahead and register today.
About Jennifer O. White
I'm a simple wife who has discovered God's amazing gift of prayer. Here at Prayerfully Speaking I share my journey of unwrapping this gift. God invites us to ask Him, but His enemy works diligently to keep that from happening. I hope to offer you encouragement to believe God is ready to pour more into your life than you've ever imaged.