Facing Our Fears: No Flinching Necessary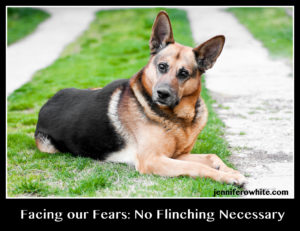 For the last week, I've spent my time with God focused on fear. I've been writing out the scriptures and making them personal.
The process has been very good for me. Do you personalize the Scriptures as you read them?
A friend encouraged me to list my fears. So I did. Here are a few of them:
Being wrong and seen as not smart and capable. (ouch, that screams pride doesn't it)

Being rejected
My flaws will be seen and I will be judged.
Every time I write them out, they seem to lose power. Maybe if I write them a few more times, I won't flinch before I admit them to you and others. 🙂
A few years ago while walking down the driveway, God showed gave me a picture of fear. I saw (in my mind) a boulder large enough to fill the driveway. Fear made the road ahead seem unpassible (is that a word?). That was it! I reacted to fear as a road block and turned around feeling hopeless, like a failure. 
FEAR: False Evidence Appearing Real
So, is that fear really a boulder in the road? Or is just a picture of a boulder?
What if it was like that thin paper the football players run through when they run onto the field?
The Truth is:
We can confidently say, "The LORD is my Helper, I will not fear. What can man do to me? Hebrews 13:6

There is no fear in love. But perfect love casts out fear. Fear has to do with punishment and whoever fears has not been perfected in love. 1 John 4:18

For nothing is impossible with God. Luke 1:37

When I am afraid I put my trust in You. Psalm 56:3

find more verses on fear here 
Fears are gifts to us from the father of lies, the deceiver. John 8:44
Satan is a master deceiver throwing out lies as impressive as three pointers at an NBA game.
I don't usually take gifts from people that want to destroy me. What about you?
So, why on earth would we just accept a fear as the last act of our story? Our story was written by God  – who did not give us a spirit of fear, but of power, love, and a sound mind. 2 Timothy 1:7.
Can we live fearlessly? Is it really possible to "Fear Not?"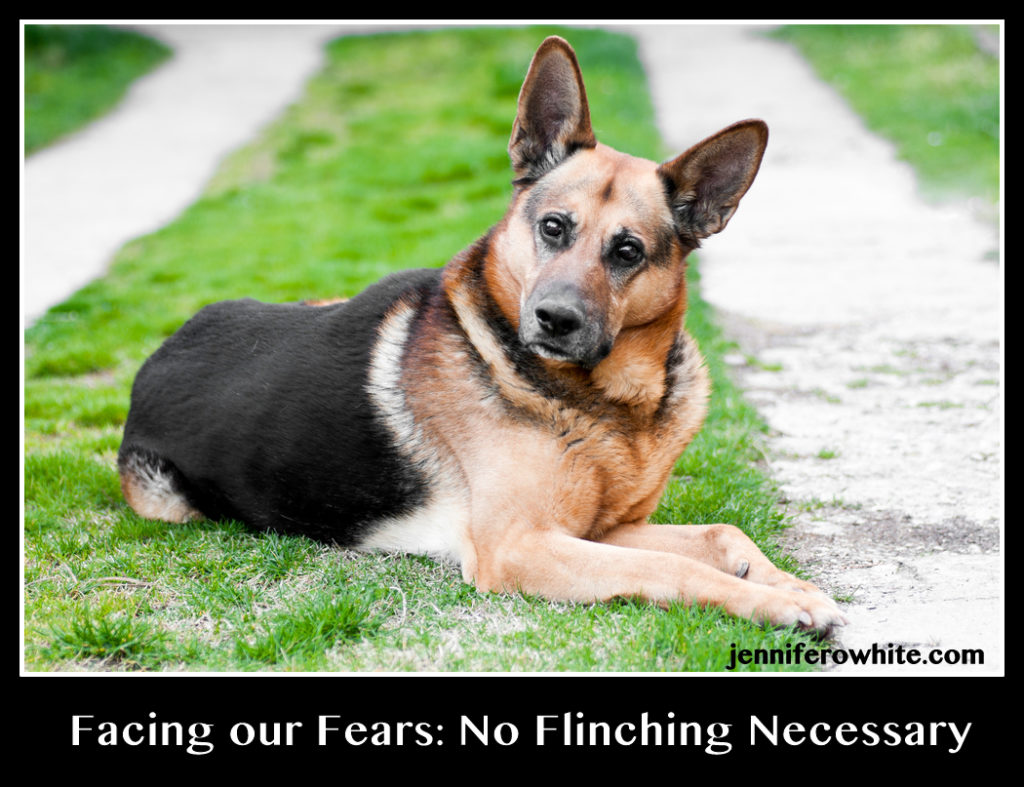 Let's stare fear in the face and STOP FLINCHING.
Will it be easy. Um NO!
Will we get over it quickly? Doubt it.
But is it possible? Yes! I whole heartedly believe that with God, all things are possible. The same Spirit that raised Jesus from the dead lives in you and me. That Power is on our side. That power lives in us.
Let's name our fear. Hold it up to God and invite Him to show us the truth about this life-stopping boulder in our road. When we know the Truth (live relating to Jesus) we will find freedom. We will find a way around, over, or through that boulder. Who knows, maybe its just a silly piece of artwork painted just to stop you from being who God created you to be.
I'm cheering you on. You can do this. I can do this. No Flinching Necessary!
About Jennifer O. White
I'm a simple wife who has discovered God's amazing gift of prayer. Here at Prayerfully Speaking I share my journey of unwrapping this gift. God invites us to ask Him, but His enemy works diligently to keep that from happening. I hope to offer you encouragement to believe God is ready to pour more into your life than you've ever imaged.