Prayer to Overcome Unbelief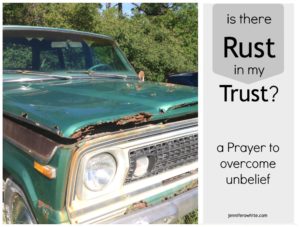 Sometimes Our Faith Gets Rusty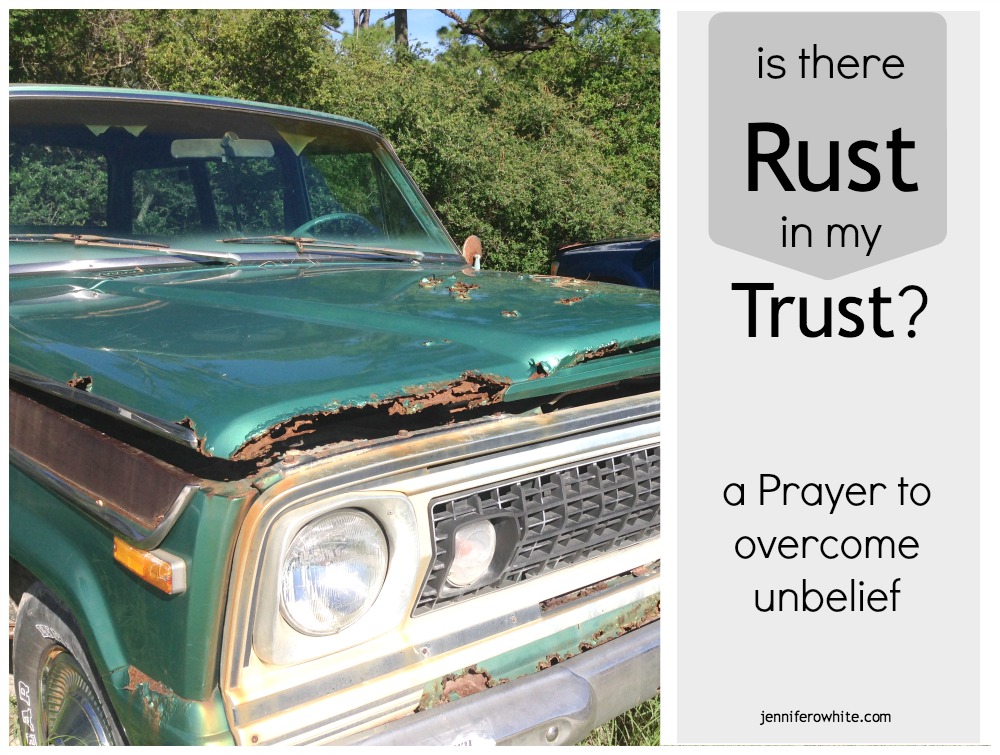 Life as a Christ follower can be very exciting. We ride in or even drive the Christian "truck" enjoying this way of life. We are happy to have rules to follow and good people to be associated with.
We are good with being "good". But life happens along the way and sometimes we find ourselves damaged by people we thought we could trust. The enemy of our souls is delighted to use these hard times to attack our faith in God.
When Trust is Broken
I learned the hard way that faith in God is only a phrase unless I have knowledge and experience to apply to it. In my first marriage, my faith in God was based on what ministers and teachers had taught me along with what I had read in the Bible. But my experience of His power was lacking. I had not yet seen the power and love of God displayed in my own circumstances. Of course, He had actively loved me, provided for me, and protected me, but I had not truly celebrated that in a way that made me sure of Him. Are you sure of Him in new and harsh situations?
So when times got really hard, my fear and feelings competed with my opportunity to depend on God for help and healing. Looking back, the choice of divorce raised the flag of my unbelief. I did not trust that God was my wonderful counselor. I knew He saved me from Hell. But I didn't know how to trust Him to save my marriage.
Is There Rust in Your Trust? 
My "apply the Bible to your life" inactivity resulted in a rusty and unreliable ride. The elements of worldliness gained access and authority in my decisions. My trust was coated with rust. My power to move forward with Him was compromised. Can you relate?
a Prayer to Overcome Unbelief
Maybe it's you or your dearest friend. Perhaps it's someone you are watching from a distance. None of us are immune to areas of unbelief. Let's bring it to the one who is merciful and kind. He is able! He is the Overcomer.
Father,
Bring wisdom and revelation so that _____ can see the corruption in ______ thoughts and attitudes. Demolish this stronghold of unbelief with Your mighty power so that your robe of righteousness fits _____ well. Let the coal be brought to ____ lips so that ____ can see with spiritual and natural eyes and say, "Woe is me, for I am a man of unclean lips". (Isaiah 6) With one touch from You, ____ will be healed and consecrated, set apart to display the love and light of Jesus.
Let Your light dispel the darkness that covers ____ right and privilege to marvel at Your creative power. Remove the obstacle Lord that hinders ____ from being a ready channel for the transportation of your fame.
As you destroy these fortresses in ____ mind and soul, let every root of bitterness, pride, rage, anger, and slander be eliminated forever.
Let ___ be rooted and grounded in Your love, a tree firmly planted by streams of Your living water, refreshed in His soul.
In the name of Jesus our Lord we pray, Amen
Scripture Encouragement:
Lord Help My Unbelief, Mark 9:14-29
About Jennifer O. White
I'm a simple wife who has discovered God's amazing gift of prayer. Here at Prayerfully Speaking I share my journey of unwrapping this gift. God invites us to ask Him, but His enemy works diligently to keep that from happening. I hope to offer you encouragement to believe God is ready to pour more into your life than you've ever imaged.