Praise Him in the Midst of Mental Illness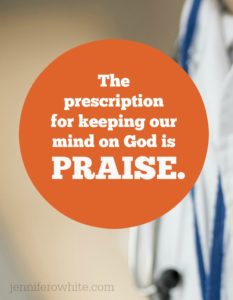 We are continuing our Even So, I Will Praise Him series aimed at prayerfully focusing our minds and our mouths on God's goodness in the midst of life's most difficult circumstances. Today we are exploring the possibility of peace in the presence of mental illness.
If you are in crisis, please call 911 and get help immediately.
It is okay to need help and okay that you are in this place right now.
*thanks to great input from readers, I've made a few edits to the original post. 
Instability vs. Peace
What comes to mind when you hear the words "mental illness?" The word that I think of is instability. Instability describes the erratic highs and lows both the patient and their loved ones experience. It is very often an unpredictable and sometimes volatile life due to cycles of depression, mania and the surprise of the panic attacks. The illnesses range from nervous disorders to complete breaks from reality. The families in our churches, our schools, and our work places deal with extreme paranoia, bipolar disorder, borderline personality, narcissism, obsessive-compulsive disorder, and so many more variations.
Many times the symptoms last for decades. Weariness and despair knock on the door of their hearts while they wait for God to rescue them from the ongoing stress. Is peace even possible for them?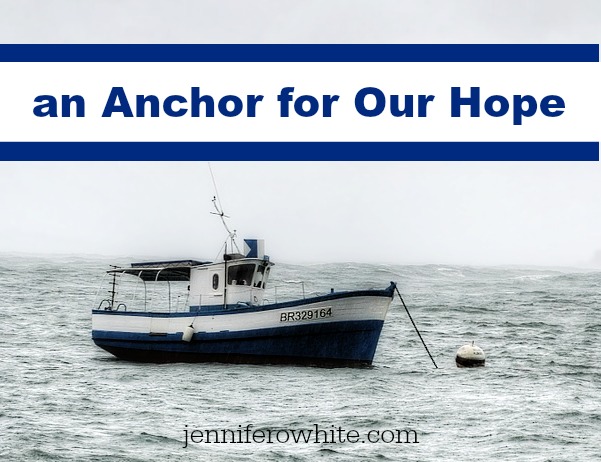 Isaiah gives us this anchor for our hope:
You will guard him and keep him in perfect and constant peace whose mind (both its inclination and its character) is stayed on You, because he commits himself to You, leans on You, and hopes confidently in You.
Isaiah 26:3 AMP (emphasis mine)
This perfect and constant peace does not come with a disclaimer. It is not only for those who have a near perfect life. It is not a prize for those who are completely mentally and emotionally well.
Isaiah promises that peace is for the one who commits his or her life to God. It is for the person who has decided to confidently lean on God. This confident reliance on God does NOT dismiss the need for medication, counseling, and hospitalizations. I'm very aware that those are critical components of the pursuit of wellness. 
God secured our peace with the gift of Jesus, the Prince of Peace. This peace giving God tells us to keep our minds on Him. Our Healer, Jehovah Rapha, dispenses peace with instructions to focus on God.
But how is that possible when the patient's mind is not performing optimally? Maybe it isn't possible yet. But you, the caregiver or the intercessor, can draw near to God on behalf of the one who struggles as well as yourself.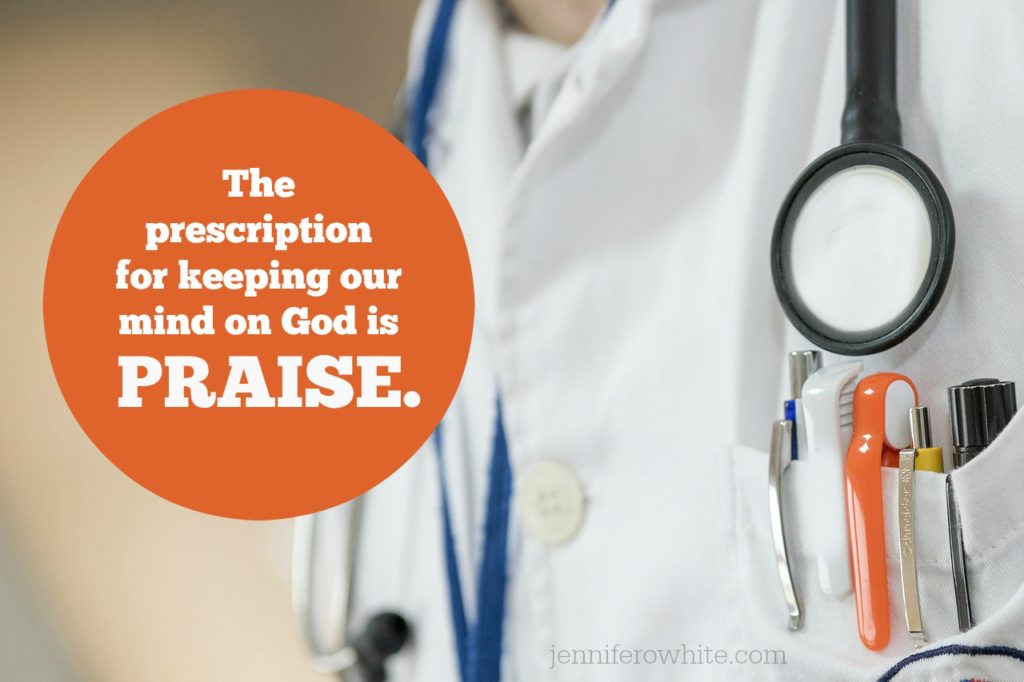 Praise is an excellent prescription for keeping our mind on God and pursuing peace. (It is not to be used in lieu of prescribed medications for the patient.) Here are three great reasons to praise God in the midst of really difficult times:
Praising God diverts our attention away from our limitations and forces our focus on what is true, honorable, just, pure, lovely, commendable, excellent and worthy of praise (Phil. 4:8).
Praising God gives voice to our faith in God's character and faith pleases God (Heb. 11:6).
Praising God is an act of obedience, which produces peace (Isa. 32:17).
The proactive approach to praising God even in the midst of mental illness is to have a list of praises ready to read aloud to God. And if reading is too difficult, have them recorded so that you can listen to them and agree with a simple "Yes Lord!" verbally or in your heart.
As you read through the Bible, God will highlight those praises for you. Or maybe you need to ask others to help you collect them. Add them to your Even So, I Will Praise Him List and make copies to keep in your car, bathroom, bedroom, and even your smart phone. Share copies with a prayer partner who can praise God with you or on your behalf.
Here are 7 praises to get you started:
I praise You, the Almighty God who secured my place in Your unshakeable kingdom. Hebrews 12:18
My heart rejoices in You, the God who made heaven and earth and executes justice for the oppressed and gives food to the hungry. Psalm 146:6-7
I am a child of the living God who will reign forever. Psalm 146:10
You, O Lord, have more power and wisdom than any human can comprehend. Psalm 147:5
I exalt You Lord, our very present help in this time of trouble. Psalm 46:1
Though I am surrounded by troubles, I will rejoice that You have saved me. Habakkuk 3:17-18
My hope is in You, the God who offers me unfailing compassion, steadfast love and peace. Isaiah 54:10
Do you believe that God is able to give you or your friend peace even in the midst of mental illness? If you struggle to believe, simply ask God to help you believe.
About Jennifer O. White
I'm a simple wife who has discovered God's amazing gift of prayer. Here at Prayerfully Speaking I share my journey of unwrapping this gift. God invites us to ask Him, but His enemy works diligently to keep that from happening. I hope to offer you encouragement to believe God is ready to pour more into your life than you've ever imaged.